Low-Cost Diagnostic Developed Using Nanostructures
By Labmedica International staff writers
Posted on 25 Oct 2018
The detection of pathogen nucleic acids has broad applications in infection diagnostics and management. Nucleic acid-based human papillomavirus (HPV) testing is essential to contemporary cervical cancer testing. HPV, the most common sexually transmitted infection, is the primary cause of cervical cancer.
A rapid pathogen detection platform has been developed that uses microfluidics containing integrated circuits of DNA nanostructures. The system called enzyme-assisted nanocomplexes for visual identification of nucleic acids, or enVision, has been shown to be capable of room temperature molecular typing of HPV from cervical samples, as well as discovering certain infections that can be undetectable by most standard methods.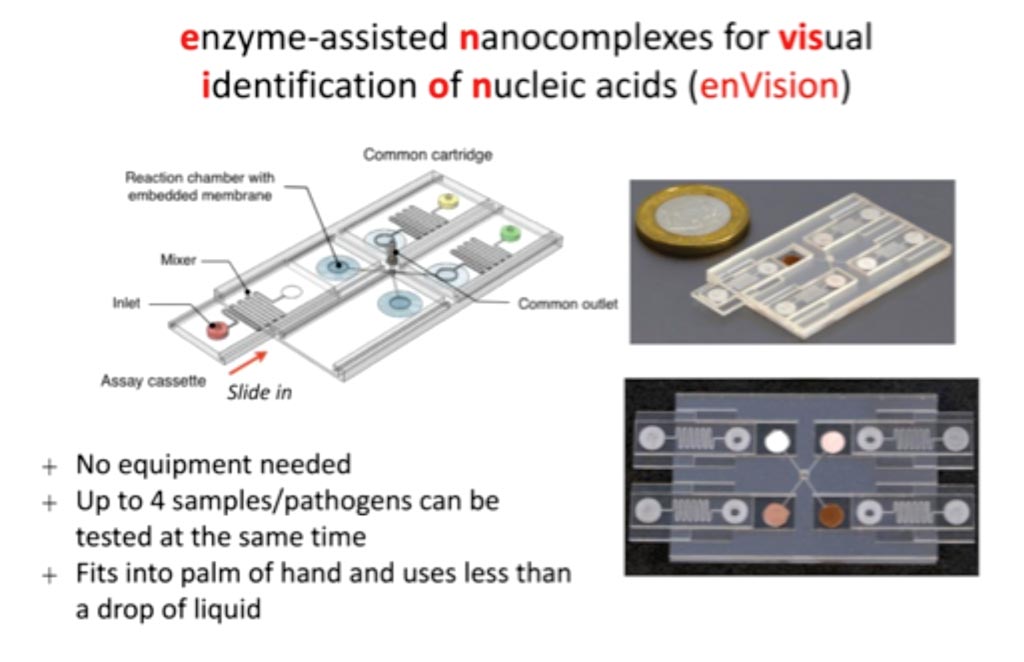 Scientists at the National University of Singapore (Singapore) developed the DNA-enzyme nanostructures, which are complexes made of inactivating aptamers linked to Taq DNA polymerase. When complementary target DNA binds an aptamer, the polymerase is released. The freed polymerases then use biotinylated deoxyribonucleotide triphosphates (dNTPs) circulating in the microfluidic cassette to elongate a nearby signaling nanostructure made from a self-priming hairpin molecule.
The biotinylated dNTPs in the signaling structure will also bind streptavidin-horseradish peroxidase (HRP) molecules in the reaction chamber, and in the presence of diaminobenzidine peroxidase the HRP produces a brown precipitate that can be seen with the naked eye or quantified with a smartphone. The system is also modular. Detection reactions take place in an independent microfluidic assay cassette that is preloaded with nanostructures. In order to perform the assay, a test cassette is mounted to a separate cartridge module that is the same for all tests, containing membranes embedded with the universal signaling nanostructures.
The enVision test was also run on a set of 35 clinical endocervical samples in the study and compared to a gold standard test, the Roche Cobas qPCR-based HPV assay. The authors set up enVision to detect HPV 16 and HPV 18 L1 loci in the patient genome, which are the targets of the Roche test. EnVision achieved about 93% sensitivity and 91% specificity for HPV 16, and for HPV 18 the assay showed 83% sensitivity and 100% specificity compared to the Cobas test. Notably, this level of sensitivity and specificity on clinical samples was seen without any pre-amplification, in an equipment-free assay performed at room temperature.
Compared to quantitative polymerase chain reaction (qPCR), enVision showed better sensitivity and fewer false-positive results on a set of synthetic targets representing different subtypes of HPV. The team highlighted that qPCR can be prone to false positives due to non-specific amplification and formation of primer dimers, which, in a clinical setting, can lead to misdiagnoses, wrong or delayed treatments, and patient anxiety and poor health outcomes. The team also compared enVision to a loop-mediated isothermal amplification (LAMP) test and observed that LAMP is prone to primer-dimer formation and false-positive results. The study was originally published online on August 13, 2018, in the journal Nature Communications.
Related Links:
National University of Singapore

Latest Lab Tech. News