Mild Brain Trauma Diagnosed with POC Device
By Labmedica International staff writers
Posted on 14 Aug 2018
Every year in Europe, three million people are admitted into hospitals for suspected mild traumatic brain injury (mTBI) cases. Biomarkers have been intensively studied for their potential as diagnostic tools in cases of mTBI to allow accurate diagnosis, improve patient management speeds and reduce medical costs.
Falling whilst skiing, tumbling down the stairs or getting hit on the head can cause symptoms such as blurred vision, vomiting, loss of consciousness or memory for about 30 minutes. There is then a risk of mild cerebral trauma, which represents more than 90% of brain injuries admitted to hospitals. Today, the only reliable diagnosis is the computerized tomography (CT) scan, which is only available in some hospitals and exposes patients to radiation.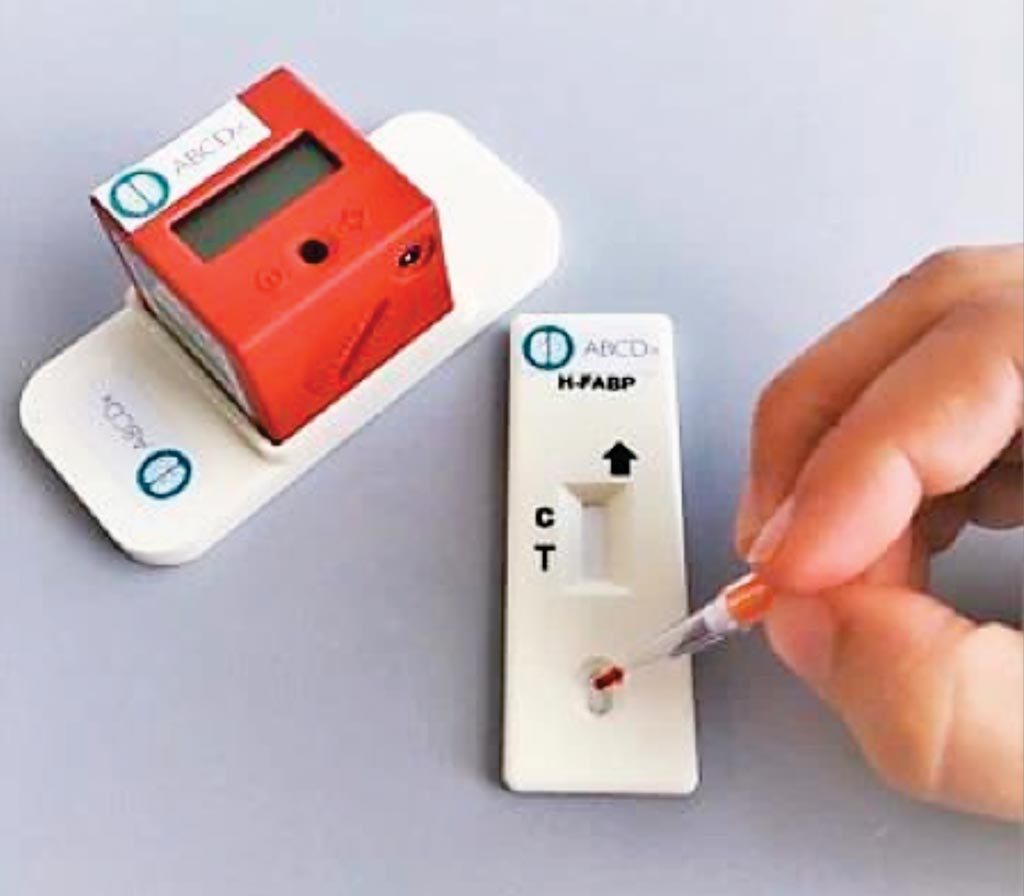 An international team of scientists collaborating with University of Geneva (Geneva, Switzerland) recruited patients from three different European sites: Geneva, Seville and Barcelona. Cohort 1 included 132 patients, of whom 21 were CT-positive (16%). Independent Cohort 2 was used for panel validation on 109 patients, of whom 17 (16%) were CT-positive.
The team evaluated 13 proteins individually for their capacity to differentiate between patients with and without a brain lesion according to CT results. They gradually isolated four molecules indicating the presence of a brain injury: Heart-type fatty acid binding protein (H-FABP), Interleukin-10, S100 calcium-binding protein B (S100B) and Glial fibrillary acidic protein (GFAP). The team noticed that the H-FABP level alone makes it possible to confirm that there is no risk of trauma in one third of patients admitted after a shock.
The team developed a small device, a Point-of-Care Test (POCT) that analyses the level of proteins in the blood and allows, using a single drop of blood, to diagnose the possibility of a mild traumatic brain injury. The rapid diagnostic POCT test, called TBIcheck, was inspired by the principle of pregnancy testing: by placing a single drop of blood on the well of a small 5 cm plastic case, the patient knows within 10 minutes whether there is a risk of mild trauma, namely whether or not his H-FABP level is higher than 2.5 ng/mL of blood. In case of doubt when reading the result, a small reader, the Cube Reader, can be installed on TBIcheck. It will display the word "positive" or "negative" and send the result to the patient's or caregiver's smartphone via Bluetooth. The TBIcheck will be marketed from 2019 by Advanced Brain Companion Diagnostics (ABCDx, Geneva, Switzerland).
Jean-Charles Sanchez, PhD, a professor and senior study author, said, "Our study shows that the results are even more accurate when we combine H-FABP and GFAP levels. We are currently preparing an even more effective TBIcheck, which will allow 50% of patients to be sent home, but which requires an increase in the sensitivity of the test that receives the blood." The underlying study was published on July 9, 2018, in the journal PLOS ONE.
Related Links:
University of Geneva
Advanced Brain Companion Diagnostics

Latest Lab Tech. News