Spinal Tap Needle Impacts Risk of Complications
By Labmedica International staff writers
Posted on 20 Dec 2017
A lumbar puncture, commonly known as a spinal tap, is a regular medical procedure used to diagnose and to treat disease. Post-dural puncture headaches appear in about 35% of patients, sometimes causing debilitating pain that can lead to a return to hospital for painkillers or more invasive treatment.
Needle tip design has been proposed to affect the incidence of headache post-lumbar puncture, with pencil-point 'atraumatic' needles thought to reduce its incidence in comparison to beveled 'traumatic' needles. Despite this, the use of atraumatic needles and knowledge of their existence remains significantly limited among clinicians.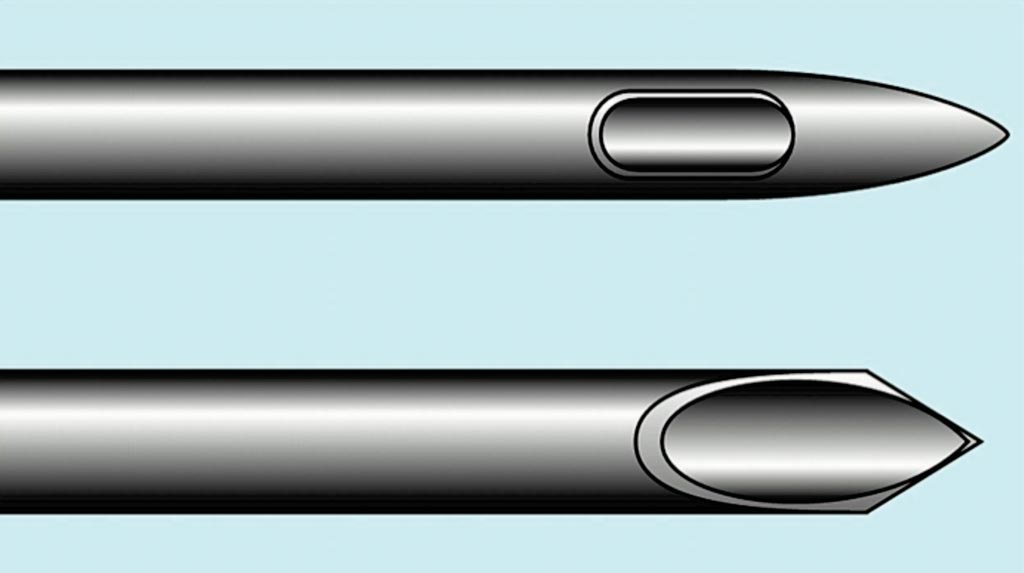 Medical scientists at McMaster University (Hamilton, ON, Canada) searched published randomized controlled trials (RCTs), observational studies and abstracts, with no publication type or language restrictions. They examined the outcomes of: headache and its type, intensity, duration and treatment; backache; success rate; hearing disturbance and nerve root irritation. The primary outcome was the incidence of post-dural puncture headache. The study pooled data from 110 clinical trials, with more than 30,000 participants in 29 countries across the past 28 years.
The team recorded that using atraumatic needles rather than conventional traumatic needles for lumbar punctures is just as effective and results in a significant decrease in complications such as the headaches, the need for intravenous fluid or controlled analgesia, nerve root irritation and hearing disturbance. They explained that the sharp edges of the tip of a conventional needle cuts its way through, while the tip of an atraumatic needle causes the tissue to dilate and contract around it. The tiny hole left in the dura by the atraumatic needle makes it significantly more difficult for cerebrospinal fluid to leak through, thus diminishing the frequency of headaches, readmissions and treatment. They also found the atraumatic needles cost the same or up to three times as much as the more conventional type.
Saleh A. Almenawer, MD, a neurosurgeon and senior author of the study, said, "There is a more than 50% reduction in the occurrence of headaches with the atraumatic needles, and also more than a 50% reduction in patient readmissions and return to emergency rooms for narcotics or blood patches. The two needles differ in how they penetrate the thick membrane, called the dura, surrounding the nerves. This study provides convincing high-quality evidence for people to change to the atraumatic needles for a better patient care." The study was published on December 6, 2017, in the journal The Lancet.
Related Links:
McMaster University

Latest Lab Tech. News