Compact Device Developed for Sorting Cells and Biomolecules
By Labmedica International staff writers
Posted on 20 Nov 2017
Biomolecules and cells circulating in the blood carry diagnostic information, the analysis of which makes highly effective, individualized therapies possible.
A microchip-based diagnostic device has been developed that analyzes and sorts clinically relevant biomolecules and cells in a blood test with light. As a result, physicians can make early diagnoses, for example, of tumor and cardiovascular diseases and initiate patient-specific therapies with great efficacy.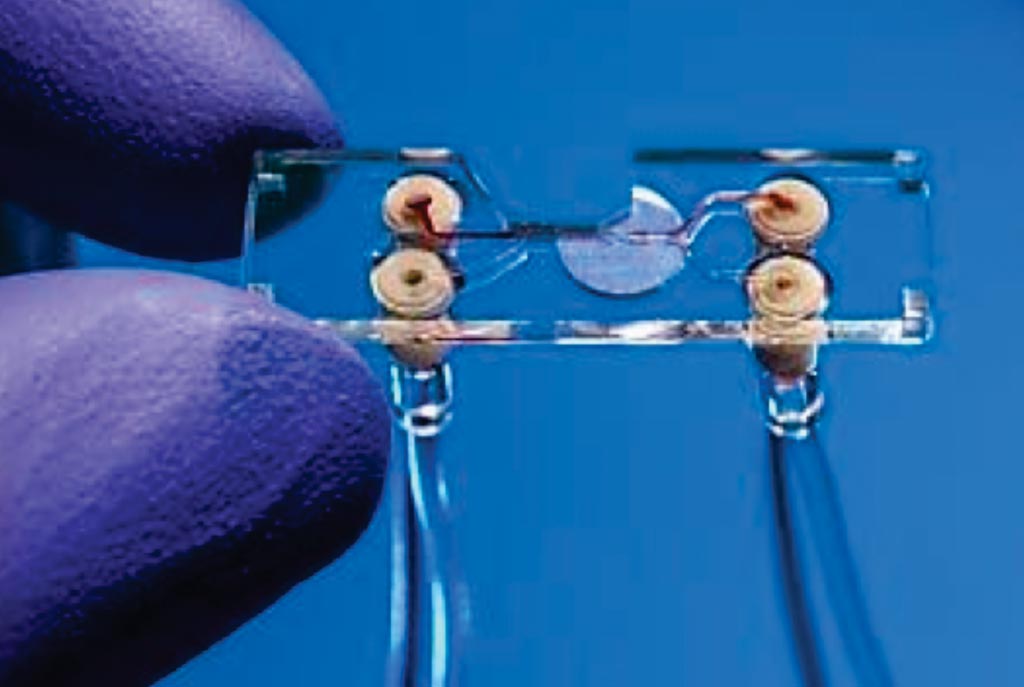 Biomedical engineers at the Fraunhofer Institute of Laser Technology (Aachen, Germany) have developed the "AnaLighter" which is a compact diagnostic device for sorting cells and biomolecules. Its technological core is based on an optically switchable microfluidic chip whose optical sensors and switches are connected to the chip via optical fibers. The "Microchip Based Fluorescence Activated Cell Sorter" (μFACS) functions in the following way: The biomolecules and cells to be analyzed by fluorescence are guided through a microfluidic channel and focused hydrodynamically on a cross-section of 10 μm at the site of the optical measurement. Laser light from an optical fiber stimulates the analyte in the microfluidic channel to fluoresce.
Then, micro-optics focus the laser light emerging from the fiber into the microfluidic channel, collect the fluorescent light generated there and guide it through optical fibers to the photodetector. This fiber-optic design allows a significant reduction in the installation space and makes the μFACS more rugged compared to the prior state-of-the-art. The "AnaLighter technology" is, therefore, ideally suited for automated diagnostic applications in 24/7 operation.
The spectrally separated detection channels of the "AnaLighter" can simultaneously detect different marker molecules in the blood. In such multiplex diagnostics, these marker molecules from a blood sample are specifically bound by a mixture of microparticles, each particle species binding exactly one molecule species to be detected. The μFACS technology can also process water-in-oil emulsions in addition to aqueous solutions in contrast to conventional FACS systems.
The detection of bound marker molecules is encoded by a characteristic fluorescence label and its signal measured by one of the 16 detection channels. Such multiplex diagnosis can detect up to 16 different disease markers with only one measurement run. In annual routine checks, a general practitioner can detect a large number of possible diseases early in the course of a single blood test in order to prevent widespread diseases, such as cardiovascular disease. The sorting function also makes it possible to separate out the appropriate candidates from the others during screening, in order to dispose of the relevant gene sequences in for example genetically modified variants. The device was demonstrated at the COMPAMED 2017 held November 13-16, 2017, in Düsseldorf, Germany.
Related Links:
Fraunhofer Institute of Laser Technology

Latest Lab Tech. News