YHLO Helps China's Top Ranking Hospital PUMCH to Upgrade from Traditional ELISA to CLIA Technology
By LabMedica International staff writers
Posted on 06 Jan 2021
Shenzhen YHLO Biotech Co., Ltd. (Shenzhen, China) has helped China's top ranking hospital, Peking Union Medical College Hospital (PUMCH; Beijing, China), to successfully upgrade its laboratory from the traditional ELISA (enzyme-linked immunoassay) technology to CLIA (chemiluminescence immunoassay) technology.
PUMCH, founded by the Rockefeller Foundation in 1921, has been designated by China's Ministry of Health as one of the most authoritative centers for diagnosis and treatment of complex diseases. PUMCH's department of Rheumatology and Immunology is the earliest dedicated department for rheumatology and immunology in China. The department's laboratory is capable of diagnosing nearly 100 kinds of auto-antibodies, making it one of the largest auto-antibody diagnosing centers in China. In August 2020, the department upgraded its laboratory from the traditional ELISA technology to CLIA technology with the cooperation of YHLO.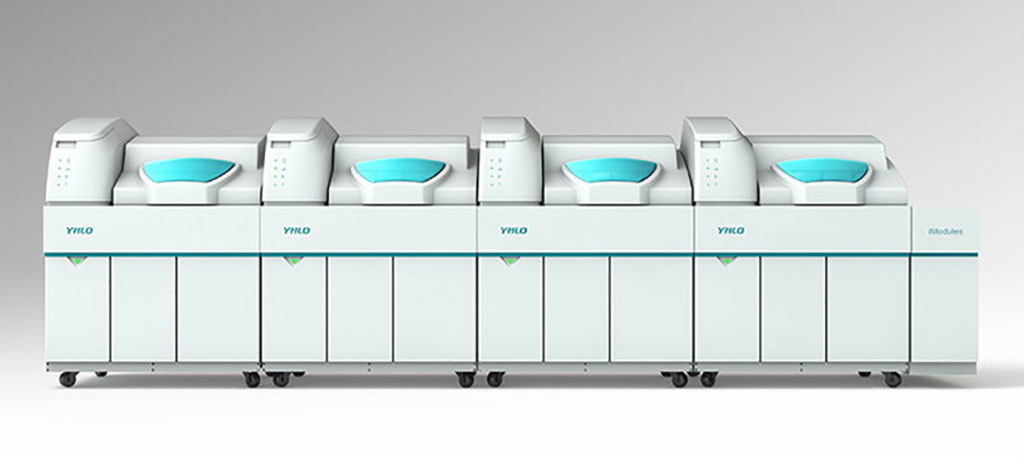 With the help of YHLO's iModules Integration System for Immunoassay, PUMCH has become the first among the top Chinese hospitals to establish a fully automated assembly line. YHLO's iModules series features a modular design that offers flexibility for expansion. With its high throughput, fast speed and multiple parameters, the series helps to process a higher number of samples in the laboratory, improve diagnostic results and shorten turnaround time. The parameters on the iModules platform include dsDNA IgG, SSA IgG, SSB IgG, RNP70 IgG, Sm IgG, Jo-1 IgG, Scl-70 IgG, anti-CCP, MPO IgG, PR3 IgG, Cardiolipin IgG/IgA/IgM/total and β2 Glycoprotein IgG/IgA/IgM/total, etc., providing more accurate and reliable quantitative results.
Related Links:

Shenzhen YHLO Biotech Co., Ltd.
Peking Union Medical College Hospital