Enzo Biochem Launches Portable Microplate Reader for Use with Its ELISA and Assay Kits
By LabMedica International staff writers
Posted on 06 Nov 2020
Enzo Biochem (New York, NY, USA) has launched a small portable microplate reader for use with the company's immunoassays and, ultimately, molecular diagnostics, providing new opportunities in point-of-care medicine.
Enzo's new Absorbance 96 is a personal 96-well format microplate reader that can be used for a variety of applications, including ELISAs, protein quantification assays, cell-based assays, and more. At just 900 grams, the Absorbance 96 is by far the lightest reader on the market with a footprint almost as small as the plate itself. Despite its form, the Absorbance 96 delivers precise and accurate results at an affordable price. It features an open design for quick plate loading and a USB connection for power supply and access to user-control software. Together with the Byonoy proprietary software, the Absorbance 96 is ideal for a variety of applications, extending from ELISA to protein and cell-based assays.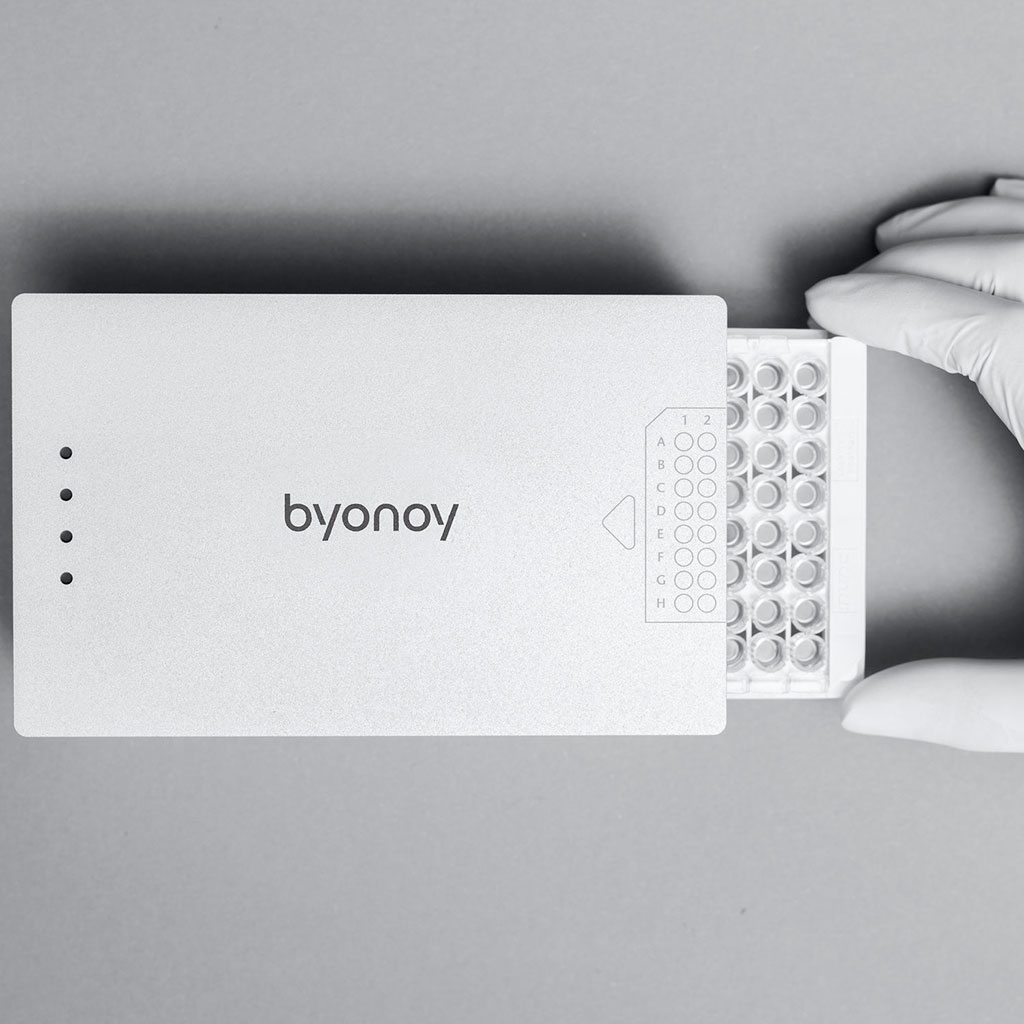 The Absorbance 96 contains 96 individual detection units, which means that all wells can be read simultaneously - in parallel - allowing for extremely fast photometric measurements. Without the need to scan across multiple wells, the Absorbance 96 has no moving parts. In combination with long-life LEDs, this solid-state design provides a maintenance-free user experience and ensures reliable, high quality results. The Absorbance 96 Plate Reader is designed to run everyday assays with ease and speed. The four standard filters – 405, 450, 492, 620 nm – allow for a wide variety of ELISAs such as PNPP, ABTS, OPD and TMB. Other filter combinations for protein (Bradford or BCA), cell-based (MTT, XTT), or cell density assays are also available.
"Access to point-of-care testing continues to grow as technological advances in clinical diagnostic testing drive miniaturization of complex devices. Now, just as computers moved from mainframes to powerful, portable handheld devices, the same is happening within the clinical diagnostic testing industry. This reduced complexity provides high quality and precise testing capabilities to be available to a broader range of healthcare professionals involved in patient management whether they are sitting at an urgent care facility, a doctor's office or hospital bedside," said Kara Cannon, Chief Commercial Officer of Enzo.
"The point-of-care testing market, currently valued at over $18B globally, has the potential to aggressively expand to many testing needs that are now not widely available at point-of-care, including a significant portion of the USD 15B immunoassay testing market," added Ms. Cannon. "Common clinical immunoassay tests, such as vitamin D testing and inflammation analysis, currently are performed regularly in the clinical central testing lab by licensed medical technologists using large, complex instrumentation. Unlike lateral flow assays, this small yet powerful system does not sacrifice sensitivity for convenience and allows for multi-assay capabilities."
Related Links:

Enzo Biochem