Nova Biomedical Adds PT/INR Test to Allegro Analyzer for POC Testing
By LabMedica International staff writers
Posted on 08 Apr 2020
Nova Biomedical (Waltham, MA, USA) has added PT/INR testing for its Allegro capillary blood analyzer for point-of-care (POC) testing in primary care settings. With the ability to test for clotting disorders and monitor the effectiveness of blood-thinning medications, the Allegro and its StatStrip-A companion meter provide 18 clinically important tests to help physicians make therapeutic decisions and adjustments at the POC.
Nova develops and manufactures whole blood, point-of-care and critical care analyzers, as well as provides advanced instruments for cell culture monitoring to the biotechnology industry. Nova's Allegro is a compact, fast, and simple POC analyzer that features a clinically important menu of twelve measured and individually selectable tests, plus six calculated tests. All Allegro tests use easy capillary fingerstick sampling, eliminating the need for veni punctures or a trained phlebotomist, and easy-to-use disposable test cartridges or strips. Allegro's quick six to nine-minute cartridge test times and ability to measure two cartridges simultaneously provide rapid results immediately to the physician, doubling throughput and improving efficiency.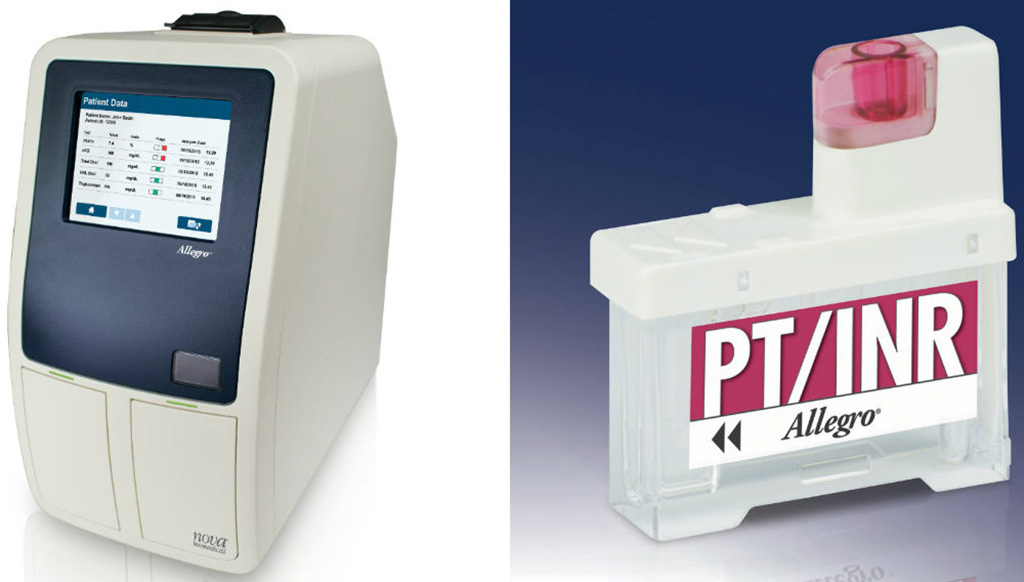 Allegro's companion meters wirelessly transmit results to the analyzer, where they combine with all cartridge test results for one patient report. All results can be transmitted to electronic medical records for providers to review with patients during the visit. Having immediate results during the patient visit reduces clinic follow-up calls, letters, and patient re-visits, and improves patient satisfaction, compliance with care plans, and outcomes.
Allegro is the only analyzer that can measure HbAlc, lipids, glucose, and creatinine from a capillary sample. The latest upgrade now allows Allegroto monitor patient coagulation therapy in addition to testing for glycemic control, kidney function, anemia, gout, and cardiac risk with a full lipids panel. PT/INR is just one of 18 tests for the Allegro platform, including HbA1c, cholesterol, triglycerides, glucose, creatinine, UACR, hemoglobin, hematocrit, and uric acid. The Allegro analyzer and the new PT/INR test are available for purchase in CE-regulated countries.
Related Links:

Nova Biomedical