Global POC Urinalysis Market Driven by Nephropathic Disorders and UTIs
By Labmedica International staff writers
Posted on 18 Dec 2018
The global point of care (POC) urinalysis market is projected to grow at a CAGR of more than 3% over the 2018-2022 period, driven mainly by the rising prevalence of nephropathic disorders and urinary tract infections (UTIs) which is generating higher demand for various types of urine tests. These are the latest findings of Technavio Research, (London, UK), a global technology research and advisory company.
Lifestyle diseases such as obesity, diabetes, and hypertension adversely impact the excretion system, including the lungs, kidneys, skin, bladder, and urinary tract. This impacts the appearance, concentration, and content of urine, resulting in various nephropathic disorders. Globally, UTI is the most common non-intestinal infection, whereas chronic kidney disease (CKD) is a major public health problem. The increase in the incidence of UTIs and nephropathic disorders is driving the growing demand for diagnostic systems, especially POC, as it is the fastest growing segment of the diagnostic systems market. A urinary screening program is recommended as a fundamental element for reducing the incidence of CKDs and UTIs, which is expected to fuel the demand for urinalysis tests and boost the growth of the POC urinalysis market.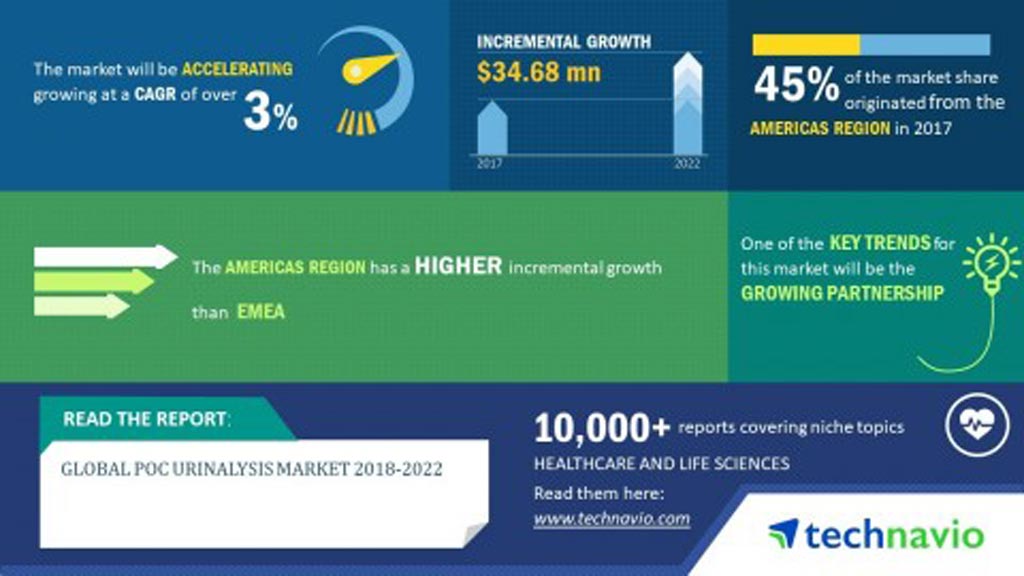 The global POC urinalysis market is expected to become slightly fragmented during the forecast period due to the presence of several POC urinalysis device manufacturers who are offering POC devices, such as urinalysis test systems and urinalysis test consumables. The growth of the global POC urinalysis market is likely to be further supported by emerging technologies in POC testing. A number of POC urinalysis device manufacturers are focusing on developing new technologies, such as lateral flow immunoassay (LFIA) platforms, reflectometry, and automated urine microscopy analyzers.
Various companies are developing and distributing products in partnership, which helps them to cover a larger geographical area and earn higher return on earnings (ROI) as the products are co-developed and marketed. Such combined products provide better analysis by continuous load-and-go processing with no centrifugation, reduced offline dilutions, and fewer manual steps. With several established POC urinalysis device manufacturers battling for market share, the players will need to differentiate themselves in order to gain significant traction over their peers.
Geographically, in 2017, the largest share in the global POC urinalysis market was held by the Americas at 45%, followed by EMEA (Europe, the Middle East and Africa) and APAC (Asia Pacific). The Americas is expected to continue dominating the global POC urinalysis market during the forecast period with a share of almost 43%, led by the high prevalence of CKD and UTIs in the region, as well as increasing health consciousness of lifestyle diseases among its population. On the other hand, the POC urinalysis market in APAC is projected to register the fastest growth among the three regions.
Related Links:
Technavio Research