Handheld Fluorescent Immunoassay Analyzer for Rapid POC Testing to Transform Clinical Diagnostics
By LabMedica International staff writers
Posted on 17 Jul 2023
An automated, compact, and affordable fluorescent Immunoassay (FIA) solution is designed to transform the landscape of clinical point-of-care (POC) diagnostics.
Anbio Biotechnology (Frankfurt, Germany) has launched the new AF-100S FIA Solution, a compact, handheld solution for point-of-care immunodiagnostic needs that delivers rapid, accurate, and reliable results. The innovative analyzer is capable of detecting a broad spectrum of analytes, such as hormones, enzymes, and infectious diseases, making it a versatile diagnostic tool. Its compact design, lasting battery life, and user-friendly interface make it a practical choice for diverse environments. Its high sensitivity and specificity guarantee that patients are provided accurate results.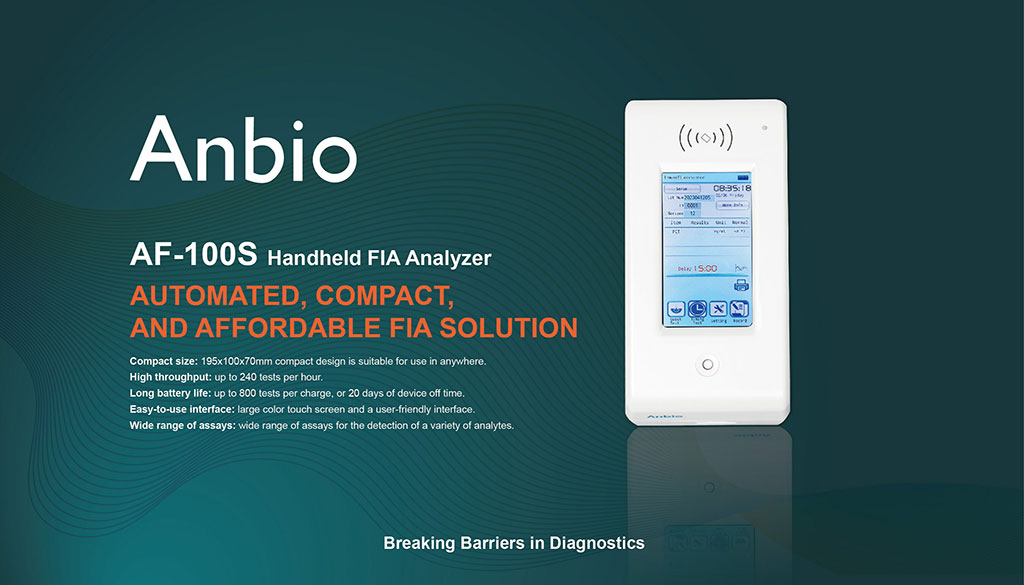 The AF-100S employs fluorescently labeled antibodies or antigens to identify specific biomolecules in a patient's sample. When a sample is combined with these labeled antibodies or antigens, the biomolecule, if present, binds to these labeled molecules, creating a complex that releases a fluorescent signal. This signal is then measured and compared with a recognized standard to ascertain the biomolecule's concentration in the sample.
This small yet efficient FIA analyzer can perform up to 240 tests per hour, making it a good fit for high-volume settings. It is powered by a lithium battery that supports up to 800 tests per charge or offers 20 days of device standby time. Its user-friendly interface, shown on a large color touchscreen, simplifies operation. The compact size of the AF-100S, measuring just 195x100x70mm, makes it an optimal choice for various medical settings such as private clinics, urgent care centers, emergency departments, and ambulances.
"The Anbio AF-100S is set to transform the field of clinical diagnostics, empowering healthcare providers with a cost-effective and comprehensive solution," said Sa Jiang, Chief Marketing Officer at Anbio. "Our FIA solution is small, yet powerful point-of-care immunodiagnostic solution that provides rapid, accurate, and reliable results for a wide range of analytes to provide faster diagnosis and better prognosis to patients."
Related Links:
Anbio Biotechnology