CCN1 Analyzed as a Biomarker for Breast Cancer Detection
By LabMedica International staff writers
Posted on 14 Sep 2021
Breast cancer is the most frequent malignancy in women with 1.7 million new cases and over 500,000 deaths worldwide in 2016. Early detection of cancer is believed to be crucial in reducing cancer death. Despite recent progress in liquid biopsy technologies, early blood-based detection of breast cancer is still a challenge.
Liquid biopsy includes, besides circulating tumor cells, subcellular components like DNA, RNA, and/or proteins that are released by tumor cell deposits into the blood. In particular, circulating cell-free DNA has received great attention. The combination of circulating tumor DNA with circulating tumor-associated proteins has opened a new avenue for cancer screening.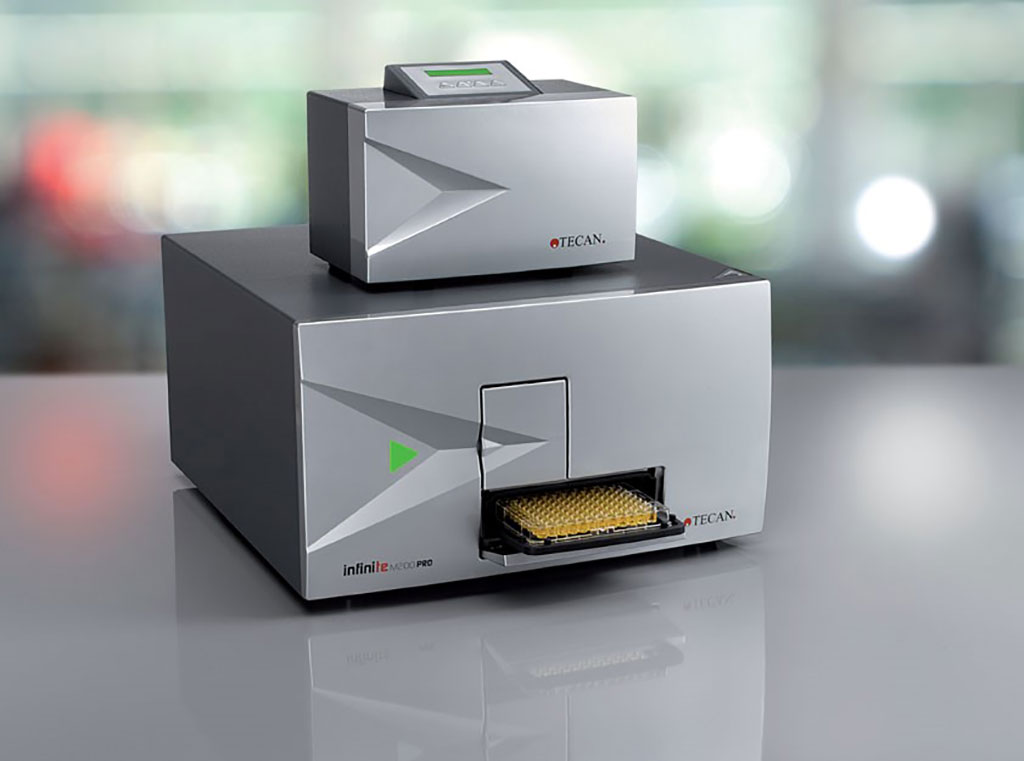 A large team of Medical Scientists at the University Medical Centre Hamburg-Eppendorf (Hamburg, Germany) and their colleagues analyzed secretion of the protein cellular communication network factor 1 (CCN1, formerly cysteine-rich angiogenic inducer 61) in breast cancer cell lines by an enzyme-linked immunosorbent assay (ELISA). Soluble CCN1 in the plasma of 544 patients with breast cancer and 427 healthy controls was analyzed by ELISA.
Samples from patients with benign breast diseases and from 127 patients with acute heart diseases were investigated as additional non-cancer controls. The CCN1 ELISA was performed using fresh blood plasma or archived sample and diluted in Dulbecco's Modified Eagle Medium with 10% fetal calf serum. The detection was done using the NanoQuant infinite M200 pro reader (Tecan, Männedorf, Switzerland). Samples with a CCN1 concentration equal to or higher than the lower limit of detection were considered as positive in this work.
The investigators reported that CCN1 was frequently secreted by breast cancer cell lines into the extracellular space. Subsequent analysis of clinical blood samples from patients with breast cancer and age-adjusted healthy controls revealed an overall specificity of 99.0% and sensitivity of 80.0% for cancer detection. Remarkably, 81.5% of small T1 cancers were already CCN1-positive, while CCN1 concentrations in patients with benign breast lesions were below the threshold for breast cancer detection.
Generally, the CCN1 concentrations in the plasma of patients with other diseases such as acute kidney injury, sepsis, or autoimmune diseases such as rheumatoid arthritis were <0.5 ng/mL and therefore below the critical CCN1 concentration of our classifier of 0.69 ng/mL. Similarly, CCN1 concentrations of 0.62 ng/mL were found in coronary artery disease patients, but increased CCN1 concentrations were detected in the subgroup of patients with acute myocardial infarction with less than six hours after the onset of chest pain.
The authors concluded that with regard to clinical application, circulating CCN1 appears to be a diagnostically sensitive biomarker for early detection of breast cancer and can be therefore included in liquid biopsy panels encompassing other proteins or cell-free DNA. The study published on August 30, 2021 in the journal
Clinical Chemistry.

Related Links:

University Medical Centre Hamburg-Eppendorf
Tecan