Serum Biomarkers Differentiates COVID-19 From Classic Cytokine Storm Syndromes
By LabMedica International staff writers
Posted on 10 Jun 2021
A cytokine storm, also called hypercytokinemia, is a physiological reaction in humans and other animals in which the innate immune system causes an uncontrolled and excessive release of pro-inflammatory signaling molecules called cytokines.
Infection with the novel coronavirus SARS-CoV-2 triggers severe illness with high mortality in a subgroup of patients. Such critical course of coronavirus disease (COVID)-19 is thought to associate with cytokine storm as in macrophage activation syndrome or secondary hemophagocytic lymphohistiocytosis.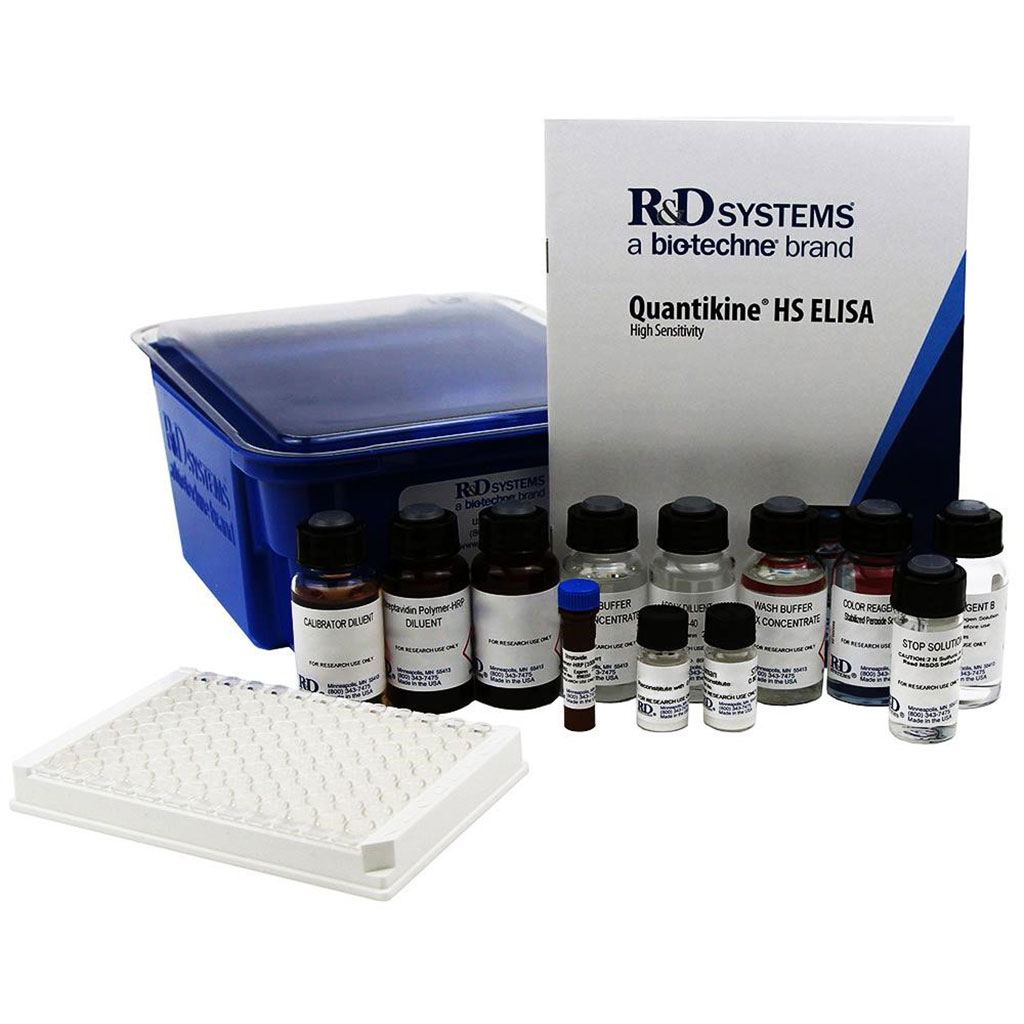 An international team of Pediatric Rheumatologist and Immunologists led by the University Children's Hospital Muenster team (Muenster, Germany) examined whether immune activation in COVID-19 mimics conditions seen in secondary hemophagocytic lymphohistiocytosis (sHLH) or macrophage activation syndrome (MAS), both classic cytokine storm syndromes, and analyzed 83 serum samples from 30 patients with COVID-19. The team also included 20 sHLH serum samples, as well as 17 samples of MAS linked to adult-onset Still's disease. These serum samples were collected from adults in previous studies. Meanwhile, four samples of juvenile sHLH and nine of juvenile MAS, as well as nine from health controls, were collected.
The scientists used bead array assay, as well as single‐marker ELISA, to quantify levels of 22 biomarkers in the included serum samples. These included IL-1, IL-1 receptor antagonist (Ra), IL-4, IL-6, IL-8, IL-10, IL-18, TNF, interferon (IFN), IFN, IFN-, MCP2 (CCL8), MCP3 (CCL7), CXCL9, CXCL10, MCSF, LRG1, soluble Fas ligand (sFasL), intracellular adhesion molecule 1 (ICAM-1), VCAM-1 and Galectin-3 (R&D Systems, Minneapolis, MN, USA). Data acquisition and analysis was performed on a MAGPIX instrument (Merck Millipore, Darmstadt, Germany).
The scientists observed dramatic activation in sHLH/MAS of the interleukin(IL)-18-interferon (IFN)-γ axis, while increased serum levels of IL-1 receptor antagonist (IL-1Ra), intracellular adhesion molecule 1 (ICAM-1) and IL-8, as well as strongly reduced levels of soluble Fas ligand (sFasL) in course of SARS-CoV-2 infection discriminating immune dysregulation in critical COVID-19 from the investigated well-recognized cytokine storm conditions.
Christoph Kessel, PhD, the lead author of the study, said, "Our analyses may further raise doubt regarding the efficacy of clinical trials targeting key molecules and pathways associated with sHLH and/or MAS in the treatment of COVID-19. Therapeutic blockade of IFN-, which appears as promising therapeutic option in treating HLH and potentially also MAS, may be less effective in COVID-19, as the overall activation of the IL-18-IFN- axis seems far less pronounced in context of SARS-CoV-2 infection. In contrast to IL-18 and IFN-, IL-1Ra levels in COVID-19 are substantially elevated."
The authors concluded that serum biomarker profiles clearly separate COVID-19 from MAS or sHLH, which questions the significance of systemic hyperinflammation following SARS-CoV-2 infection as well as the efficacy of drugs targeting key molecules and pathways specifically associated with systemic cytokine storm conditions in the treatment of COVID-19. The study was published originally April 20, 2021 in the journal
Arthritis & Rheumatology.

Related Links:

University Children's Hospital Muenster
R&D Systems
Merck Millipore