Synovial Fluid Neutrophils Phenotyped in Oligoarticular Juvenile Idiopathic Arthritis
By LabMedica International staff writers
Posted on 29 Apr 2021
Juvenile idiopathic arthritis (JIA) is an inflammatory rheumatic joint disease affecting children. Despite disease onset being at a young age, symptoms may be lifelong and include irreversible joint damage or growth disturbances.
The most common subtype in the Western world is oligoarticular, commonly characterized by asymmetric disease onset with inflammation in one to four large joints. Neutrophils are the most prevalent immune cells in the synovial fluid in inflamed joints of children with oligoarticular juvenile idiopathic arthritis.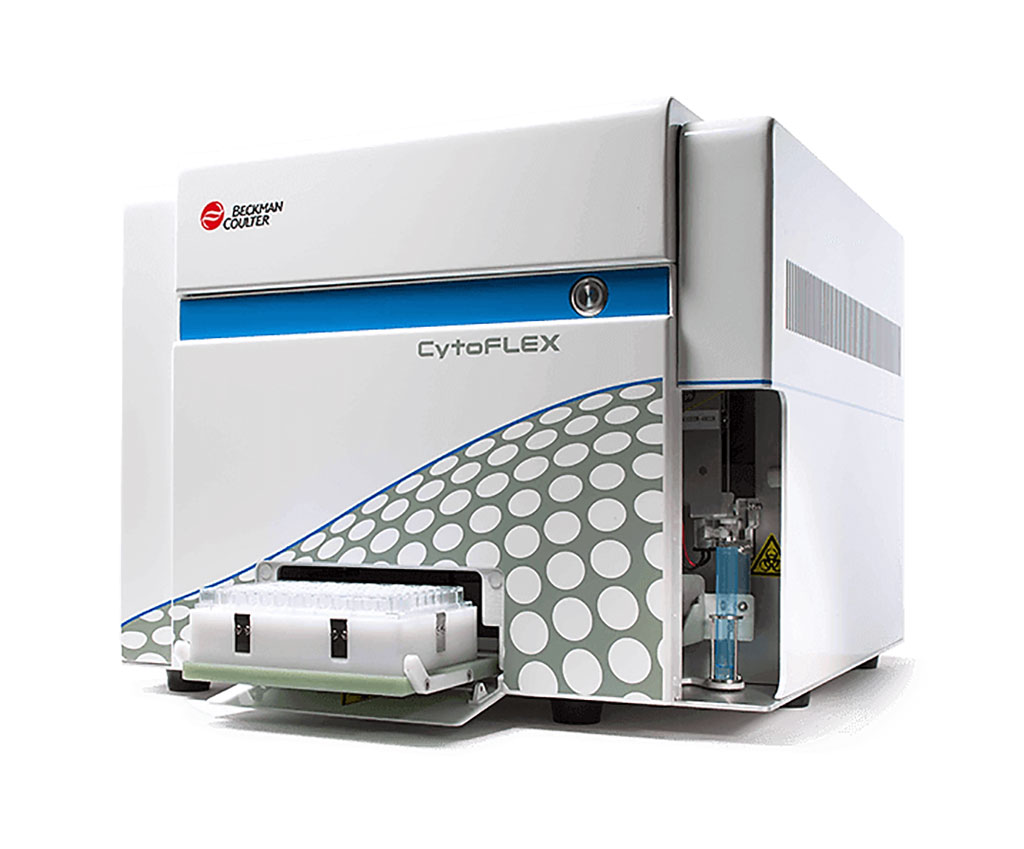 A multidisciplinary team of medical scientists at Lund University (Lund, Sweden) obtained neutrophils from paired blood and synovial fluid from 17 patients with active oligoarticular JIA were investigated phenotypically and 13 functionally (phagocytosis and oxidative burst, by flow cytometry). In a subset of six patients, blood samples were also obtained during inactive disease at a follow-up visit. The presence of CD206-expressing neutrophils was investigated in synovial biopsies from four patients by immunofluorescence.
Total white blood cell counts and relative frequency of neutrophils were investigated in the blood and synovial fluid samples on an XN-350 instrument (Sysmex Corporation, Kobe, Japan). Synovial, oral, and purified cell samples were washed with PBS after staining. Samples were analyzed on a FACS Canto II flow cytometer (BD Biosciences, San Jose, CA, USA) or a CytoFLEX (Beckman Coulter, Brea, CA, USA). Neutrophil maturity was determined using surface markers. Others methods used by the scientists included immunofluorescence staining of synovial tissue biopsies; stimulation of healthy blood neutrophils with JIA synovial fluid; investigating neutrophils from the healthy oral cavity; and neutrophil effector function.
The team reported that neutrophils in synovial fluid had an activated phenotype, characterized by increased CD66b and CD11b levels, and most neutrophils had a CD16
hi
CD62L
low
aged phenotype. A large proportion of the synovial fluid neutrophils expressed CD206, a mannose receptor not commonly expressed by neutrophils, but by monocytes, macrophages, and dendritic cells. CD206-expressing neutrophils were also found in synovial tissue biopsies. The synovial fluid neutrophil phenotype was not dependent on transmigration alone. Functionally, synovial fluid neutrophils had reduced phagocytic capacity and a trend towards impaired oxidative burst compared to blood neutrophils. In addition, the effector functions of the synovial fluid neutrophils correlated negatively with the proportion of CD206
+
neutrophils.
The authors concluded that neutrophils in the inflamed joint in oligoarticular JIA were altered, both regarding phenotype and function. Neutrophils in the synovial fluid were activated, had an aged phenotype, had gained monocyte-like features, and had impaired phagocytic capacity. The impairment in phagocytosis and oxidative burst was associated with the phenotype shift. They speculated that these neutrophil alterations might play a role in the sustained joint inflammation seen in JIA. The study was published on April 9, 2021 in the journal
Arthritis Research & Therapy.
Related Links:

Lund University
Sysmex Corporation
BD Biosciences
Beckman Coulter