Serum α-L-Fucosidase Activity Measured for COVID-19 Infection
By LabMedica International staff writers
Posted on 22 Apr 2021
An unusual fucosylated LacdiNAc in the receptor-binding domains of the spike protein of COVID-19 has been observed. Reduced fucosylation was also found in a specific Fc domain of IgG antibodies in COVID-19 patients that enhanced the interactions with the activating FcγR, FcγRIIIa.
α-L-fucosidase is the enzyme used to catalyze the hydrolytic removal of L-fucose from the fucosylated glycans in the glycoproteins and glycolipids. Removal of fucose from the airway mucus not only impaired the wound closure of the airway, but also regulated the function of immune cells to defense against bacteria and viruses.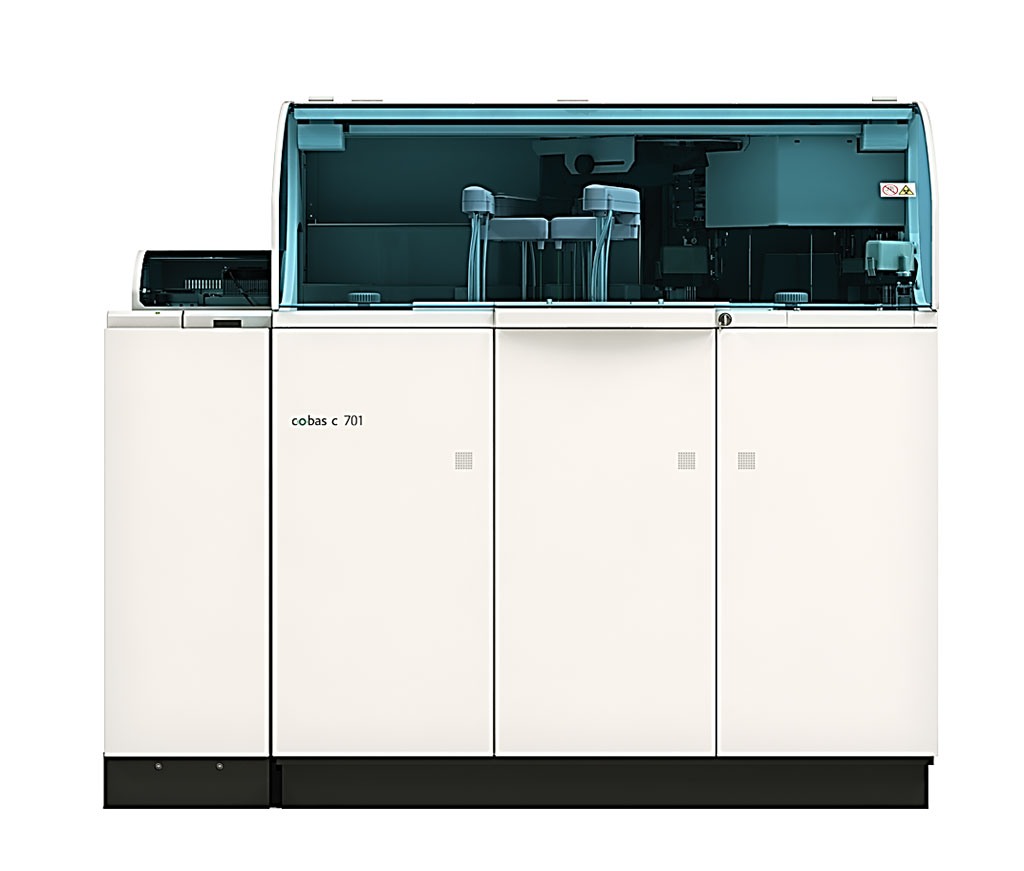 Medical Laboratorians at the University of Chinese Medicine (Guangzhou, China) included 585 COVID-19 patients from December 26, 2019, to March 9, 2020, to analyze the correlations of α-L-fucosidase activity with the nucleic acid test, IgM/IgG, comorbidities, and disease progression. An automated hematology analyzer was used to perform blood count (Sysmex Corporation, Kobe, Japan). Analysis of peripheral blood lymphocyte subsets was performed by BD FACSCanto II (Becton, Dickinson, and Company, Franklin Lakes, NJ, USA).
The clinical biochemical analytes were measured on a Roche Cobas 701 (Roche Diagnostics, Rotkreuz, Switzerland). In particular, the serum amyloid (SAA) and C-reactive protein (CRP) measurements were performed based on latex immunoturbidimetry. The serum α-L-fucosidase activity was quantified using MG-2-chloro-4-nitrobenzene-α-L-fucoside (CNPF) as the substrate (Maccura Biotechnology Co., Ltd, Chengdu, China) on a Roche Cobas 701.
The scientists reported that among the COVID-19 patients, 5.75% were double-negative for nucleic acid and antibodies. All of them had increased α-L-fucosidase, while only one had abnormal serum amyloid A (SAA) and C-reactive protein (CRP). The abnormal rate of α-L-fucosidase was 81.82% before the presence of IgM, 100% in the presence of IgM, and 66.2% in the presence of IgG. The team noted that 73.42% of patients with glucometabolic disorders had increased α-L-fucosidase activity and had the highest mortality of 6.33%. The increased α-L-fucosidase was observed in 55.8% of non-severe cases and 72.9% of severe cases, with an odds ratio of 2.12. The α-L-fucosidase mRNA was irrelevant to its serum activity.
The authors concluded that the change in α-L-fucosidase activity in COVID-19 preceded the IgM and SAA and showed a preferable relation with glucometabolic disorders, which may be conducive to virus invasion or invoke an immune response against SARS-CoV-2. The study was published on April 5, 2021 in the journal
Clinica Chimica Acta.
Related Links:

University of Chinese Medicine
Sysmex Corporation
Becton, Dickinson, and Company
Roche Diagnostics
Maccura Biotechnology Co