Snibe Diagnostic's Maglumi HIV Ab/Ag Combi CLIA Assay (4th-Generation) Secures CE Mark (List A)
By LabMedica International staff writers
Posted on 16 Apr 2021
Snibe Diagnostic (Shenzhen, China) has received the CE certificate (List A) for the Maglumi HIV Ab/Ag Chemiluminescence Immunoassay (CLIA) assay.
CE List A is the highest level of CE certification, which requires that the entire product performance verification process needs to be independently completed in Europe by a third party, and the results also need to be compared with the excellent products of the EU. It indicates that Maglumi HIV Ab/Ag Combi CLIA kit has totally met EU standards of performance, quality and safety, and can be sold in European markets.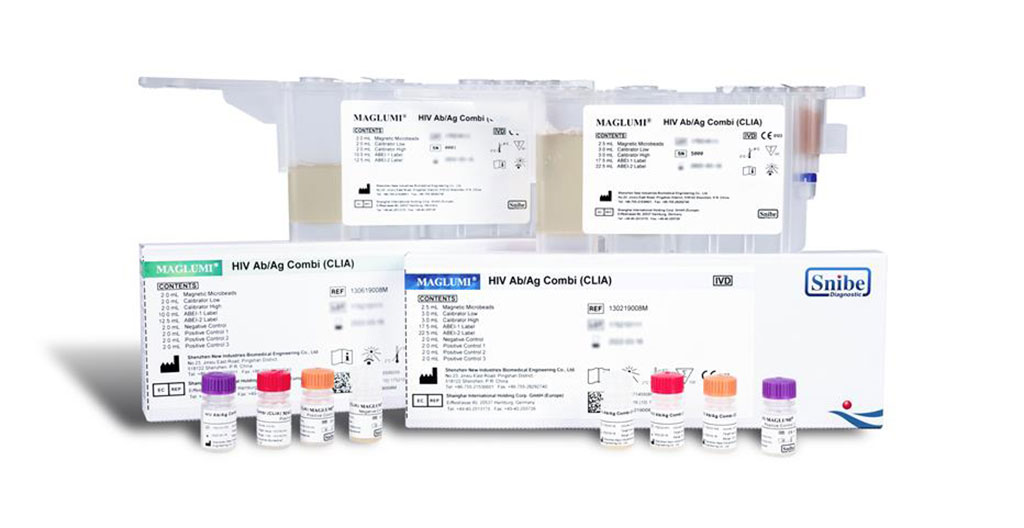 HIV, or the human immunodeficiency virus, remains a major global public health problem, killing nearly 33 million people to date. Early diagnosis plays an essential role in the effective treatment of HIV and in increasing the survival rate of HIV patients. In the early stage of infection, the infected person usually has no specific clinical manifestations, and the HIV cannot be detected by conventional antibody detection methods, resulting in further spread of the virus. Adopting effective methods to detect early-stage infections and providing intervention and treatment are of great significance to individual and public health.
The US CDC's laboratory testing guideline reports that HIV-1 p24 antigen is expressed and quantities rise to a level that can be detected by 4th generation immunoassays within four to 10 days after the initial detection of HIV-1 RNA. Next, immunoglobulin (Ig) M antibodies are expressed which can be detected by 3rd and 4th generation immunoassays three to five days after p24 antigen is first detectable, 10 to 13 days after the appearance of viral RNA.
The Maglumi HIV Ab/Ag Combi CLIA assay is the 4th generation HIV assay, which can reduce the detection window period by detecting not only HIV-1/2 antibodies but also the p24 antigen. The assay has an excellent clinical performance validated by the third-party independent laboratory in Germany, including: 100% clinical sensitivity for the positive samples of HIV-1 p24, Anti-HIV-1 and Anti-HIV-2; 99.98% clinical specificity for blood donor samples; equal or more sensitive than most commercial assays in the seroconversion panels detection; analytical sensitivity of 0.7695 IU/mL when testing the NIBSC HIV-1 p24 antigen (NIBSC code: 90/636, ≤ 2.0 IU/mL); no cross-reaction with common potential interferent; validated different types of sample collecting tube; and capability to detect various groups of HIV.
Related Links:

Snibe Diagnostic