Immunoassay Developed for Quantitative Detection of Serum Interleukin‐6
By LabMedica International staff writers
Posted on 07 Apr 2021
Interleukin‐6 (IL‐6) is a multifunctional protein and is primarily produced by macrophages, monocytes, fibroblasts, and T lymphocytes, and plays important roles in immune regulation, hematopoiesis, inflammation, and tumorigenesis.
IL‐6 has shown the highest value in the diagnosis of sepsis compared with procalcitonin (PCT) and C‐reactive protein (CRP), which are also important biomarkers of infection. Traditional IL‐6 detection methods include chemiluminescence immunoassays (CLIA), enzyme‐linked immunosorbent assays (ELISA) and electrochemiluminescence immunoassays (ECLIA).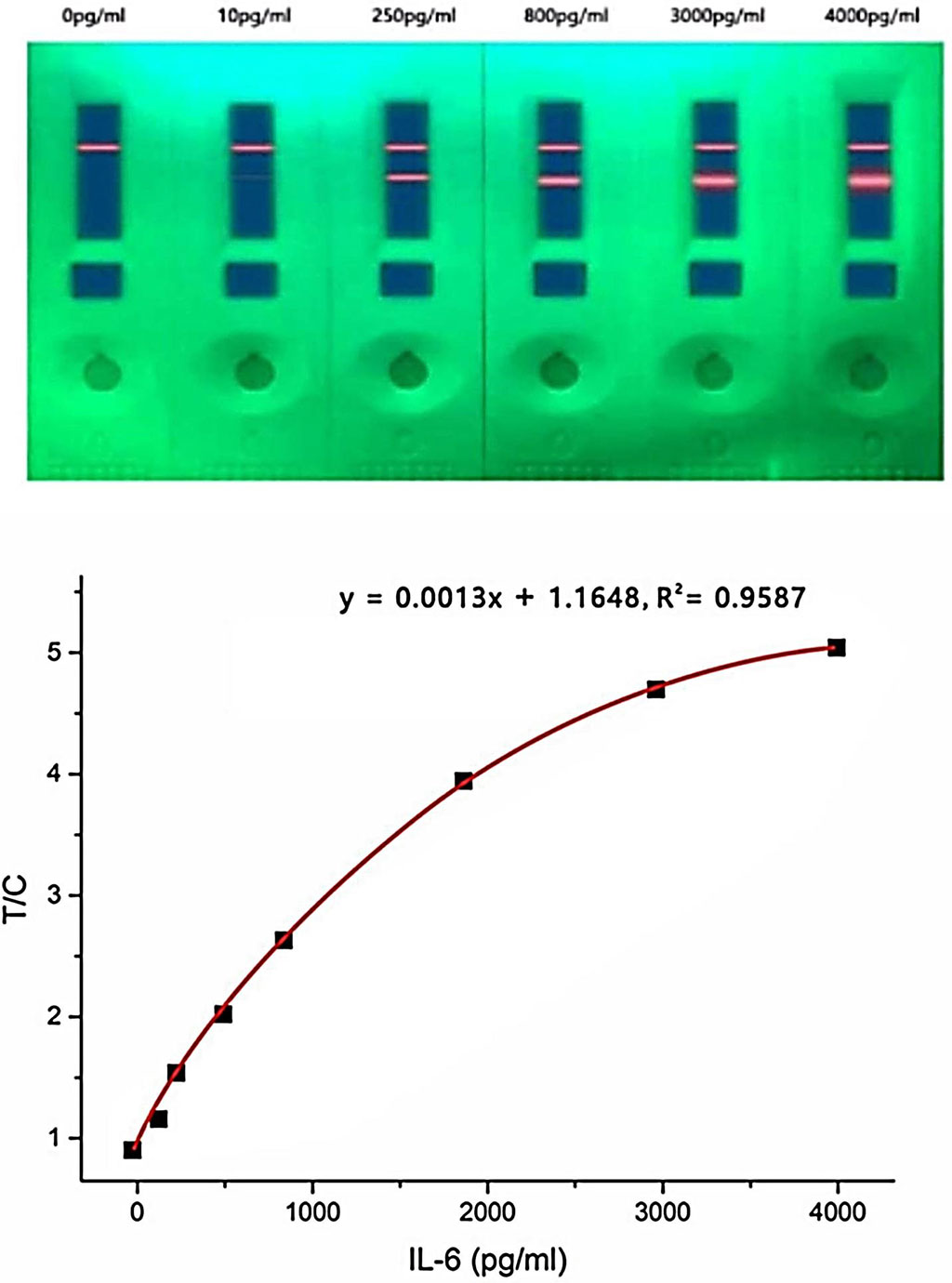 Medical Scientists at the Second Affiliated Hospital of University of South China (Hengyang, China) developed a quantum dot (QD)‐based fluorescence lateral flow immunoassay (LFIA) strip that can rapidly and accurately detect IL‐6 levels. The QD‐based LFIA strips were fabricated by conjugating cadmium selenide/zinc sulfide (CdSe/ZnS) QDs to the IL‐6 antibody. The strips were made of nitrocellulose (NC) membranes, semi‐rigid polyvinylchloride (PVC) sheets, and polyester fiber. The IL‐6 CLIA kits were from Beckman Coulter (Pasadena, CA, USA).
The fluorescence intensity of the test (T) line and the control (C) line on the strip were detected using the self‐designed KF‐Q001‐A fluorescence immunoassay analyzer (Kingfocus Biomedical Engineering Co., Ltd, Shenzhen City, China). The QDs and antibodies were dispensed onto the strip using a piece of three‐dimensional gold‐spraying equipment. IL‐6 CLIA detection was performed on the Beckman Coulter Dxl800 instrument. A total of 200 human serum samples were obtained from a local hospital, The IL‐6 concentrations of these samples ranged from 0 to 580.42 ng/mL. The samples were detected using the strip and the Beckman IL‐6 CLIA kit within two hours of each other.
The investigators reported that the test strip's linear range was 10–4,000 pg/mL, with a linear correlation coefficient of R
2
≥ 0.959. The sensitivity of the test strip was 1.995 pg/mL. The recovery rate was 95.72%–102.63%, indicating satisfying accuracy. The coefficient of variation (CV) of the intra‐assay was 2.148%–3.903%, while the inter‐assay was 2.412%–5.293%, verifying the strip's high precision. The cross‐reaction rates with various interleukins (IL‐1α, IL‐1β, IL‐2, IL‐4, and IL‐8) and interferon‐γ (IFN‐γ) were all less than 0.1%.
The authors concluded that they had successfully established a QD‐based LFIA method for rapid and accurate detection of human serum IL‐6, providing a more simple, robust, and economic point-of-care technology (POCT) for IL‐6 quantification, which is of great value for the early detection and treatment of sepsis and related disorders. The study was published on March 24, 2021 in the
Journal of Clinical Laboratory Analysis.
Related Links:

Second Affiliated Hospital of University of South China
Beckman Coulter
Kingfocus Biomedical Engineering Co., Ltd