Toxoplasmosis Immune Status in Pregnancy Determined by Immunochromatography Assay
By LabMedica International staff writers
Posted on 30 Mar 2021
Toxoplasmosis is a disease that results from infection with the
Toxoplasma gondii
parasite, one of the world's most common parasites. Infection usually occurs by eating undercooked contaminated meat, exposure from infected cat feces, or mother-to-child transmission during pregnancy.
Obstetrical toxoplasmosis involves the systematic serological screening for
Toxoplasma
‐specific IgG and IgM antibodies which is usually performed using enzyme-linked immunosorbent assay (ELISA) techniques. Screening tests used routinely are not sufficient and require additional techniques to determine the
Toxoplasma
immune status.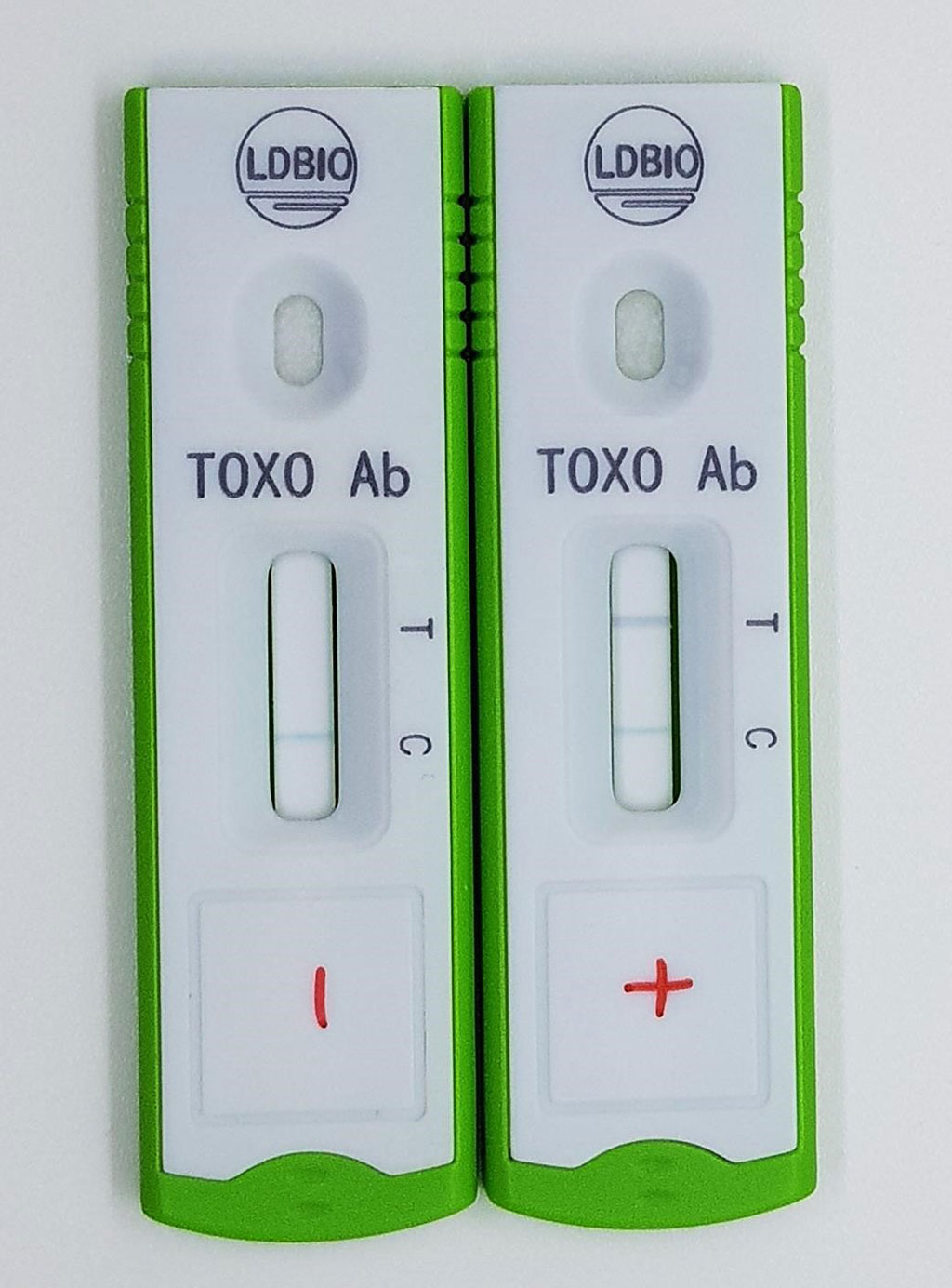 Medical Parasitologists at the Pasteur Institute of Tunis (Tunis, Tunisia) selected 39 sera collected during the period 2015 to 2018 in the setting of the routine
Toxoplasma
serological screening in pregnant women. Sera were selected according to their anti‐
Toxoplasma
IgM and IgG antibodies titers in "Platelia Toxo IgG, IgM" (Bio-Rad, Marnes-la-Coquette, France).
Western blot Toxo II IgG (LDBIO DIAGNOSTICS, Lyon, France) was performed for all the sera in order to precisely determine their exact
Toxoplasma
immune status. The LDBIO Toxoplasma ICT IgG‐IgM is a rapid, simple, qualitative test based on immunochromatography technology (ICT, lateral flow). A positive test reveals the presence of anti‐
Toxoplasma
antibodies, but does not distinguish between IgG and IgM classes.
The scientists reported that in the absence of IgM and presence of IgG equivocal titers in ELISA,
Toxoplasma
ICT IgG‐IgM and WB Toxo II results were 94.7% concordant. All positive samples in WB were also positive in ICT. The sensitivity in the detection either of low IgG titers in absence of IgM or of specific anti‐
Toxoplasma
IgM was 100%. Only one serum with equivocal IgG titer by ELISA and negative with Toxo II IgG test revealed positive in ICT. However, this serum showed a P30 band in WB analysis. On the other hand, three sera positive in ELISA IgM and negative in ELISA IgG revealed positive in ICT and negative in WB Toxo II IgG, the reference test.
The authors concluded that their results confirm the high sensitivity of
Toxoplasma
ICT IgG‐IgM in detecting both specific anti‐
Toxoplasma
IgG and IgM, and highlight the usefulness of this rapid test as a first or second‐line
Toxoplasma
serological test in pregnant women. The study was published on March 15, 2021 in the
Journal of Clinical Laboratory Analysis.
Related Links:

Pasteur Institute of Tunis
Bio-Rad
LDBIO DIAGNOSTICS