Paraproteins Identification Methods Compared for Monoclonal Gammopathies
By LabMedica International staff writers
Posted on 18 Mar 2021
Monoclonal gammopathy, also known as paraproteinemia, is the presence of excessive amounts of myeloma protein or monoclonal gamma globulin in the blood. It is usually due to an underlying immunoproliferative disorder or hematologic neoplasms, especially multiple myeloma.
In monoclonal gammopathies, the full laboratory workup for initial diagnosis and disease relapse includes a complete blood count and differential, a peripheral blood smear, a chemistry screen including calcium and creatinine, serum protein electrophoresis, serum immunofixation (IFE), immunoturbidimetric or immunonephelometric quantification of serum Ig, routine urinalysis, 24-hour urine collection for electrophoresis and immunofixation, serum β2-microglobulin, lactate dehydrogenase, and measurement of serum free light chains.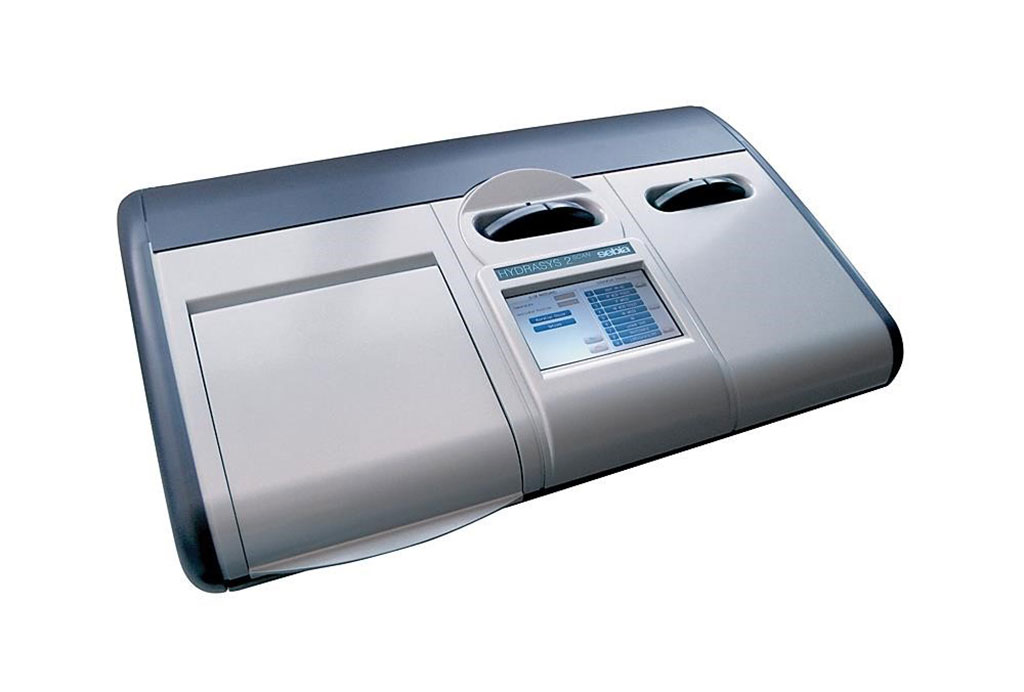 Medical Laboratory Scientists at the MDI Limbach Berlin GmbH (Berlin, Germany) evaluated methodic differences between serum immunofixation and serum immunosubtraction as well as in the quantitation of serum immunoglobulins on different clinical chemical platforms. The scientists used 322 unique routine patient samples and used for comparison between serum immunofixation (IFE) on HYDRASIS 2 (Sebia, Lisses, France) and serum immunosubtraction (ISE) on Sebia's CAPILLARYS 2 as well as between quantitation results of immunoglobulin A, G, and M on the ARCHITECT c16000PLUS (Abbott Core Laboratory, Abbott Park, IL, USA) and the Cobas c 502 module (Roche Diagnostics, Rotkreuz, Switzerland). The median age of patients was 75 years.
The scientists reported that IFE detected and identified a total of 69 paraproteinemias, while ISE only detected monoclonal proteins in 51 samples, a difference of 26%. ISE failed to detect 6/7 samples with biclonal paraproteinemias as well as 8/11 monoclonal paraproteins involving IgA and 4/10 monoclonal paraproteins involving IgM identified by IFE. For monoclonal paraproteins involving IgG, the total number of detections was 39 in IFE and 38 in ISE. Samples with paraproteinemia were nearly evenly split between sexes. Paraprotein identification differed remarkably between immunofixation and immunosubtraction. Quantitation of serum immunoglobulins showed higher values on Abbott's ARCHITECT c16000PLUS when compared with Roche's Cobas c 502 module.
The authors concluded that identification of paraproteins via serum immunosubtraction is inferior to serum immunofixation, which can have implications on the diagnosis and monitoring of patients with monoclonal gammopathy. If immunoturbidimetric quantitation of immunoglobulins is used for follow-up, the same clinical-chemical platform should be used consistently. The study was published on February 26, 2021 in the journal
Archives of Pathology and Laboratory Medicine.
Related Links:

MDI Limbach Berlin GmbH
Sebia
Abbott Core Laboratory
Roche Diagnostics