Fibrinogen to Albumin Ratio Reflects ANCA‐Associated Vasculitis Activity
By LabMedica International staff writers
Posted on 04 Mar 2021
Microscopic polyangiitis (MPA), granulomatosis with polyangiitis (GPA) and eosinophilic granulomatosis with polyangiitis (EGPA) belong to a group of anti-neutrophil cytoplasmic antibody (ANCA)‐associated vasculitis (AAV).
Plasma fibrinogen is produced by the liver, and its expression may be increased along with the inflammatory burden. For this reason, fibrinogen is considered a positive acute‐phase protein similar to erythrocyte sedimentation rate (ESR) and C‐reactive protein (CRP). Serum albumin is also produced by the liver, but its expression may be decreased in response to the inflammatory burden, unlike fibrinogen. For this reason, serum albumin is categorized to a negative acute‐phase protein similar to transferrin.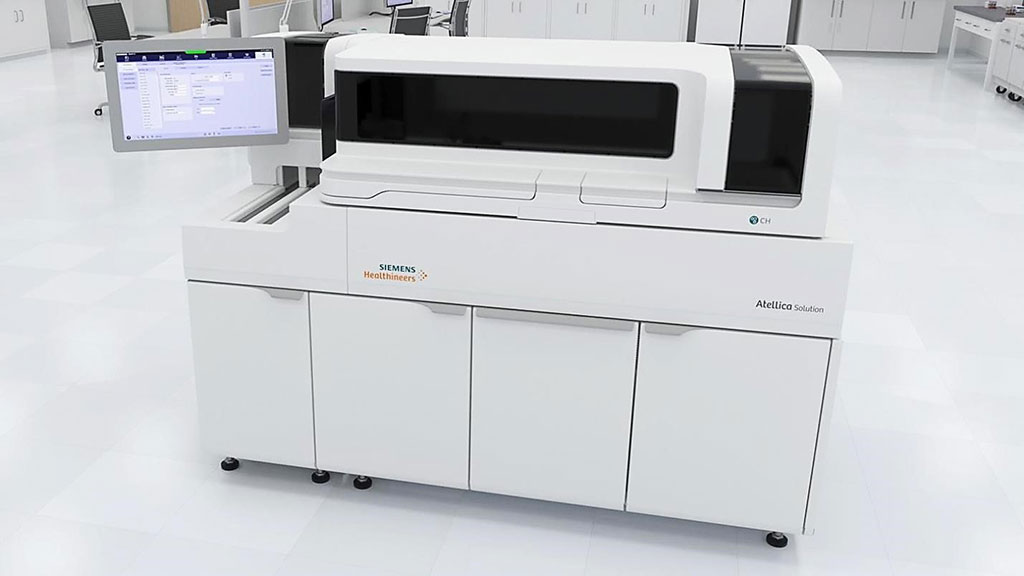 Rheumatologists at the Yonsei University College of Medicine (Seoul, Republic of Korea) included in a cross‐sectional study 54 immunosuppressant drug‐naïve patients with AAV who had the results of plasma fibrinogen and serum albumin at diagnosis. The median age was 65.5 years, and 59.3% of patients were women. Of 54 patients, 61.1% of patients had MPA, 24.1% had GPA, 14.8% had EGPA, and 46 of the 54 patients had ANCA.
Plasma fibrinogen was measured with ACL TOP 750 CTS analyzer (Werfen, Barcelona, Spain) using clotting method, and serum albumin was measured with Siemens Atellica CH 930 analyzer (Siemens Healthcare GmbH, Munich, Germany) using Bromocresol green. Fibrinogen to albumin ratio (FAR) was calculated by dividing plasma fibrinogen by serum albumin: FAR = plasma fibrinogen (g/dl)/serum albumin (g/dl).
The scientists reported that the median Birmingham vasculitis activity score (BVAS), ESR and CRP were 13.0, 53.5 mm/h and 9.0 mg/L, respectively. FAR was significantly correlated with BVAS; r = 0.271), erythrocyte sedimentation rate (ESR; r = 0.668) and C‐reactive protein (CRP; r = 0.638). High BVAS was defined as BVAS ≥16, and the cut‐off of FAR at diagnosis was set as 0.118. AAV patients with FAR at diagnosis ≥0.118 had a significantly higher risk for the cross‐sectional high BVAS than those without (Risk Ratio [RR] 3.361). In the univariable linear regression analysis, CRP (β = 0.383) and FAR (β = 0.297) were significantly correlated with BVAS at diagnosis. However, in the multivariable analysis, none of them was correlated with the cross‐sectional BVAS. FAR at diagnosis could not predict poor outcomes during follow‐up in AAV patients.
The authors concluded that they had identified the clinical significance of FAR in AAV patients. In particular, in the absence of BVAS, the results of this study were meaningful in that it was the cornerstone of an attempt not to miss the high activity of AAV through close observation and monitoring by selecting patients vulnerable to the aggravation of AAV. The study was published on February 16, 2021 in the
Journal of Clinical Laboratory Analysis.
Related Links:

Yonsei University College of Medicine
Werfen
Siemens Healthcare GmbH