Urinary Antigen Test Kit Evaluated for Diagnosing Legionella Pneumonia
By LabMedica International staff writers
Posted on 24 Feb 2021
Legionellosis is caused by bacteria called
Legionella
. The disease has two different forms. Legionnaires' disease is the more severe form of infection that causes pneumonia. Pontiac fever is caused by the same bacteria, but is a milder illness without pneumonia.
Various examinations are performed for the diagnosis of
Legionella
pneumonia, including urinary antigen tests, respiratory specimen cultures, nucleic acid detection tests, and serum antibody tests. Although culture of
Legionella
species from a respiratory specimen is the diagnostic gold standard, it is time consuming.
L. pneumophila
is divided into 15 serogroups (SG).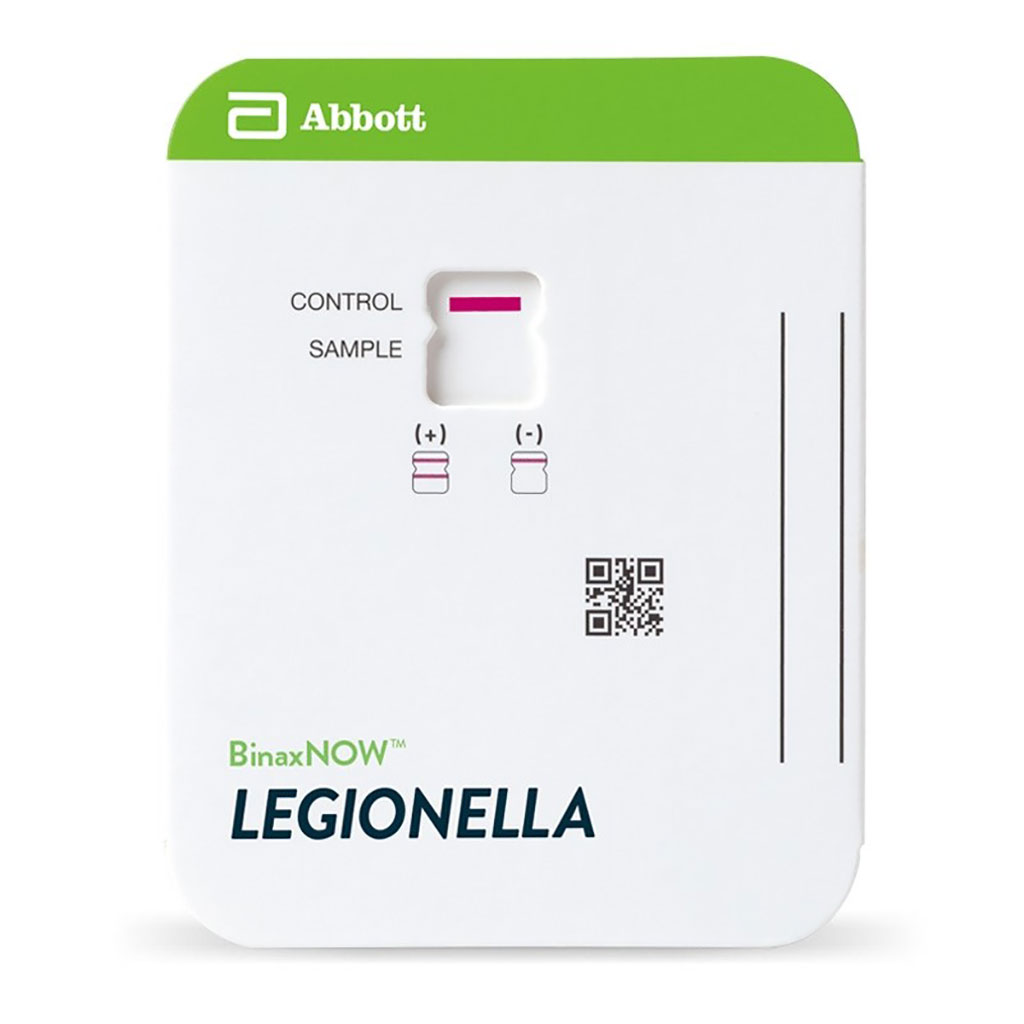 A large team of medical microbiologists and their colleagues at Kurashiki Central Hospital (Kurashiki, Japan) enrolled prospectively pneumonia patients suspected by attending physicians to have disease caused by
Legionella
species based on symptoms, laboratory examinations, and radiological findings, and whose urine samples could be collected, from 16 hospitals in Japan from April 2016 to December 2018.
Three urinary antigen test kits were used: the novel kit (LAC-116 Asahi Kasei Pharma Corporation, Tokyo, Japan), BinaxNOW Legionella (Binax, Abbott Park, IL, USA), and Q-line Kyokutou
Legionella
(Q-line, Kyokutou Corporation, Tokyo, Japan). In addition, sputum culture and nucleic acid detection tests and serum antibody tests were performed where possible. The diagnostic accuracy and correlations of the novel kit with the two existing kits were analyzed.
The scientists reported that in total, 56 patients were diagnosed with
Legionella
pneumonia. The sensitivities of LAC-116, Binax, and Q-line were 79%, 84%, and 71%, respectively. The overall match rate between LAC-116 and Binax was 96.8% and between LAC-116 and Q-line was 96.4%. One patient had
L. pneumophila
serogroup 2, and only LAC-116 showed a positive result, whereas Binax and Q-line did not.
The authors concluded that the novel kit can theoretically diagnose
Legionella
pneumonia due to both
L. pneumophila
SG1 and non-SG1, and it is therefore useful for diagnosing
Legionella
pneumonia. In the future, early and appropriate diagnosis of
Legionella
pneumonia due to non-
L. pneumophila
SG1 can be expected with this novel kit. The team believes that the use of this kit may improve the prognosis of
Legionella
pneumonia patients. The study was published on February 1, 2021 in the
International Journal of Infectious Diseases
.
Related Links:

Kurashiki Central Hospital
Asahi Kasei Pharma Corporation
Binax
Kyokutou Corporation