T Cell Response Profiled in COVID-19 Patients
By LabMedica International staff writers
Posted on 22 Feb 2021
The clinical spectrum of SARS-CoV-2 infection is highly variable, spanning from asymptomatic or subclinical infection, to severe or fatal disease. Characterization of the immune response to SARS-CoV-2 is urgently needed in order to better inform more effective treatment strategies, including antivirals and rationally designed vaccines.
Antibody responses to SARS-CoV-2 have been shown to be heterogenous, whereby male sex, advanced age and hospitalization status are associated with higher titers of antibodies. Low or even undetectable neutralizing antibodies in some individuals with rapid decline in circulating antibodies to SARS-CoV-2 after resolution of symptoms underscores the need to assess the role of the cellular immune response.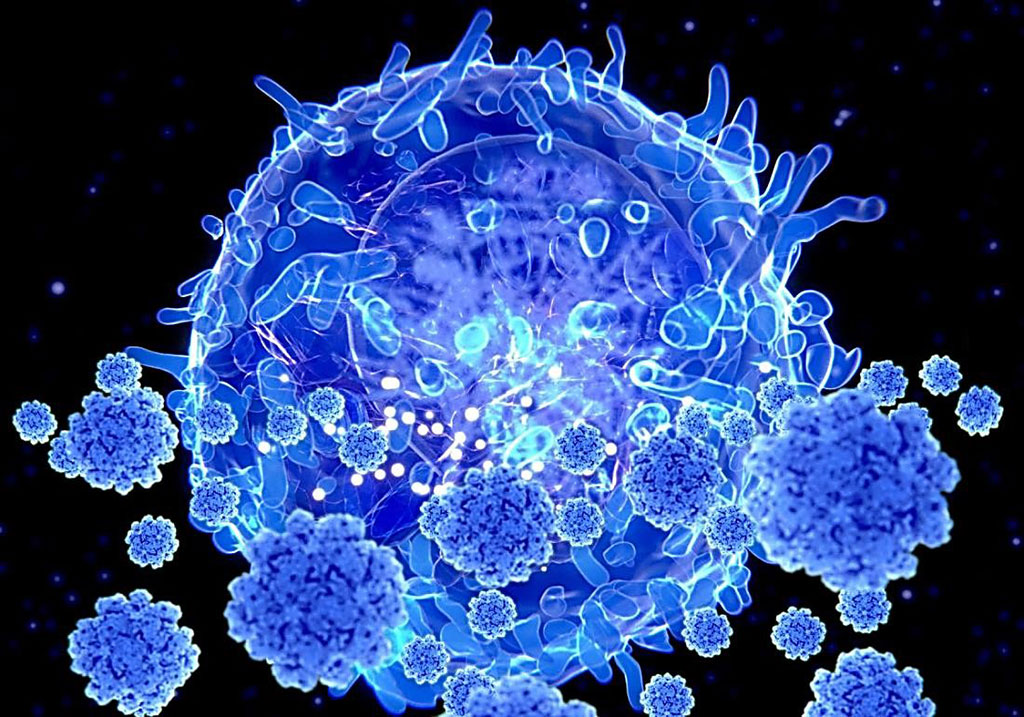 Medical Scientists from the National Institute of Allergy and Infectious Diseases (Bethesda, MD, USA) and their colleagues from other institutes collected blood samples from 30 COVID-19 convalescent individuals. The samples were separated into plasma and peripheral blood mononuclear cells (PBMC) within 12 hours of blood collection. Aliquots of plasma and PBMC were stored at -80 ˚C until further processing.
A subset of convalescent individuals was selected for evaluating SARS-CoV-2 specific CD8+ T cells using highly multiplexed mass cytometry. For the profiling work, the team used the TargetScape assay (ImmunoScape Pte Ltd, Singapore, Singapore), which uses mass cytometry to study antigen-specific CD8
+
T cells. The TargetScape platform uses tetramers containing major histocompatibility complexes (MHCs) loaded with peptide antigens of interest to profile patient immune responses. Highly sensitive, multiplexed sandwich immunoassays using MULTI-ARRAY electrochemiluminescence detection technology (MesoScale Discovery, Gaithersburg, MD, USA) were used for the quantitative evaluation of 35 different human cytokines and chemokines in plasma samples from eligible donors.
The scientists reported that there were 132 SARS-CoV-2-specific CD8
+
T cell responses detected across six different HLAs, corresponding to 52 unique epitope reactivities. CD8
+
T cell responses were detected in almost all convalescent individuals and were directed against several structural and non-structural target epitopes from the entire SARS-CoV-2 proteome. A unique phenotype for SARS-CoV-2-specific T cells was observed that was distinct from other common virus-specific T cells detected in the same cross-sectional sample and characterized by early differentiation kinetics. Modeling demonstrated a coordinated and dynamic immune response characterized by a decrease in inflammation, increase in neutralizing antibody titer, and differentiation of a specific CD8
+
T cell response.
Andrew D. Redd, PhD, an assistant professor and a senior study author, said, "The approach allowed us to investigate a much wider range of epitopes than would be possible with traditional T cell profiling approaches like enzyme-linked immune absorbent spot (ELISpot) assays or flow cytometry. Another advantage was the ability to tag the same epitopes with two different barcodes, which improves the specificity of the assay by letting scientists require both barcodes to be detected in order to call a T cell-epitope hit."
The authors concluded that the discovery of hitherto undescribed SARS-CoV-2 T cell specificities, their unbiased phenotypic evaluation, and their correlation with the overall inflammation greatly extends the current understanding about natural immunity to SARS-CoV-2. The study was published on January 11, 2021 in the
Journal of Clinical Investigation.
Related Links:

National Institute of Allergy and Infectious Diseases
ImmunoScape Pte Ltd
MesoScale Discovery