Methods for Automated Anti-Neutrophil Cytoplasmic Antibodies Compared
By LabMedica International staff writers
Posted on 21 Oct 2020
The detection of anti-neutrophil cytoplasmic antibodies (ANCA) by indirect immunofluorescence assays (IFA) is of diagnostic importance in vasculitis and some other inflammatory diseases.
Several laboratories use formaldehyde-fixed neutrophil granulocytes as an auxiliary substrate in addition to conventional ethanol fixation which is reported to be useful in differentiating between antinuclear antibody and ANCA and improves interpretation of patterns. Many, especially high throughput laboratories consider indirect immunofluorescence (IIF) methods cumbersome, labor intensive and time consuming.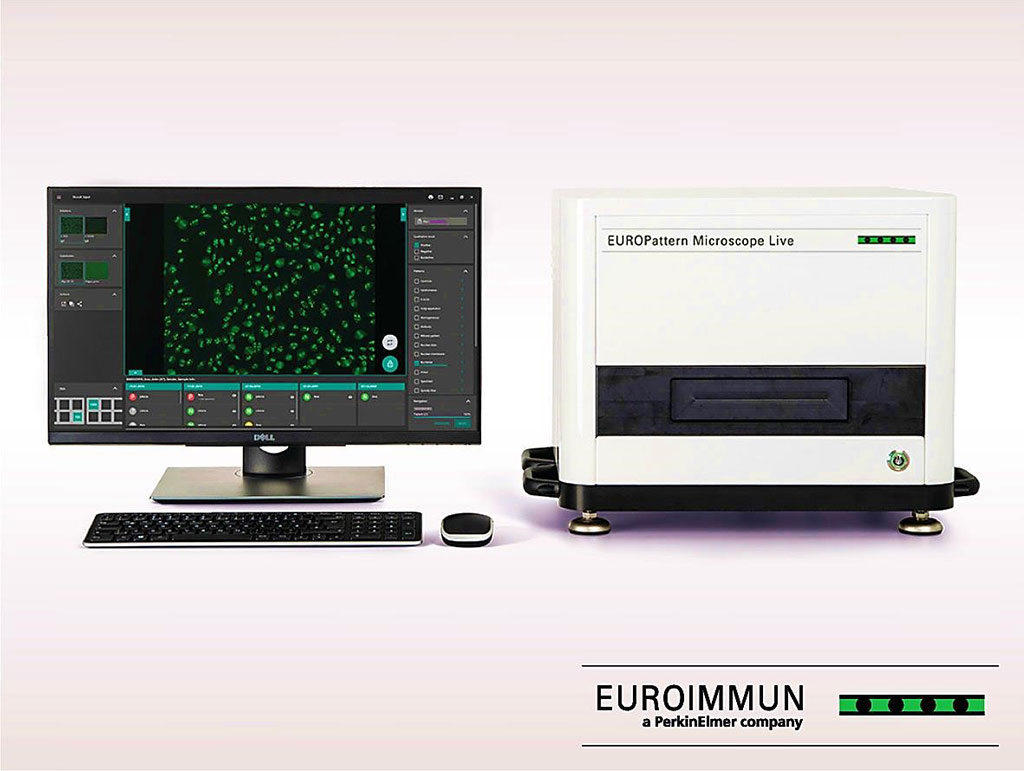 A team of clinical scientists at the University of Debrecen (Debrecen, Hungary) collected serum samples from 570 individuals, whose referrals were suspicion of or follow-up for acute and chronic renal failure, ulcerative colitis, Crohn's disease, systemic autoimmune diseases, vasculitis and autoimmune liver disorders. Five patients provided two samples.
Indirect immunofluorescence testing was performed using a reagent kit designed to be used with EUROPattern (EPa), EUROIMMUN's computer-aided immunofluorescence microscope (Granulocyte Mosaic 13; EUROIMMUN AG, Lübeck, Germany). One reaction area on the microscope slide contains three biochips (2 x 2 mm, substrate coated cover slips), covered by ethanol- or formaldehyde-fixed human neutrophil granulocytes or granulocytes scattered on a HEp-2 cell layer, respectively. Fluorescein isothiocyanate labeled goat anti-human IgG was used as secondary antibody (conjugate), which was supplemented with Evans blue dye for red counterstaining of the cells.
Slides were processed manually and screening dilution of serum samples was 1:10. The automatic results and the digital images were presented to the user on a calibrated computer screen, who checked and validated the patterns. Finally, the slides were evaluated by means of traditional visual reading under an epifluorescence microscope (EUROStar II Plus, EUROIMMUN AG).
The team reported that agreement of discrimination between negative and non-negative samples was 86.1% comparing EPa and conventional reading, and it increased to 96.7% after on-screen user validation. Importantly, from the 334 samples classified as negative by EPa, 328 (98.2%) were also negative by conventional evaluation. Pattern recognition showed 'moderate' agreement between classical microscopic and EPa analysis and 'very good' agreement after user validation. Misclassification by EPa was dominantly due to the presence of anti-nuclear/cytoplasmic antibodies (incorrect pattern, 80/568) and the lower fluorescence cut-off of the automated microscope (false positives, 73/568).
The authors concluded that automated ANCA testing by EPa is a reliable alternative of classical microscopic evaluation, though classification of sera needs correction by trained personnel during on-screen validation. The study was published on September 28, 2020 in the journal
Clinica Chimica Acta.