Unconventional T Cells in COVID-19 Patients Predicts Disease Outcome
By LabMedica International staff writers
Posted on 17 Sep 2020
While most people infected with the SARS-CoV-2 virus experience relatively mild symptoms, some patients mount an aberrant inflammatory response that can damage the lungs and cause acute respiratory distress syndrome (ARDS), potentially resulting in the patient's death.
Unconventional T cells are a diverse class of immune cells that help control the response to viral infection and are commonly found in the lungs and other mucosal tissues in the body. This heterogeneous class of T cells comprises three main lineages, including mucosa-associated invariant T (MAIT), γδT, and invariant natural killer T (iNKT) cells.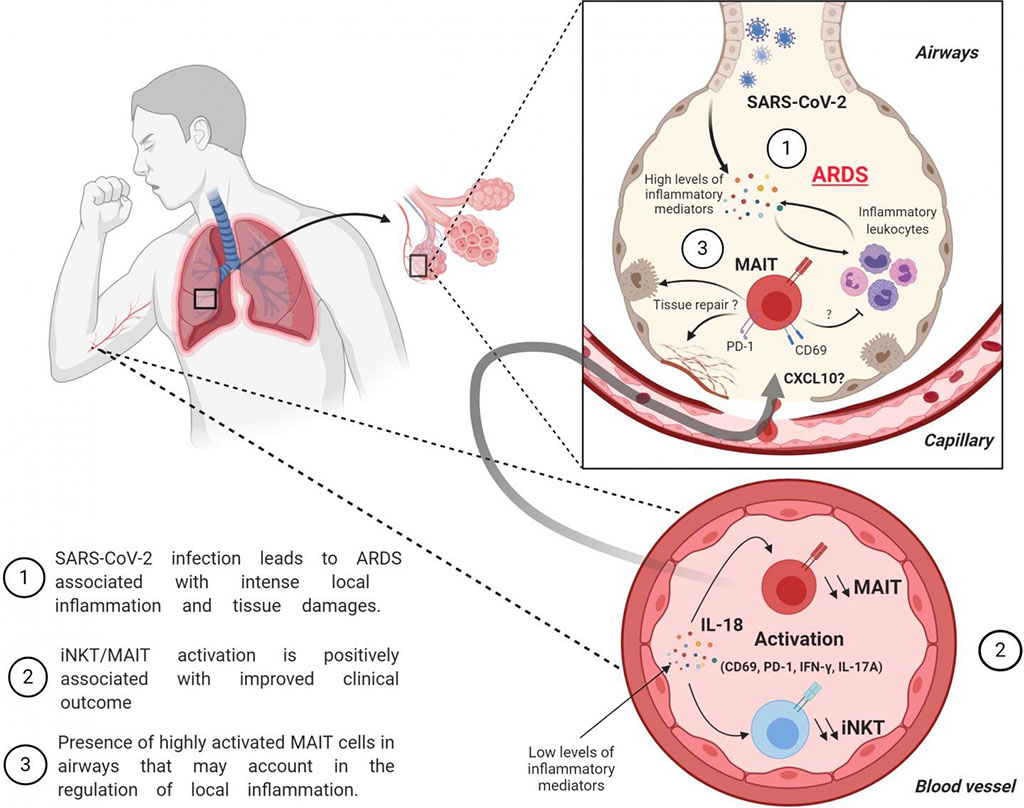 Medical scientists at the University of Tours (Tours, France) examined 30 patients admitted to intensive care with severe COVID-19 and compared the immune cells in their blood and lungs to those found in healthy volunteers or patients admitted to the ICU for reasons other than COVID-19. Endotracheal aspirates (ETA) was collected from seven intubated non–COVID-19 or 20 COVID-19 patients who were under invasive mechanical ventilation.
Staining was performed using antibodies from BioLegend (San Diego, CA, USA) and Miltenyi Biotec (Bergisch Gladbach, Germany). Inflammatory mediators were measured in sera and supernatants of ETA using the Bio-Plex Pro Human cytokines screening panel (Bio-Rad, Hercules, CA, USA) in a multiplex fluorescent bead assay (Luminex Technologies, Austin, TX, USA).
The investigators reported that they found two types of unconventional T cells, known as mucosal-associated invariant T (MAIT) and invariant natural killer T (iNKT) cells, were dramatically reduced in the blood of patients with severe COVID-19. However, the number of MAIT cells increased in the patients' airways, suggesting that these cells might move from the blood to the lungs to control the response to SARS-CoV-2 infection. The MAIT and iNKT cells of COVID-19 patients appeared to be highly activated and produced distinct sets of inflammatory molecules. The team found that patients whose circulating MAIT and iNKT cells were particularly active at the time of their admittance to the ICU were less susceptible to hypoxemia (low blood oxygen levels) and were discharged sooner than patients whose MAIT and iNKT cells were less active.
Christophe Paget, PhD, a medical immunologist and senior author of the study said, "Despite this, the role of unconventional T cells in the pathophysiological process of SARS-CoV-2-driven ARDS has not yet been explored. Altogether, our findings should encourage further studies on MAIT and iNKT cells in SARS-CoV-2-induced ARDS to assess their potential as biomarkers and/or targets for immune intervention strategies." The study was published on September 4, 2020 in the
Journal of Experimental Medicine.
Related Links:

University of Tours
BioLegend
Miltenyi Biotec
Bio-Rad
Luminex Technologies