New Gold and Copper Nanoshell-Enhanced Immunoblotting Technique Makes POC Diagnosis of Tuberculosis Easier
By LabMedica International staff writers
Posted on 09 Sep 2020
A team of researchers have developed a straightforward and naked-eye-sensitive nanoshell-enhanced immunoblotting technique to detect Mycobacterium tuberculosis (MTB) antigen 85B (Ag85B).
The group of researchers from DxGen Corporation (Gunpo-si, Gyeonggi-do, Korea), Chung-Ang University, ASAN Medical Center, and Choongnam National University Medical School has developed a novel gold binding peptide (GBP) that specifically binds to Ag85B secreted from MTB. Also, a new Cu or Gold ion treatment method was proposed to intensify the colorimetric signal of gold nanoparticles (AuNP). Research has revealed that the economical paper-based colorimetric detection method can easily diagnose active TB with only a small amount of urine sample with high sensitivity.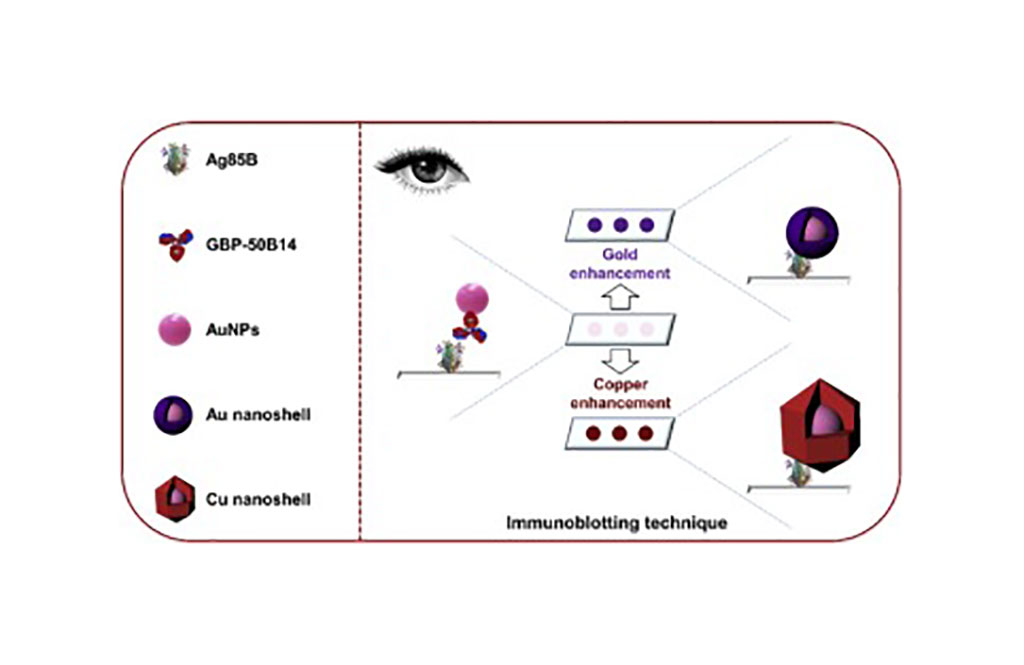 The process involves sequentially dropping a urine sample containing the secretion of MTB and the AuNP-GBP conjugate onto a piece of nitrocellulose membrane paper. After that, a solution containing Cu or Gold ions is dropped on the membrane that combines with AuNPs to form a new 'shell-shape' nanostructure by changing the size and shape. This results in enhancing the colorimetric signal to make it strong enough to easily be detected by the naked eye. Since the developed immunoassay directly detects the antigen, it can significantly reduce false positives caused by latent TB or a past infection. Furthermore, Cu- or Gold ion treatment intensifies the colorimetric signal by 20 times, making it stronger to detect very low concentrations even with a smartphone or optical analyzer (0.93 ng/ml and 0.21 ng/ml for Cu- or Gold ion treatment, respectively).
A clinical study conducted for 52 urine samples composed of active TB, latent TB, NTM and non-infected subjects showed that the infected samples had either Ag85B or CFP10 antigens. The results demonstrated that the developed assay has a sensitivity and specificity of 71.4% and 86.7%, respectively.
"The biggest challenge in detecting POCT TB is to generate signals strong enough to be detected by inexpensive systems. By using the technology we developed, qualitative detection is possible with the naked eye, so that it can be used in low-resource countries," said Dr. Prof. Tae-Jung Park from the Chungang University, the corresponding author of the published paper.
"To implement a cost-effective product to help ending TB in various countries, we will commercialize the research results by implementing on the Epithod(R) analyzer and test kit platform," said Dr. Jinwoo Lee, CEO of DxGen Corp.