Immune Responses Evaluated for Tick-Borne Encephalitis
By LabMedica International staff writers
Posted on 13 May 2020
Tick-borne encephalitis (TBE) is an important vector-borne infection of the central nervous system (CNS). The majority of all reported cases of TBE occur in adults. However, TBE should also be included in the differential diagnosis of pediatric CNS infections in endemic areas.
The chemokine CXCL13 is one of the key determinants of the humoral immune response at the site of an infection. CXCL13 is expressed in lymphoid organs and controls the recruitment and compartmentalization of B-cells and CD4+ T lymphocytes within these structures. CXCL13 is produced by microglia, stromal cells in the meninges, and infiltrating lymphoid cells.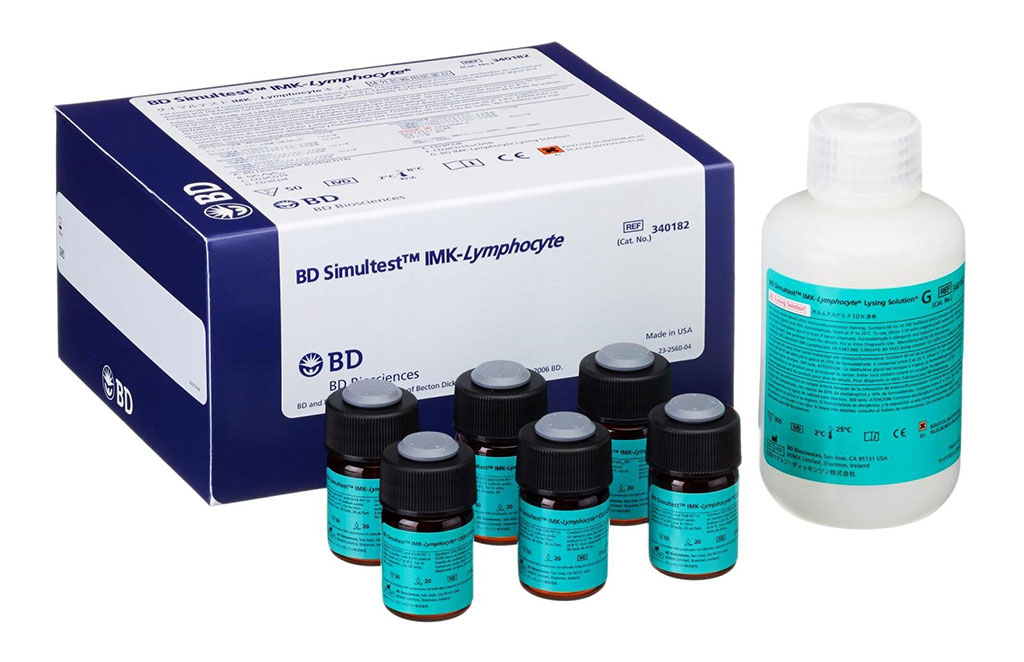 Infectious disease specialists at the Medical University of Bialystok (Bialystok, Poland) analyzed anti-tick-borne encephalitis virus (TBEV) antibody levels, cerebrospinal fluid (CSF) and blood lymphoid populations, and concentrations of CXCL13 (a potent B-cell and T-cell chemoattractant), in 35 patients with TBE (20 adults and 15 children). TBE was defined as a febrile illness with signs of meningitis or meningoencephalitis, a CSF cell count of more than 5 cells/μL, and the presence of serum IgM and IgG antibodies to TBEV.
The detection of anti-TBEV IgG and IgM antibodies in serum and CSF was performed by enzyme-linked immunosorbent assay (ELISA), using SERION ELISA classic kits (Würzburg, Germany). The CXCL13 concentration quotient was calculated as Q
CXCL13
= CXCL13
CSF
/CXCL13
serum
. QCXCL13 was used as a measure of the chemical gradient of that chemokine. A value greater than 1 indicates a higher concentration of CXCL13 in the CSF than in the serum. All serum and CSF samples were stored at −80 °C until analysis of the chemokine. For flow cytometry, samples were analyzed within 18 hours on a FACSCanto II cytometer (BDBiosciences, San Jose, CA, USA). The Simultest IMK-Lymphocyte kit from BD Biosciences was used to study peripheral blood and CSF lymphocyte fractions
The scientists reported that when compared with the blood, the CSF lymphoid population was significantly enriched in CD4+ T-cells and relatively depleted in natural killer (NK) cells and B lymphocytes. In comparison with TBE meningitis, patients suffering from TBE meningoencephalitis (11, 31%) had a 3.5-fold higher median CSF CXCL13 concentration, 1.8-fold higher CSF/serum ratio of anti-TBEV IgG antibodies, and 1.8-fold higher median CSF cell count. CSF CXCL13 levels did not change significantly in children with TBE meningitis receiving supportive treatment, but decreased in children with TBE meningoencephalitis who received intravenous steroids.
The authors concluded that the CSF in patients with TBE was abundant in CD4+ cells and relatively depleted in NK cells and in B lymphocytes, when compared with the blood. A higher absolute number of lymphocytes in the CSF were associated with a more severe course of TBE. CXCL13 may be involved in the neuropathology of TBE by attracting different subsets of lymphocytes into the CSF, but it remains unclear whether this chemokine contributes directly to disease severity. The study was published on April 1, 2020 in the
International Journal of Infectious Diseases.
Related Links:

Medical University of Bialystok
SERION
BDBiosciences