High-Throughput T Cell Profiling Technique Developed
By LabMedica International staff writers
Posted on 13 May 2020
T cells recognize foreign or aberrant antigens presented by major histocompatibility complex (MHC-I) expressing cells through the T cell receptor (TCR) and is the first critical step towards establishment of protective immunity against viruses and tumors.
Staining with multivalent MHC class-I reagents (multimers) followed by flow cytometry is routinely used to interrogate T cell responses, to characterize antigen-specific TCR repertoires and to identify immunodominant clones. Fluorescently tagged multimers displaying individual peptides of interest have revolutionized detection of antigen specific T cells.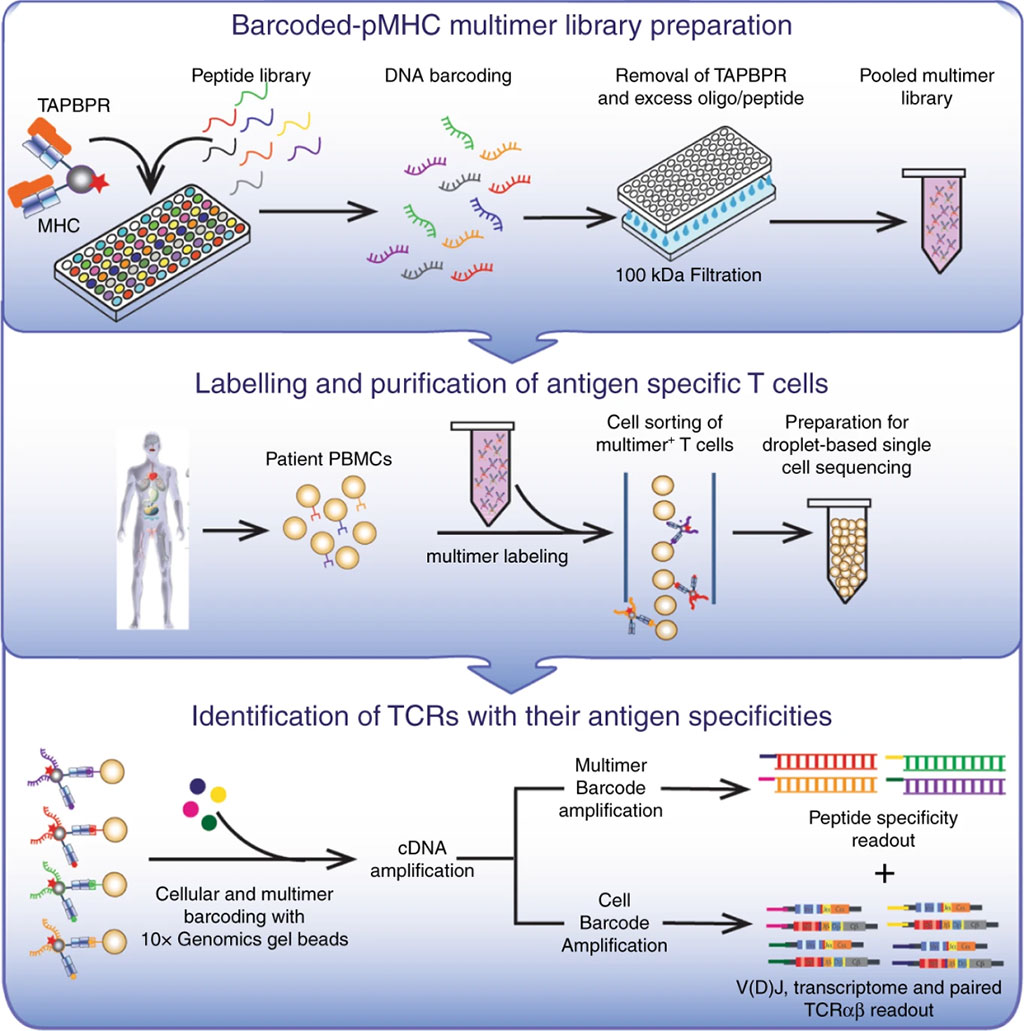 A team of scientists working with those at the University of California, Santa Cruz (Santa Cruz, CA, USA) have has developed an approach for high-throughput T cell profiling. The key advance is the ability to load peptides of interest on the MHC proteins that the body uses to present foreign antigens to the immune system. These MHC proteins display these antigens on the surface of cells, activating the body's T cell response, through which the immune system kills malfunctioning or infected cells.
The ability to express antigens in high-throughput fashion would be a boon for immunologists as it could, for instance, allow them to more rapidly and comprehensively profile patient responses to antigens linked to cancer or different infectious diseases. In the case of SARS-CoV-2, for example, the scientist could load MHC proteins with peptides comprising the full complement of the virus' proteins and look at which peptides were most important in prompting the T cell response or how T cell repertoires varied depending on the severity of infection or patient outcome.
To address unbound MHC, the team developed an approach using the protein TAPasin Binding Protein Related (TAPBPR), a chaperone protein that binds to MHCs to maintain their stability and also facilitates the exchange of peptides bound to the MHC. The process was streamlined somewhat by use of a workflow that produced MHCs bound to standard placeholder peptides instead of the particular peptide of interest, which allowed the team to produce MHC-antigen peptide complexes in bulk. The placeholder peptides were bound to the MHC via a photosensitive bond that could be disrupted by applying UV light, allowing the investigators to remove the placeholders and replace them with the actual peptides of interest when it was time to perform T cell profiling. The study was published on April 20, 2020 in the journal
Nature Communications.
Related Links:

University of California, Santa Cruz