Fetal Cell-Based NIPT Demonstrated by Droplet Digital PCR
By LabMedica International staff writers
Posted on 27 Feb 2020
Noninvasive testing techniques are often used for fetal diagnosis of genetic abnormalities, but are limited by certain characteristics, including non-informative results. Thus, novel methods of noninvasive definitive diagnosis of fetal genetic abnormalities are needed.
Most noninvasive prenatal diagnostic tests (NIPT) on DNA today analyze cell-free fetal DNA, which is mixed in with large amounts of maternal cell-free DNA in the mother's blood. However, it has long been known that a very small number of fetal or placental cells, estimated at fewer than 10/mL, circulate in the blood of pregnant women.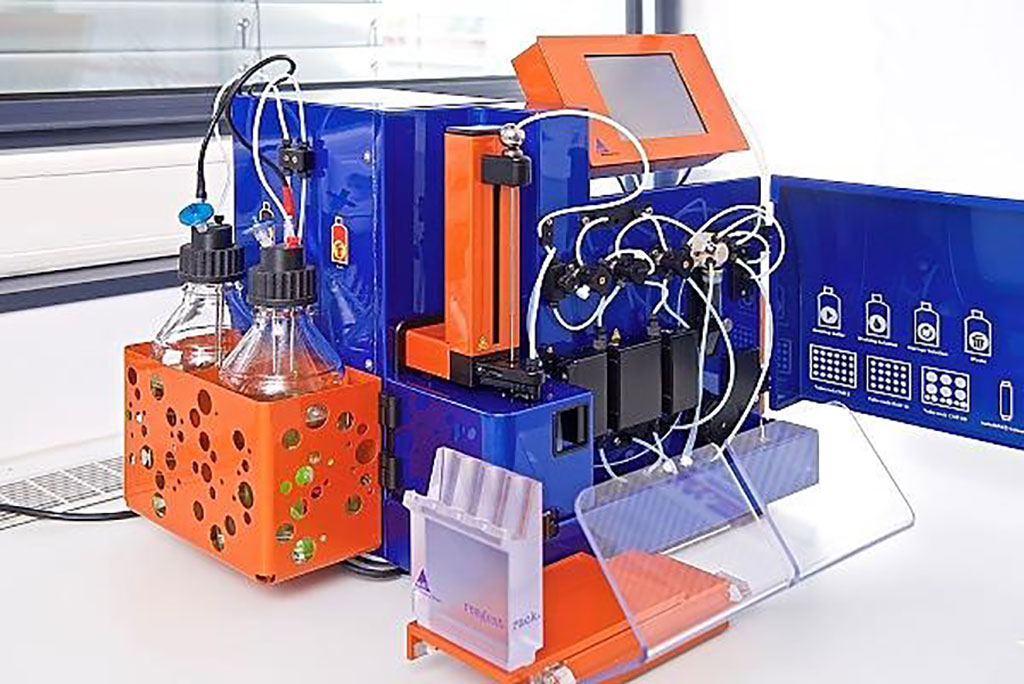 Scientists at the National Research Institute for Child Health and Development (Tokyo, Japan) recruited 32 pregnant women without any obstetrical complications or abnormalities and malformations as determined by fetal ultrasonography at 20 weeks of gestation. Peripheral blood was obtained from each pregnant woman and non-nucleated cells were removed.
The washed nucleated blood cells were mixed with 10 μL each of CD45 microbeads and CD14 microbeads (Miltenyi Biotech GmbH, Bergisch Gladbach, Germany) and incubated for 15 minutes at 4 °C. The CD45–CD14– cell fraction was collected, white blood cells and large cells were removed to align the cell size, and cells were washed twice. The cells sorted by magnetic-activated cell sorting (MACS) were resuspended, processed and the stained cells were observed using the Axio Imager 2 fluorescence microscope system (Carl Zeiss Microscopy, Jena, Germany).
Single-cell–based droplet digital polymerase chain reaction (sc-ddPCR) was performed and after using the QX200 Droplet Generator, the PCR was subsequently analyzed with the signal of each droplet using the QX200 Droplet Reader (Bio-Rad, Hercules, CA, USA). DNA was extracted from each of the cell suspensions or umbilical cord blood samples. The team performed genetic confirmation of circulating male fetal cells in the CD45–CD14– cell fraction. The team used one reference probe,
RPP30
, and one Y-chromosome-specific probe for the
SRY
gene. One advantage of using that system is that it can analyze up to 3,000 individual cells per well.
The team's modification of the sc-ddPCR system enabled the assessment of rare circulating fetal cells in the peripheral blood samples of pregnant women carrying male fetuses. However, the observation of more
RPP30+SRY+
droplets in each sample was expected because two to six circulating fetal cells had been contained in 1 mL of maternal blood. When they applied their test to cell fractions from 13 maternal peripheral blood samples, they found that it correctly called only the three samples from women with a male fetus as
SRY
-positive and all 10 samples from women with a female fetus as
SRY
-negative.
The authors concluded that they had demonstrated that the modified sc-ddPCR system was able to effectively assess the genomic DNA of each targeted cell in a crudely sorted biological sample. This system is unprecedented in that the DNA of numerous individual live cells can be simply analyzed with high sensitivity and specificity without any whole-genome amplification, cell-fixation, and cell-staining steps. Moreover, this study serves as a proof of concept for noninvasive prenatal definitive diagnosis with extremely rare circulating fetal cells using our modified sc-ddPCR system. The study was published in the February 2020 issue of the
Journal of Molecular Diagnostics.
Related Links:

National Research Institute for Child Health and Development
Miltenyi Biotech GmbH
Carl Zeiss Microscopy
Bio-Rad