Novel Blood Tests Predict Progression of Parkinson's Disease
By LabMedica International staff writers
Posted on 25 Feb 2020
It is well established that the cumulative incidence of dementia associated with Parkinson's disease (PD) is approaching 80% and individuals with PD are five to six times more likely to develop cognitive impairment than age-matched controls.
The causes for dementia in PD (PDD) are heterogeneous, complex and not fully understood. The development of biological markers that could identify those at highest risk of early cognitive decline would enhance our understanding of disease progression and give valuable insights into the underlying pathophysiological mechanisms.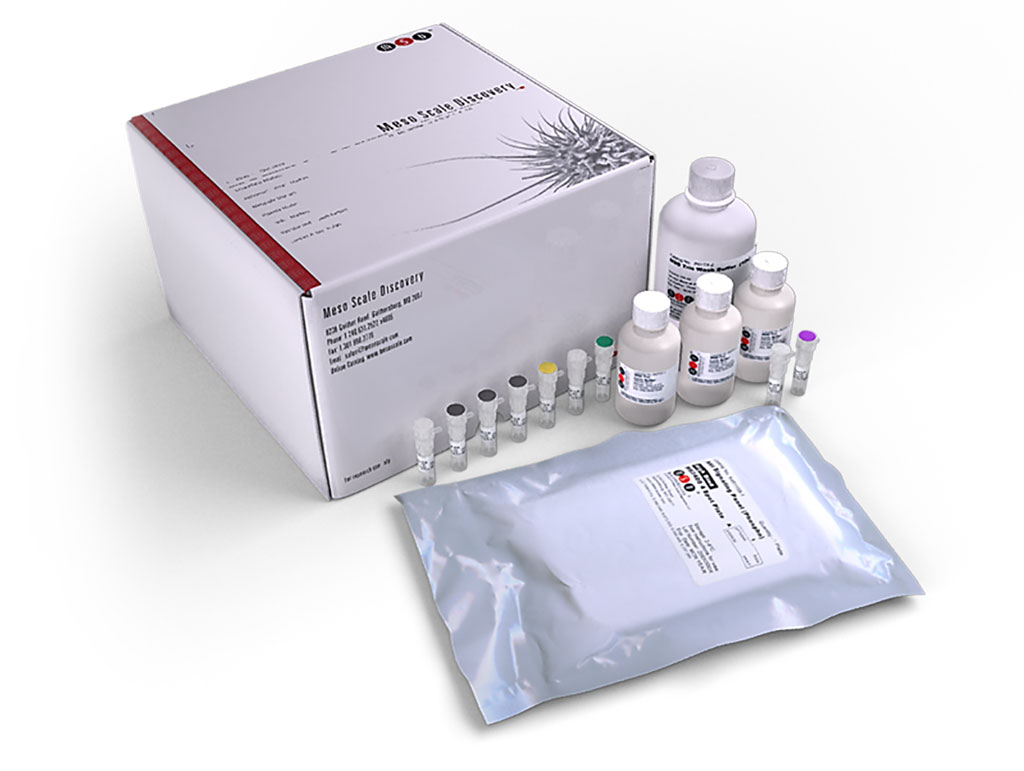 Scientists at Newcastle University (Newcastle Upon Tyne, UK) and their associates examined the association of blood-derived markers of cell senescence and inflammation with motor and cognitive function over time in an incident PD cohort. Participants (154 newly diagnosed PD patients and 99 controls) underwent physical and cognitive assessments over 36 months of follow up.
The team analyzed whether markers of cellular senescence such as telomere length (TL), p16 and p21 expression, as well as inflammatory markers in blood samples taken close to diagnosis can be predictive of cognitive and motor progression of the disease over the next 36 months. Mean leukocyte TL and the expression of senescence markers p21 and p16 were measured at two time points (baseline and 18 months).
Investigators also selected five inflammatory markers from existing baseline data using Meso Scale Discovery (Rockville, MD, USA) electrochemiluminescent immunoassays, including the V-PLEX human pro-inflammatory panel. For the isolation of DNA, blood samples were collected using EDTA vacutainers (BD Diagnostics, Oxford, UK). For the isolation of RNA, blood samples were collected in PAXgene Blood RNA Tubes (PreAnalytiX, Qiagen, Manchester UK). The collection tubes were stored at –80 °C. The quantification of expression levels of p21 and p16 was performed by RT-qPCR analysis on a 7900HT Fast Real Time PCR system (Applied Biosystems, Foster City, CA, USA).
The team reported that their study demonstrated that PD patients had shorter telomeres at baseline and 18 months later compared to age-matched healthy controls. Those PD patients, who had developed dementia after three years, also had significantly shorter telomeres compared to individuals who were dementia-free at this time. Baseline p16 levels were associated with faster rates of motor and cognitive decline over 36 months, while a simple inflammatory summary score at baseline best predicted cognitive score 36 months later in PD patients. A baseline inflammatory score consisting of five different cytokines gave the best prediction for cognitive scores of PD cases three years later, while lower p16 gene expression predicted a more rapid disease progression over the same period in relation to both cognitive and motor scores.
Roger Barker, MBBS, MRCP, PhD, a Professor of Clinical Neuroscience and a co-author of the study, said, "Being able to reliably predict the clinical path a patient with newly diagnosed PD will follow would greatly help in terms of planning their treatment now and in the way we do trials of disease-modifying interventions in the future. This study provides an example of how this could be done using a simple blood sample." The study was published on January 13, 2020 in the
Journal of Parkinson's Disease.
Related Links:

Newcastle University
Meso Scale Discovery
BD Diagnostics
Qiagen
Applied Biosystems