Higher Estrogen Levels Linked to Severe Disease in Scleroderma
By LabMedica International staff writers
Posted on 19 Jun 2019
Systemic sclerosis (SSc) is an autoimmune, connective tissue disease of unknown etiology characterized by immune system dysregulation and excessive extracellular matrix (ECM) synthesis. As in most autoimmune diseases, there is a female predominance in SSc with a female to male ratio of 3:1, which increases to 9:1 during childbearing years.
Male patients have more severe disease compared to women. Men have more severe interstitial lung disease (ILD), which is currently the leading cause of death in SSc patients and significantly reduces survival. Scleroderma is a connective tissue disease that hardens the skin and scars the organs. Older men with scleroderma had higher estrogen levels than healthy older men or postmenopausal women with scleroderma.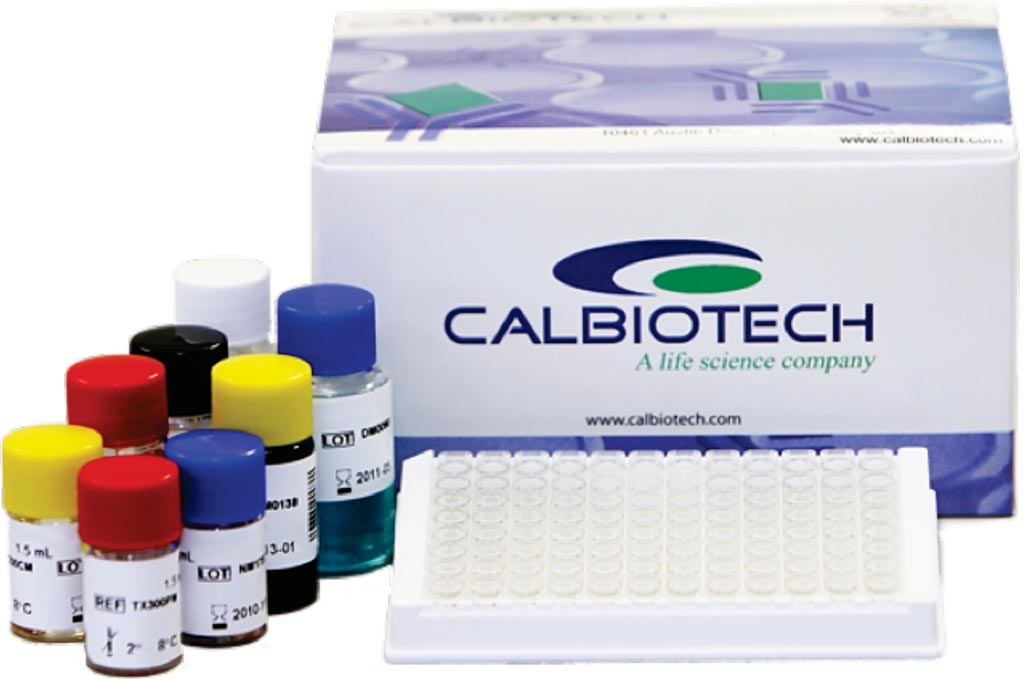 A team of scientists working with the University of South Carolina (Charleston, SC, USA) tested estradiol and scleroderma autoantibody levels in banked samples from 83 men aged 50 years and older with diffuse cutaneous systemic sclerosis, a type of scleroderma. They also tested samples from 37 healthy men of a similar age. They then used a variety of statistical approaches and the careful clinical annotations accompanying each sample to determine whether estradiol levels were linked to any of the clinical traits of scleroderma.
Serum samples were collected at the time of the first visit and stored at − 80 °C. Serum samples were thawed on ice prior to estradiol (E2) measurement. Each undiluted serum sample was measured in duplicate using an enzyme-linked immunosorbent assay (ELISA) (Calbiotech, Spring Valley, CA, USA) that has been previously validated against mass spectrometry At the time of enrollment, the SSc patients' autoantibody profiles were determined from serum samples collected and analyzed by the Scleroderma Center Research laboratory. The team tested for antibodies targeting RNA polymerase III (POL3), Scl-70, U1RNP, U11/U12 RNP, and centromere.
The scientist reported that male patients with diffuse cutaneous scleroderma had significantly higher levels of estradiol (mean, 30.6 pg/mL) than both healthy men (mean, 12.9 pg/mL) and postmenopausal women with the disease (24.2 pg/mL). Those with higher estradiol levels (mean, 43.7 pg/mL) had significantly more heart involvement than those with lower levels (29.4 pg/mL). Finally, for patients with the Scl-70 autoantibody, increasing levels of estradiol in the serum was associated with a significantly greater risk of death.
The authors concluded that male diffuse cutaneous SSc (dcSSc) patients older than 50 years have significantly elevated serum E2 levels compared to healthy controls and post-menopausal females with dcSSc. Higher serum E2 levels are associated with cardiac involvement, decreased survival, and increased risk of death in Scl-70-positive patients. These initial findings provide insights into the potential impact of elevated E2 levels in dcSSc and may explain, at least in part, the increased mortality in older male patients with dcSSc. The study was published originally published on April 2, 2019, in the journal
Arthritis Research & Therapy.
Related Links:

University of South Carolina
Calbiotech