Flow Cytometry Standardized for Predicting Transplant Rejection
By Labmedica International staff writers
Posted on 12 Jun 2019
Understanding the immunological phenotype of transplant recipients on standard immunosuppression, immune-cell therapies and new drug treatments is essential for improving transplantation outcome.
Immune monitoring by multi-color flow cytometry is a highly useful tool to assess the immune response in transplantation, and has the potential to shed insight on the mechanisms responsible for successful treatment. Islet transplantation is a frontier therapy for type 1 diabetes with notable success in hypoglycemic patients, where pancreatic beta cells from a donor are transplanted into a recipient, enabling the body to produce insulin, and regulate blood sugar.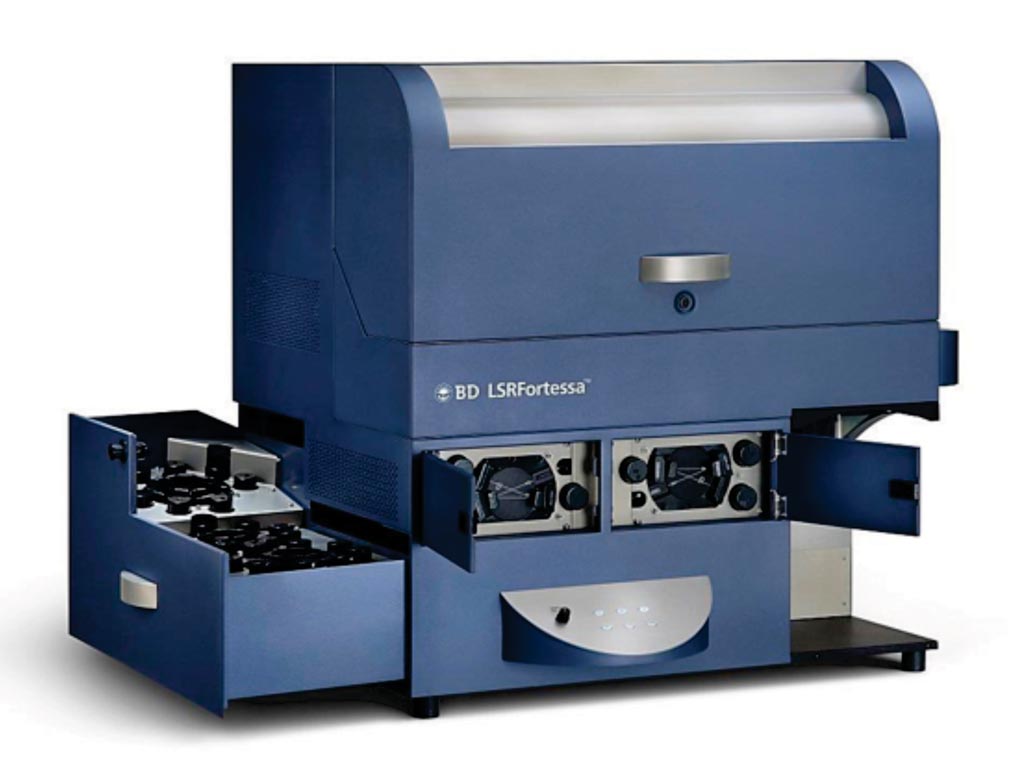 Scientists from Westmead Institute for Medical Research (Sydney, Australia) and their associates recruited eight healthy individuals and 13 patients with type 1 diabetes (T1D) including four islet transplant recipients enrolled in islet transplantation and whole-peripheral-blood (WPB) was collected.
The team used 46 fluorochrome-conjugated anti-human antibodies for the finalized panels. All antibodies were supplied by BD Biosciences, except CD303 and CCR7 (CD197), which were obtained from other manufacturers. An additional 21 antibodies were tested for certain antigens of multiple clones and/or fluorochrome.
The 43 individual antibodies were titrated using anti-coagulated-WPB of healthy-control samples under 5–6 serial dilutions of antibodies. Antibody titrations for CD137 (4-1BB) and CD154 were performed on peripheral-blood-mononuclear-cells (PBMCs) that were stimulated with T-activator CD3/CD28 beads overnight at 1:10 dilution. Panel design was based on fluorochrome brightness, antigen density and co-expression, fluorochrome spillover of interested immune-cell subsets and reagent availability in each panel for the BD Biosciences' five laser 18 parameter BD-LSR Fortessa.
The operating procedures, including specimen collection, antibody cocktails, staining protocol, flow-cytometer setup and data analysis, were standardized. The staining index of 43 antibodies and the spillover spreading matrix for each panel was calculated. The final concentrations for the 46 antibodies used were determined for staining of WPB samples. Absolute cell-count and seven leukocyte profiling panels consisting of subsets and/or status of granulocytes, monocytes, dendritic, B, NK, and T cells including regulatory T cells (Tregs) and NKT were designed and established on a five laser BD-LSRFortessa. The ability to reproducibly measure immune subsets and immune-profiles of islet transplant patients up to 18 months post transplantation has been established as a tool to measure immune cell reconstitution after transplantation.
The authors concluded that they have standardized the operating procedures, instrument setup and data analysis for absolute immune-cell-count and seven leukocyte multicolor panels using 12 parameters of a five-laser flow cytometer. The settings allow for clear identification of multiple leukocyte subsets even when they are present in low frequency in peripheral blood. They demonstrated the procedures utility in making longitudinal evaluations in islet transplant patients and it has the potential for monitoring transplant patients and other patients on long-term immunosuppression and for determining if any changes in leukocyte subsets are associated with outcomes. The study was published on May 22, 2019, in the journal PLOS ONE.
Related Links:
Westmead Institute for Medical Research