Novel 3D-Printed Technology Lowers Cost of ELISA
By Labmedica International staff writers
Posted on 07 Jun 2019
Traditional enzyme-linked immunosorbent assay (ELISA) tests are performed on plates featuring 96 micro-wells; each well works as a separate testing chamber where samples can be combined with various agents that will then react with the sample, typically by changing color.
While effective and accurate, the equipment used to run ELISA is expensive, often costing thousands of dollars to install in a laboratory, and requires specialized training to conduct testing, as improper techniques can lead to incorrect results. The agents used in the actual tests, usually various forms of antibodies, can also be expensive.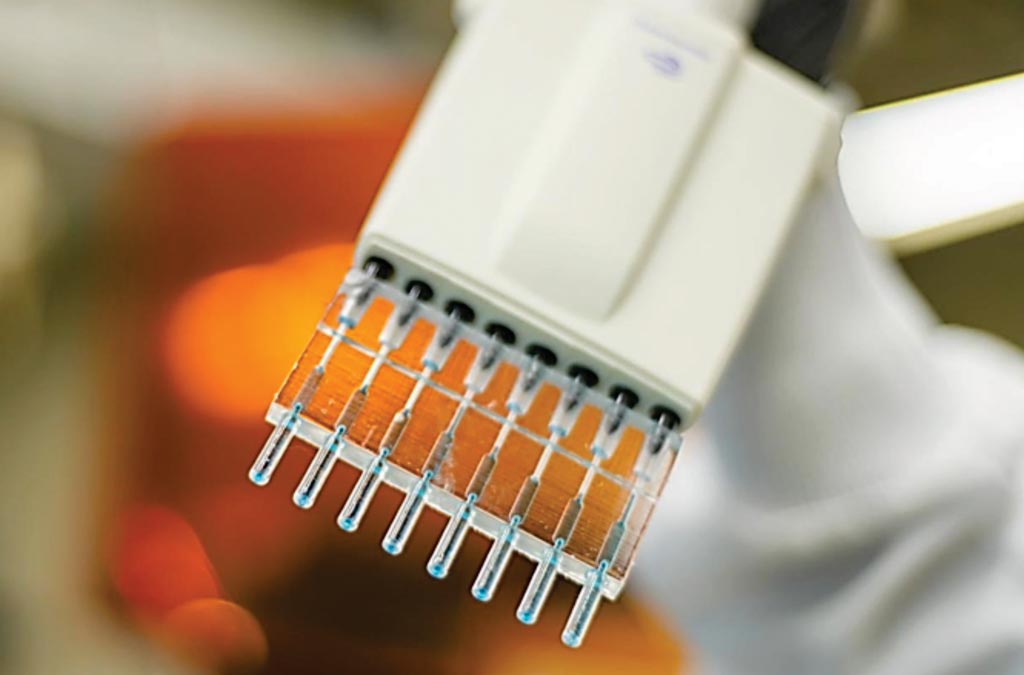 Scientists at the University of Connecticut (Storrs, CT, USA) created a novel pipette-based "ELISA in a tip" as a new versatile diagnostic tool featuring better sensitivity, shorter incubation time, accessibility, and low sample and reagent volumes compared to traditional ELISA. Capture and analysis of data by a cell phone facilitates electronic delivery of results to health care providers.
Pipette tips were designed and 3D printed as adapters to fit most commercial 50–200 μL pipettes. Capture antibodies (Ab1) are immobilized on the inner walls of the pipette tip, which serves as the assay compartment where samples and reagents are moved in and out by pipetting. Signals are generated using colorimetric or chemiluminescent (CL) reagents and can be quantified using a cell phone, CCD camera, or plate reader.
Traditional ELISA plate micro-wells hold 400 µL of fluids each, but the reactions needed to measure test results only occur on the plastic walls of the well. While the 3D-printed ELISA tips hold only 50 µL, the design of the reservoir inside the tip dramatically increases the surface area where reactions occur, allowing the scientists to use much less of the costly antibodies used to conduct the test, and significantly reducing the time needed to process the test and read the results.
The team utilized pipet-tip ELISA to detect four cancer biomarker proteins with detection limits similar to or lower than microplate ELISAs at 25% assay cost and time. Recoveries of these proteins from spiked human serum were 85% to 115% or better, depending slightly on detection mode. Using CCD camera quantification of CL with femto-luminol reagent gave limits of detection (LOD) as low as 0.5 pg/mL. Thirteen patient samples were assayed for three biomarker proteins with results well correlated to conventional ELISA and an established microfluidic electrochemical immunoassay.
Mohamed Sharafeldin, MSc, a research assistant and first author of the study, said, "We didn't want to make a big change in the traditional ELISA; we just made engineered, controlled changes. So, the basics are the same. We use the same antibodies at the same concentrations that they use with conventional or traditional ELISA, so we are using the same protocols. Anything that can be run by normal ELISA can be run by this, with the advantage of being less expensive, much faster and accessible." The study was published on May 3, 2019, in the journal Analytical Chemistry.
Related Links:
University of Connecticut