Cysteine-Rich 61 Biomarker Reflects RA Disease Activity
By Labmedica International staff writers
Posted on 05 Jun 2019
Rheumatoid arthritis (RA) is a chronic inflammatory autoimmune disease that causes progressive articular damage, functional loss, and comorbidity. Until now, the exact pathological processes involved in RA remain incompletely understood.
Cysteine-rich 61 (Cyr61, also called CCN1), a novel secreted matricellular protein, is encoded by a growth factor-inducible immediate-early gene. Cyr61 expression is at low levels in most adult tissues under homeostatic conditions, and remarkably elevated with the induction of cytokines and growth factors.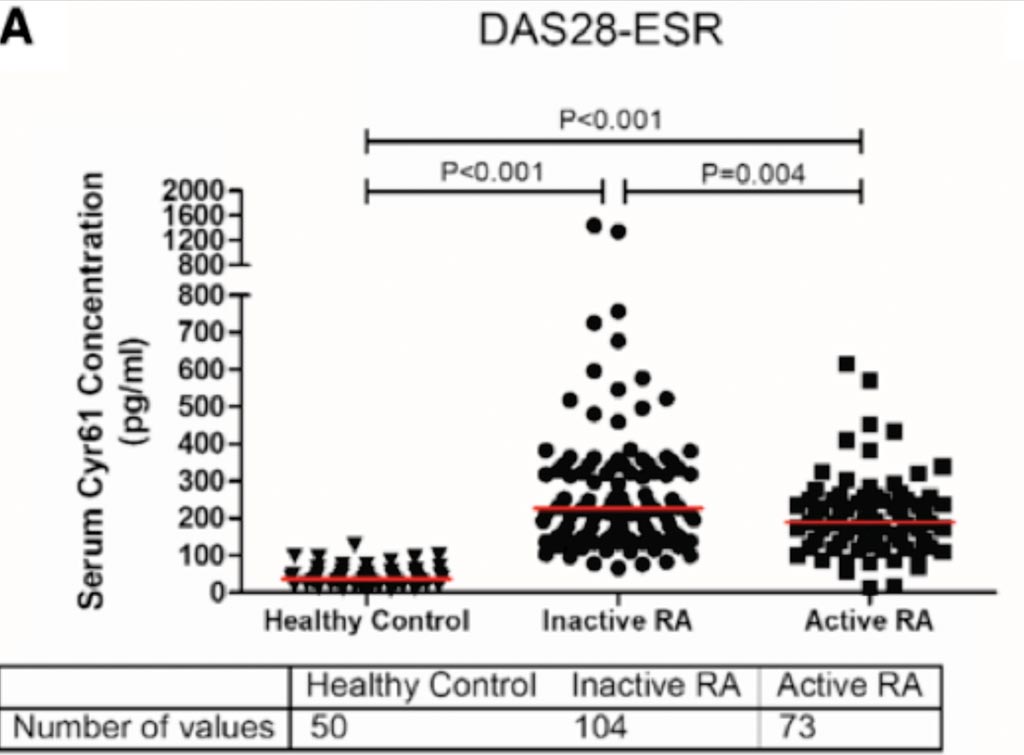 A team of scientists working with the Peking University First Hospital (Beijing, China) enrolled a training cohort that was used for discovery and to identify some relationships, while an independent validation cohort was set up for confirmation. The training cohort was derived from consecutive RA patients who visited the rheumatology clinic, at the Hospital from June 2014 to November 2018. To further confirm discovery, an independent validation cohort was set up based on a registered clinical trial.
Paired serum samples of active RA patients were respectively collected at baseline and 12 weeks after uniformed treatment. Serum Cyr61 concentration was detected by enzyme-linked immunosorbent assay (R&D Systems, Minneapolis, MN, USA). The absorbance was measured at 450 nm, and serum Cyr61 concentration was calculated according to a standard curve. The comparison of Cyr61 between RA patients and controls, the correlation between Cyr61 levels with disease activity, and the change of Cyr61 after treatment were analyzed by appropriate statistical analyses.
A total of 177 definite RA patients and 50 age- and gender-matched healthy controls were enrolled in the training cohort. Significantly elevated serum Cyr61 concentration was found in RA patients, demonstrating excellent diagnostic ability to discriminate RA from healthy controls. In addition, the Cyr61 level in active RA patients was significantly lower than that in patients in remission/low disease activity and it was inversely correlated with composite disease activity scores and almost all of the components in statistical analysis. Further study in the validation cohort of 77 patients showed a significant increase of the Cyr61 level at 12 weeks in American College of Rheumatology (ACR) responders (ACR20/50/70), while no significant change of the Cyr61 level from baseline was observed in non-responders.
The authors conclude that serum Cyr61 levels were remarkably increased in RA patients compared with healthy controls. Intriguingly, the level of Cyr61 was inversely correlated with RA disease activity. Therefore, Cyr61 has great potentials to be a biomarker for monitoring RA disease activity, predicting treatment response, and being a therapeutic target. The study was published on May 21, 2019, in the journal Arthritis Research & Therapy.
Related Links:
Peking University First Hospital
R&D Systems