Rapid Test for Chlamydia Antigen Antibodies Optimized
By Labmedica International staff writers
Posted on 07 May 2019
Trachoma, resulting from repeated infection with the bacterium Chlamydia trachomatis (Ct), is the leading infectious cause of blindness. Trachoma is targeted for elimination as a public health problem by 2020.
Serological surveillance for trachoma could allow monitoring of transmission levels in areas that have achieved elimination targets. Platforms that allow testing in basic laboratories or testing of easy-to-manage samples such as dried blood spots would contribute to the feasibility of serologic testing.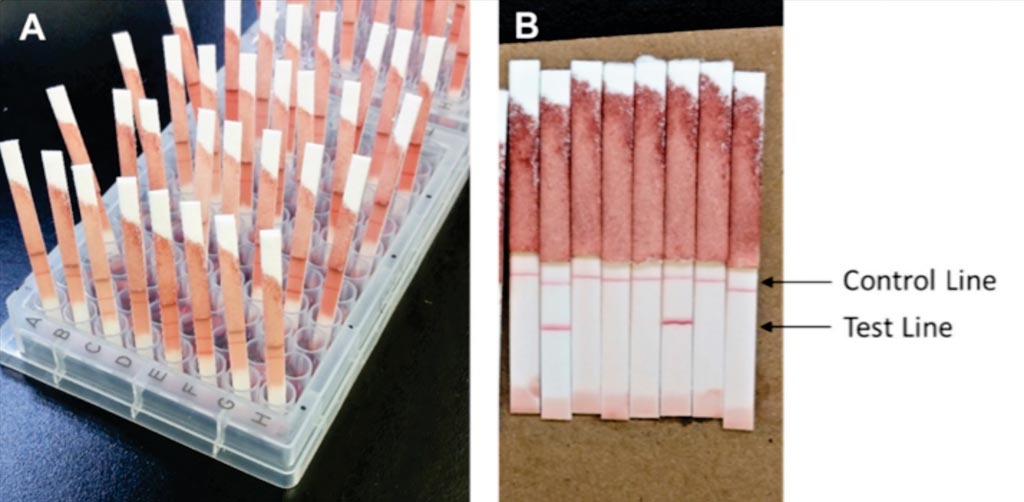 An international team of scientists led by the Centers for Disease Control and Prevention (Atlanta, GA, USA) collected blood from 506 1 to 12-year-olds in two villages in Kongwa district, Tanzania. The blood was tested for antibodies against the antigen Pgp3. Whole blood, plasma, and dried blood spots (DBS) were tested in laboratory and field settings using a cassette-enclosed Pgp3 lateral flow assay (LFA-cassette) and a pared-back "dipstick" assay (LFA-dipstick). DBS were also tested with a bead-based multiplex assay (MBA). Pooled ocular swab testing for Ct infection was performed using the GeneXpert CT/NG cartridge.
In the field evaluation of LFA-cassette using whole blood, the percent positive was 42.5% and the sensitivity was 84.2%. In the field evaluation of LFA-cassette using plasma, the percent positive was 48.4% and the sensitivity was 94.7%. The percent agreement between LFA-cassette and LFA-dipstick was 93.8%. The percent agreement between the MBA and each LFA format and sample type ranged from 92.3% to 94.7%. The percent positive by MBA was 45.5%, and the sensitivity was 94.7%. Interrater agreement between an expert rater and three different raters in field and laboratory settings was uniformly good.
The authors concluded that despite the minor differences in individual tests run, there were no significant differences in the percentage of positive samples as determined by MBA or any LFA tests. The data suggest that the LFA, in any number of iterations, and MBA could potentially be used interchangeably in a population-level, programmatic setting based on the program needs. The study was published in the April 2019 issue of the journal Diagnostic Microbiology and Infectious Disease.
Related Links:
Centers for Disease Control and Prevention