Haptoglobin Expression Linked to Newborn Outcomes
By Labmedica International staff writers
Posted on 09 Apr 2019
Proteomics has facilitated discovery of biomarkers to better understand the pathophysiology of early-onset neonatal sepsis with the goal of identifying as early as possible the newborns more likely to die or develop significant morbidity.
Some preterm babies born without haptoglobin (Hp), a protein in blood cells, have higher odds of brain bleeding, cerebral palsy and death. This finding suggests that the absence of the protein could serve as a potential biomarker indicating a need for increased monitoring or other preventive interventions.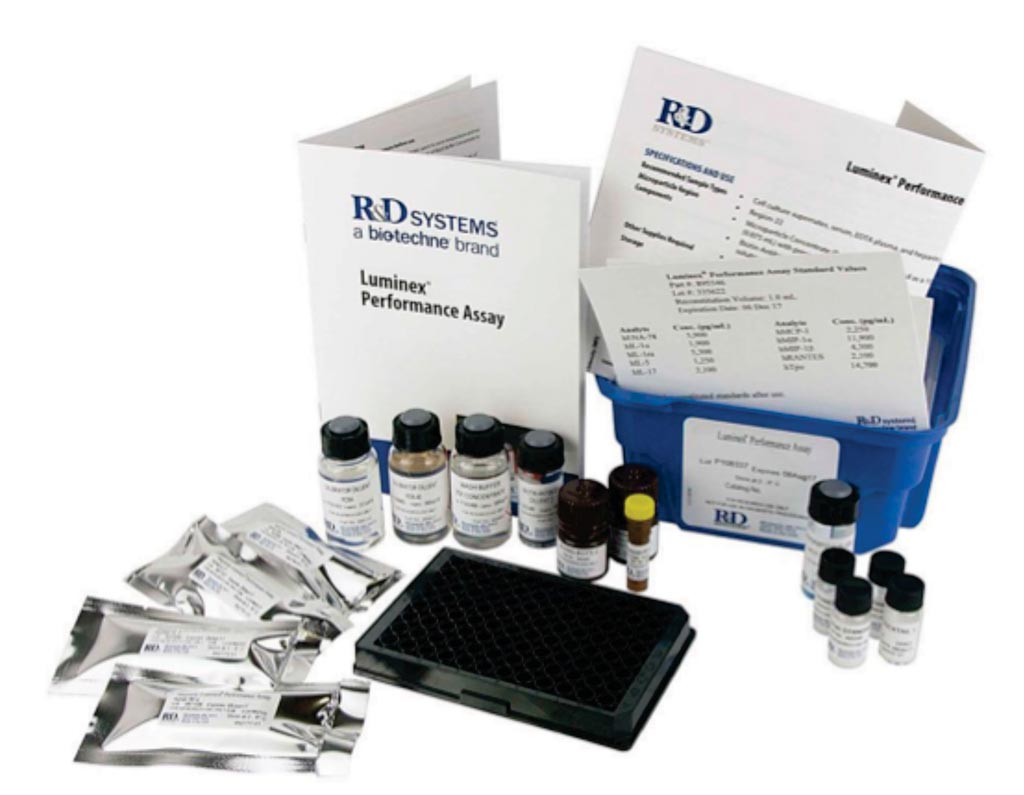 A large team of scientists working with the University of Illinois at Chicago (Chicago, IL, USA) evaluated cord blood samples from 921 newborns of women at imminent risk for preterm delivery randomized to either placebo (n = 471, birth gestational age (GA) median [min-max]: 31 [24–41] weeks) or magnesium sulphate (n = 450, GA 31 [24–42] weeks]). Primary outcome was infant death by 1 year and/or cerebral palsy (CP) ≥ 2 years of corrected age. Adjusted odd ratios (aOR) for neonatal and childhood outcomes were calculated controlling for GA, birth weight, sex, and magnesium exposure.
The team measured cord blood Hp and interleukin-6 (IL-6) concentrations in all samples. IL-6 was measured with commercial ELISA assays of low and high sensitivity. A cut-off in cord blood Hp immunoreactivity of 3,370 ng/mL in an enzyme-linked immunosorbent assay (ELISA) assay had ~ 100% sensitivity and specificity to segregate samples with switch-off from those with switch-on pattern on Western blots. Because the limit of detection for clinical assays to detect anhaptoglobinemia in adults is 2 mg/dL, Western blots were performed on all cord blood samples measuring Hp ≥ 2,000 ng/mL by ELISA (n = 507). Analysis of the magnesium concentration in cord serum was performed with a minimum detectable magnesium concentration of 0.4 mEq/L.
The scientists reported that primary outcome occurred in 2.8% of offspring. Newborns were classified in three pre-defined categorization groups by cord blood Hp switch status and IL-6 levels: inflammation-nonexposed (n = 432, 47%); inflammation-exposed haptoglobinemic (n = 449, 49%), and inflammation-exposed anhaptoglobinemic or hypohaptoglobinemic (n = 40, 4%). Newborns, found anhaptoglobinemic or hypohaptoglobinemic had increased OR for intraventricular hemorrhage (IVH) and/or death (aOR: 7.0) and for CP and/or death (aOR: 6.27) compared with Category 2. Fetal ability to respond to inflammation by haptoglobinemia resulted in aOR similar to inflammation-nonexposed newborns. Hp1-2 or Hp2-2 phenotypes protected against retinopathy of prematurity (aOR = 0.66).
The authors concluded that fetal ability to switch-on Hp expression in response to inflammation was associated with reduction of IVH and/or death, and CP and/or death. Fetuses unable to mount such a response had an increased risk of adverse outcomes. Catalin S. Buhimschi MD, a professor of obstetrics and gynecology the lead author of the study said, "Our study provides strong evidence that an absence of haptoglobin in preterm babies who have been exposed to inflammation is an indicator of increased risk for complications like brain bleeding, cerebral palsy and even death. This underscores the potential protective role of haptoglobin against short- and long-term poor neonatal outcomes and suggests that the protein may be a valuable marker of neurologic damage and the need for clinical interventions." The study was published on March 22, 2019, in the journal EClinicalMedicine.
Related Links:
University of Illinois at Chicago