EBV-DNA Measured in Nasopharyngeal Carcinoma Patients
By Labmedica International staff writers
Posted on 08 Apr 2019
Nasopharyngeal carcinoma (NPC) is one of the head and neck epithelial cancers and is a serious threat to human health. According to the latest statistics, about 80% of patients with NPC were observed in Asia, especially in Southeast Asia and south China.
Epstein-Barr virus (EBV) causes several lymphomas and hence has been considered to cause NPC. Plasma EBV-DNA is regarded as a significant biomarker for NPC. Circulating cancer-derived EBV-DNA in plasma has been shown to be associated with the early screening of patients with NPC.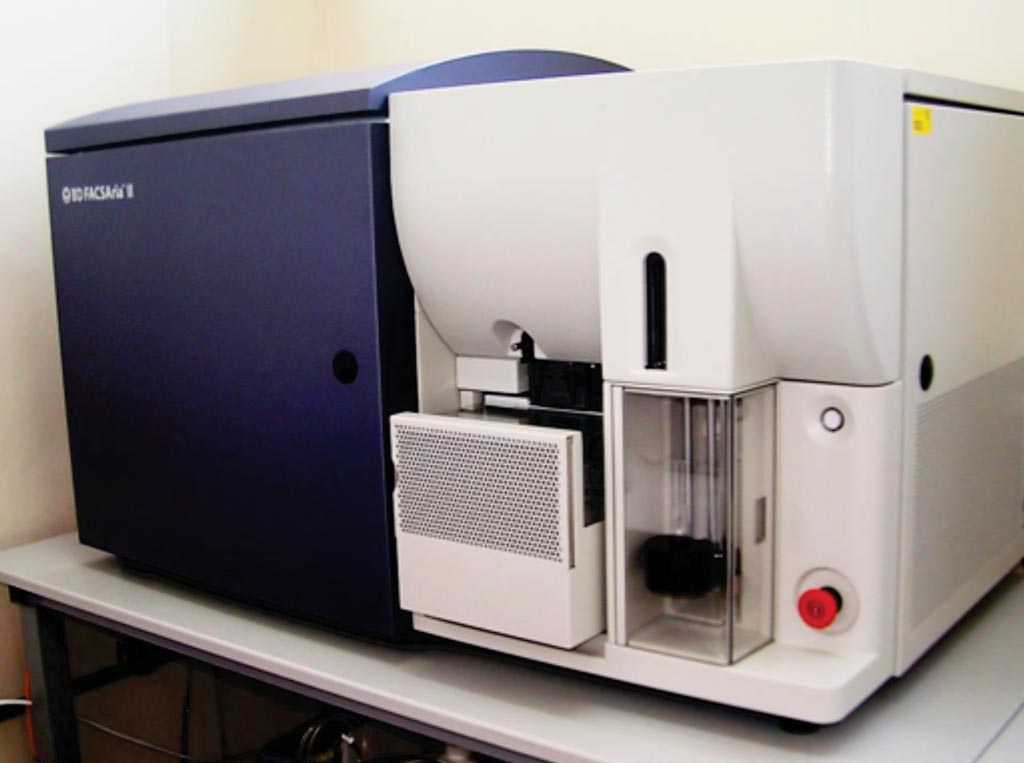 Scientists at Taizhou Central Hospital (Taizhou, China) included in a study 37 NPC patients treated with intensity-modulated radiotherapy (IMRT) and 40 healthy controls between July 2015 and June 2016. Peripheral blood samples (3 mL) were collected from patients with NPC before treatment (Pre) and after treatment (Post), and from healthy donors (HD). Anticoagulant samples were used for flow cytometry analysis. Plasma samples were centrifuged for 5 minutes at 800 rpm and tested by plasma EBV-DNA assay.
Fluorochrome-conjugated monoclonal antibodies (mAbs) were used and flow cytometry analysis was performed to determine the numbers of neutrophils, lymphocytes, CD4+, Treg , CD8+, and CD8+PD1+ and after processing the cells were analyzed immediately using a BD-FACS AriaII cytometer. Routine blood specimens were anti-coagulated with Ethylene Diamine Tetraacetic Acid. Sysmex XE-2100 and reagents were used to obtain the total numbers leukocytes and lymphocytes. The concentration of EBV-DNA was measured by quantitative reverse transcription polymerase chain reaction (RT-qPCR).
The team reported that the changes after IMRT were determined by comparing the numbers of neutrophils, lymphocytes, CD4+, Treg, CD8+, CD8+PD1+ cells, and the concentration of plasma EBV-DNA between pretreatment and post-treatment groups. IMRT could reduce the expression level of PD-1 and the number of Treg cells. The concentration of plasma EBV-DNA and the expression level of CD8+PD-1+ were closely associated with the occurrence and development of NPC. Thus, EBV-DNA can be used as an important marker for early diagnosis, and IMRT can strongly reduce the copies of EBV-DNA.
The authors concluded their study showed that IMRT could reverse T-cell exhaustion and reduce the copies of EBV-DNA. In clinical practice, plasma EBV-DNA is a sensitive biomarker for diagnosis, prognosis, and evaluation of clinical efficacy. The study was published on March 14, 2019, in the journal Diagnostic Pathology.
Related Links:
Taizhou Central Hospital