Recurrent Miscarriage Patients Show Activated Immune System
By Labmedica International staff writers
Posted on 19 Mar 2019
Recurrent loss of pregnancy is an important reproductive health issue, affecting 2% to 5% of couples. Almost half of the cases remain unexplained and are treated empirically, using progesterone supplementation, anticoagulation, and/or immunomodulatory approaches.
Immunological causes, such as immunological rejection or development of an intrauterine micro- milieu that is harmful for fetus and pregnancy, are suspected reasons for idiopathic recurrent miscarriage (iRM). It has been demonstrated that up-regulated activated CD4+ and CD8+ T lymphocytes as well as up-regulated cytotoxic NK cells are present in the blood of patients with iRM.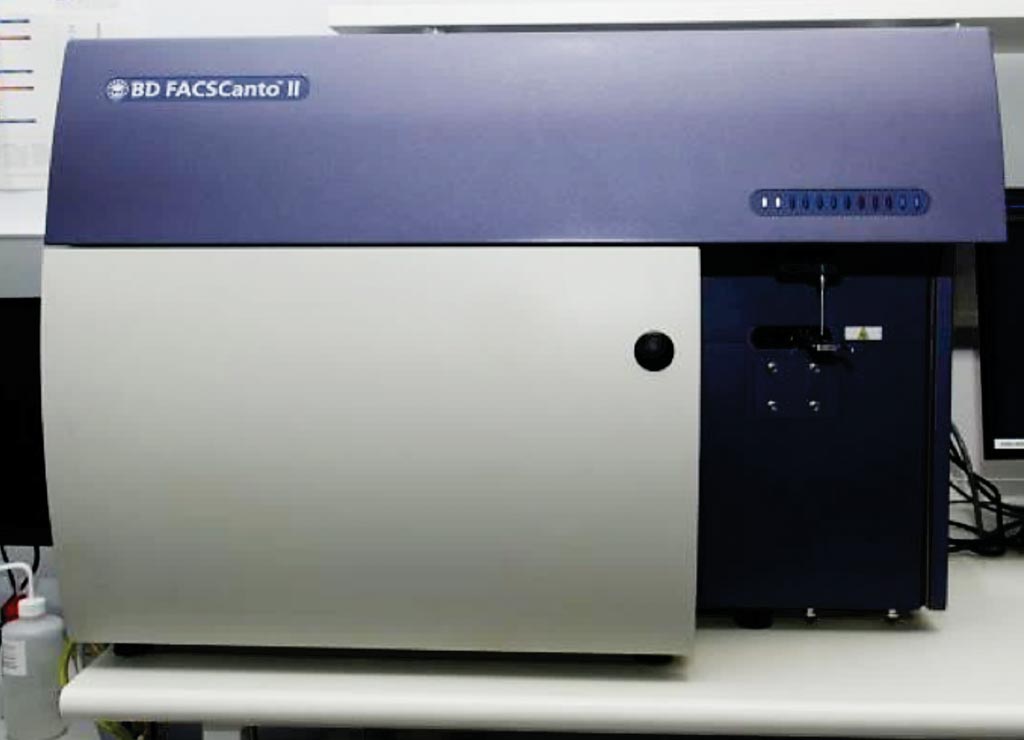 Immunologists at the University Hospital Heidelberg (Heidelberg, Germany) and their colleagues determined cytokines in NK cells and in plasma samples of 35 healthy controls, 33 patients with idiopathic recurrent miscarriage, 34 patients with end stage renal disease, 10 transplant patients early and 37 transplant patients in late post-transplant. In addition, cytokines were studied in supernatants of cell cultures with peripheral blood mononuclear cells stimulated in-vitro with tumor cell line K562.
Determination of lymphocyte and NK cell subsets was performed on whole blood and fluorochrome-labeled monoclonal antibodies against CD45, CD16, CD56, CD3, and HLA-DR were added to each tube whereas IL4R, TGFßRII, IL10R, IFNyR and IgG-isotype controls were added only to certain tubes. After incubation and processing the cells were analyzed using a FACSCanto II triple-laser flow cytometer. Cytokines and chemokines in plasma and supernatants were also determined using various methodology and analyzed using the Luminex LX100 system
.

The team reported that patients with iRM exhibited the highest absolute cell counts of circulating TGFß1+ NK, NKT and T lymphocytes and the lowest TGFß1 plasma levels of all study groups. In-vitro, peripheral blood mononuclear cells of patients with iRM showed high spontaneous TGFß1 production that could not be further increased by stimulation with K562, indicating increased consumption of TGFß1 by activated cells in the cell culture. Moreover, patients with idiopathic recurrent miscarriage had abnormally high IL4+ as well as abnormally high IFNy+ NK cells, but similar IL10+ NK cell numbers as female healthy controls and showed the lowest plasma levels of IL10, TGFß3, IL1RA, IL1ß, IL5, IL6, IL8, IL17, TNFα, GM-CSF, TPO and VEGF and the highest plasma levels of G-CSF, FGF-basic, CCL3 and CXCL5 as compared to female HC and female transplant recipients.
The authors concluded that patients with iRM show an activated immune system that can hardly be stimulated further and cannot be efficiently down-regulated by up-regulated TGFß1+ and IL4+ NK, NKT and T lymphocytes which are present concomitantly in these patients. The strongly decreased TGFß and IL10 plasma levels indicate deficient down-regulation and reflect a dysbalance of the immune system in patients with idiopathic recurrent miscarriage. The study was published on March 4, 2019, in the journal BMC Immunology.
Related Links:
University Hospital Heidelberg