Intestinal Mucosa Fungus Can Affect Lung Health
By Labmedica International staff writers
Posted on 04 Mar 2019
The composition of the microbiome, the countless bacteria, fungi and viruses that colonize our body surface, skin, intestines or lungs, makes a decisive contribution to human health or disease. However, biological mechanisms that cause inflammations in the microbiome are still largely unknown.
Candida albicans is an opportunistic pathogenic yeast that is a common member of the human gut flora, and stimulates the immune system to produce specific defense cells, so-called Th17 cells. However, some of these Th17 cells then attack other fungi, such as Aspergillus fumigatus. This phenomenon is called cross-reactivity.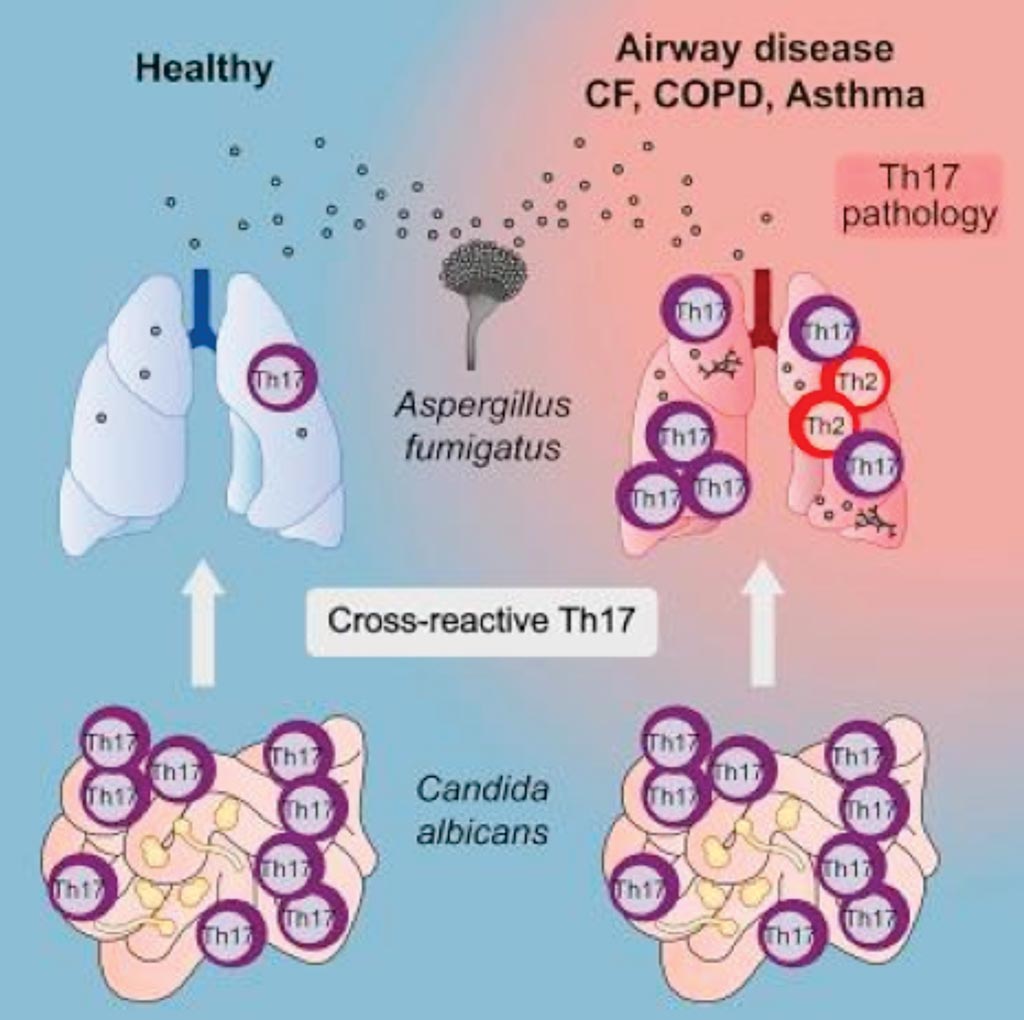 Scientists collaborating with the University of Kiel (Kiel, Germany) identified the mucocutaneous pathobiont C. albicans as the major direct inducer of human anti-fungal Th17 cells. Th17 cells directed against other fungi are induced by cross-reactivity to C. albicans. Intestinal inflammation expands total C. albicans and cross-reactive Th17 cells. Strikingly, Th17 cells cross-reactive to the airborne fungus A. fumigatus are selectively activated and expanded in patients with airway inflammation, especially during acute allergic bronchopulmonary aspergillosis.
This indicates a direct link between protective intestinal Th17 responses against C. albicans and lung inflammation caused by airborne fungi. The team identified heterologous immunity to a single, ubiquitous member of the microbiota as a central mechanism for systemic induction of human anti-fungal Th17 responses and as a potential risk factor for pulmonary inflammatory diseases.
Oliver A. Cornely, MD, FACP, FIDSA, a professor and infectious disease specialist, and co-author of the study, said, "'With this observation, we were able to show for the first time how a single member of the microbiome, Candida albicans, influences the specific immune response to a large group of other microbes. Immune cross-reactivity is probably a common mechanism by which the microbiome manipulates the immune systemwith both protective and harmful effects." The study was published on March 7, 2019, in the journal Cell.
Related Links:
University of Kiel