Unique Form of Chronic Sinusitis Diagnosed in Older Patients
By Labmedica International staff writers
Posted on 05 Feb 2019
Older patients with a diagnosis of chronic sinusitis, a disease of the nasal cavity and paranasal sinuses that often persists over many years, have a unique inflammatory signature that may render them less responsive to steroid treatment.
Potential effects of aging on chronic rhinosinusitis (CRS) pathophysiology have not been well defined but might have important ramifications given a rapidly aging USA and world population. Preliminary data suggest that older patients have less perceived benefit from sinus surgery than younger patients, which may be indicative that their disease is distinct and their options for post-operative medical management may be less likely to provide relief.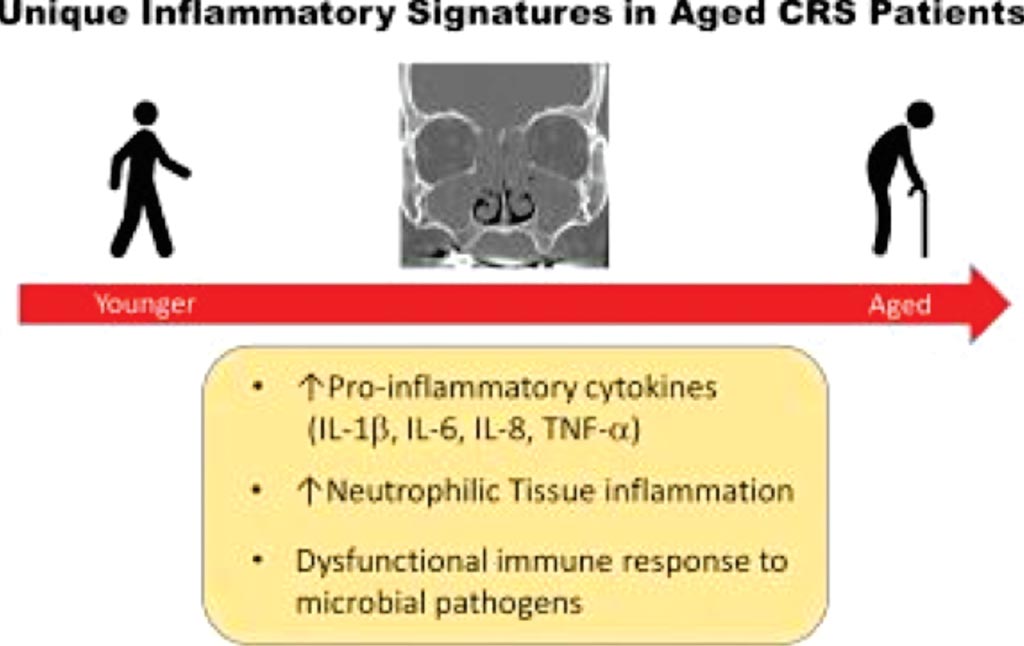 Scientists at Vanderbilt University Medical Center (Nashville, TN, USA) examined tissue and mucus specimens of 147 patients between the ages of 18 to 78 who required sinus surgery for their chronic sinusitis. The team compared all patients according to age by examining their histopathology, tissue specimens taken during surgery, and the immune markers and inflammatory proteins found in their tissue and mucus, and noticed they were strikingly different.
The team measured levels of 17 mucus cytokines and inflammatory mediators in 147 patients with CRS. Hierarchical cluster analysis was used to identify and characterize inflammatory CRS endotypes, as well as to determine whether age was associated with specific immune signatures. A CRS endotype with a proinflammatory neutrophilic immune signature was enriched in older patients. In the overall cohort patients 60 years and older had increased mucus levels of IL-1β, IL-6, IL-8, and TNF-α when compared with their younger counterparts. Increases in levels of proinflammatory cytokines were associated with both tissue neutrophilia and symptomatic bacterial infection/colonization in aged patients.
Justin Turner, MD, PhD, associate professor of Otolaryngology-Head and Neck Surgery and a lead investigator for the study, said, "Most chronic sinusitis in North America, particularly the kind that requires surgical intervention, has an inflammatory signature characterized by a group of cytokines associated with allergy and asthma called Th2-associated cytokines. Older patients tend to not have significant elevations of those particular cytokines. In contrast, they have an elevation of cytokines that are associated with the body's innate immune function and both acute and chronic inflammatory responses, and that is highly dependent on age. You don't see an elevation in those cytokines until around age 60, and then from that age on, there's a progressive increase in the levels of those cytokines seen in the mucus and the tissue of those patients." The study was published originally published online on November 22, 2018, in the Journal of Allergy and Clinical Immunology.
Related Links:
Vanderbilt University Medical Center