Unconventional Cells Trigger Cytokine Production in Spondyloarthritis
By Labmedica International staff writers
Posted on 23 Jan 2019
Spondyloarthritides (SpA) refers to a cluster of inflammatory rheumatic diseases with a significant social-economic burden, affecting nearly 1% to 2% of the Western population. It is a complex disease with a diverse range of disease manifestations including spinal and peripheral joint inflammation.
Typical disease manifestations consist of inflammation of sacroiliac joints, as well as of the spine. Peripheral joints can also be affected (peripheral arthritis), as well as insertion of tendons to bone (enthesitis). The disease differs substantially from rheumatoid arthritis, another form of chronic arthritis, not only in the clinical presentation but also in the response to therapy.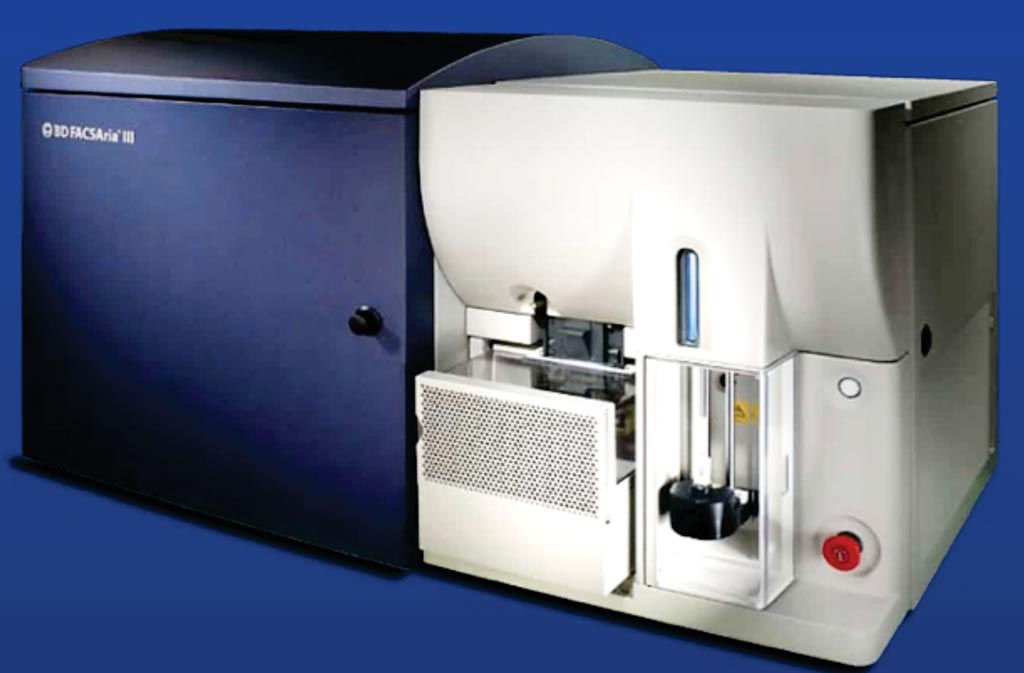 An international team of scientists working with Ghent University (Ghent, Belgium) obtained blood samples from 27 healthy control subjects and 33 patients with newly diagnosed SpA. Synovial fluid (SF) was obtained from patients with an active knee synovitis and an indication for aspiration. The team included 17 rheumatoid arthritis (RA) and 11 Crystal-induced arthropathies (CrA) patients, as a chronic and acute inflammatory arthritis comparison group, respectively.
The scientists isolated cells from the peripheral blood and synovial fluid samples, blood γδ-T cells (TCRγδ+) and iNKT cells (TCRVα24+ TCRVβ11+) were sorted on a FACSAria III. IL-17+ iNKT cells were isolated by means of an adapted Cell Enrichment and Detection Kit IL-17 Capture Assay. The team also performed cell culture assays and SFMC depletion assays.
The team described the presence of particular RORγt+T-betloPLZF− iNKT and γδ-hi T cell subsets in healthy peripheral blood. RORγt+ iNKT and γδ-hi T cells show IL-23 mediated Th17-like immune responses and were clearly enriched within inflamed joints of SpA patients where they act as major IL-17 secretors. SpA derived iNKT and γδ-T cells showed unique and Th17-skewed phenotype and gene expression profiles. Strikingly, RORγt inhibition blocked γδ17 and iNKT17 cell function while selectively sparing IL-22+ subsets.
Koen J. T. Venken, PhD, an assistant professor and the lead author of the study, said, "When we tested the RORγt inhibitor, we observed a striking difference between Th17 and unconventional T cells. While in Th17 cells both IL-17 and IL-22 were inhibited, only IL-17 was inhibited in unconventional T cells. This may have therapeutic implications since IL-22 plays a protective role at gut barrier surfaces." The study was published on Januarys 2, 2019, in the journal Nature Communications.
Related Links:
Ghent University