Genetic and Epigenetic Features Found in Glioma Tumors
By Labmedica International staff writers
Posted on 27 Dec 2018
Neurofibromatosis type 1 (NF1) is a multisystem genetic disorder that is characterized by cutaneous findings, most notably café-au-lait spots and axillary freckling, by skeletal dysplasias, and by the growth of both benign and malignant nervous system tumors, most notably benign neurofibromas.
(NF1) is a common tumor predisposition syndrome in which glioma is one of the prevalent tumors. Gliomagenesis in NF1 results in a heterogeneous spectrum of low- to high-grade neoplasms occurring during the entire lifespan of patients. The pattern of genetic and epigenetic alterations of glioma that develops in NF1 patients and the similarities with sporadic glioma remain unknown.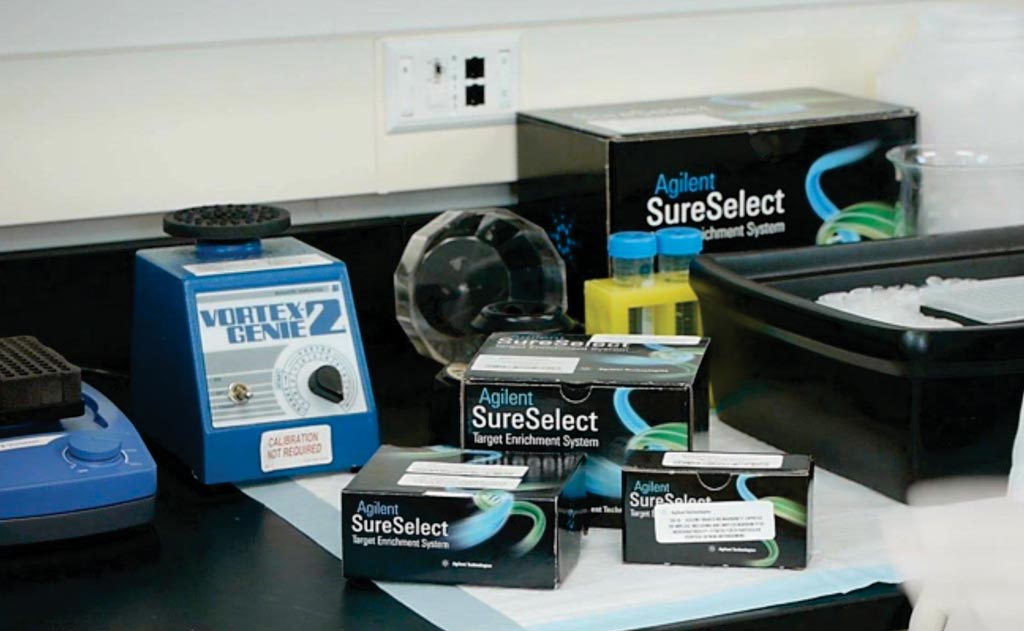 A team of scientists associated with the Columbia University Medical Center (New York, NY, USA) performed exome sequencing on matched tumor and normal peripheral blood samples from dozens of NF1 patients with glioma. Together with RNA sequence data and array-based methylation profiles, the exomes suggested that the mutational landscape of gliomas in individuals with NF1 often resembled those found in tumors that form spontaneously, for example, although the somatic mutations varied somewhat depending on an individual's age and tumor grade.
The team used Illumina HiSeq instruments to sequence protein-coding portions of the genome isolated with Agilent SureSelect kits in 59 frozen glioma tumor and matched blood samples from 56 NF1 patients treated in France, Italy, the USA, and elsewhere, including 22 children, 33 adults, and one individual for whom age information was not available. Along with germline and somatic variants and copy number changes identified in the patients, the team used RNA sequencing and Illumina's Infinium Methylation BeadChip methylation array analyses to profile gene expression in 29 of the cases and methylation patterns in 31 tumors, respectively.
The scientists uncovered new or known inactivating NF1 mutations in 51 of the patients. In the tumors, meanwhile, they found that the high-grade tumors frequently contained TP53 and CDKN2 alterations, ATRX loss-of-mutations, and mutations affecting the genes in regulatory or PI3 kinase pathway. In the low-grade tumors, on the other hand, their analysis unearthed fewer somatic mutations, particularly in tumors from children. Those mutations were largely centered on the MAP kinase pathway, and the available gene expression analyses indicated that low-grade tumors were marked by T lymphocyte infiltration, neoantigen formation, and immune activity.
Unlike sporadic glioma cases, the team did not detect IDH1 gene or TERT promoter mutations or alterations affecting specific histone genes, although some of the NF1 cases did involve glioma tumors with TERT copy number gains. In general, the genetic and epigenetic profiles suggested that gliomas forming in individuals with NF1 shared features with a specific subgroup identified with Cancer Genome Atlas data from sporadic glioma cases. The authors concluded that taken together, their findings suggest that the long indolent course of low-grade NF1-gliomas that rarely progress to high-grade disease may be preserved by the checks imposed by the adaptive immunity acquired by some low-grade tumors. The study was published on December 10, 2018, in the journal Nature Medicine.
Related Links:
Columbia University Medical Center