Diagnostic Techniques Evaluated for Cystic Echinococcosis
By Labmedica International staff writers
Posted on 18 Sep 2018
Cystic echinococcosis (CE) is one of the most widespread helminthic zoonoses and is caused by the tapeworm Echinococcus granulosus complex. CE diagnosis and monitoring primarily rely on imaging techniques, complemented by serology.
The serological approach is usually by the detection of IgG antibodies against hydatid fluid (HF), but the use of this heterogeneous antigenic mixture results in a variable percentage of false positive and negative results, and has shown to be useless for follow-up due to the long persistence of anti-HF antibodies in cured patients.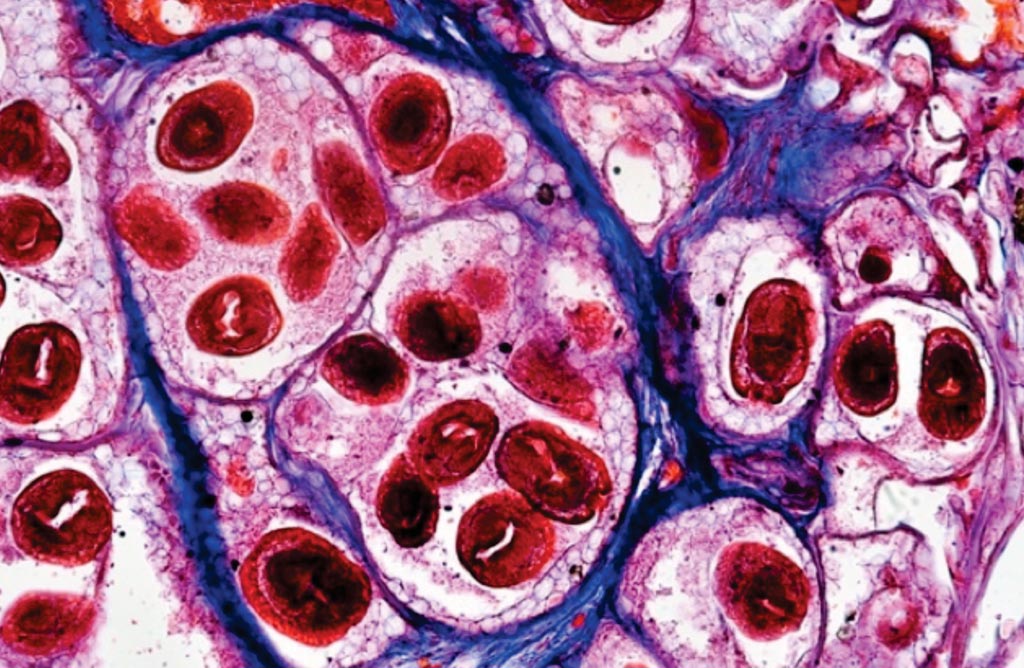 An international team of scientists collaborating with the Instituto de Salud Carlos III (Madrid, Spain) carried out a retrospective cohort study on a total of 721 serum samples. These were collected from 587 of whom 253 patients with CE diagnosed by ultrasonography (US), 42 from patients with alveolar echinococcosis and 92 from healthy donors. The investigators used two recombinant antigens derived from one of the immunodominant hydatid fluid (HF) antigens (antigen B2) were tested in enzyme-linked immunosorbent assay (ELISA) and in immunochromatographic strips (IC) against the serum samples. The ELISA plates were read at 492 nm in an EAR 400 ELISA reader.
The authors reported that the highest overall sensitivity was obtained with HF in ELISA (85.5%), followed by IC containing HF and 2B2t-HF (83.0% and 78.2%, respectively). The lowest sensitivity was obtained with B2t and 2B2t in ELISA (51.8%). The highest specificity was obtained with IC containing 2B2t-HF (100%), and the lowest with HF-ELISA (78.0%). The lowest cross-reactivity with sera from patients with alveolar echinococcosis was detected with the recombinant antigens in ELISA (9.5% to 16.7%) and the highest with the HF-IC (64.3%). The results of B2t and 2B2t-ELISA were influenced by cyst stage, with low sensitivity for inactive (CE4 and CE5) cysts, and by the drug treatment, with higher sensitivity in patients after drug treatment compared with patients not subjected to drug treatment.
The authors concluded that the two recombinant antigens in ELISA provided promising results for monitoring patients in follow-up, although their use is limited to patients with positive serology against them at the beginning of the follow-up. Potential biological reasons behind the low sensitivity of the recombinant antigens and possible strategies to enhance the performance of CE serology were discussed. The study was published on September 6, 2018, in the journal Public Library of Science Neglected Tropical Diseases.
Related Links:
Instituto de Salud Carlos III