Urine and Blood Tests Better at Diagnosing Myeloma
By Labmedica International staff writers
Posted on 24 Jul 2018
Screening and diagnosis of monoclonal gammopathies is generally based on electrophoretic examination of serum and urine proteins, namely serum protein electrophoresis (SPEP)/serum protein immunofixation electrophoresis (SIFE), urine protein electrophoresis (UPEP)/urine protein immunofixation electrophoresis (UIFE), and bone marrow examination.
The assay for serum free light chains is based on the biological observation that immunoglobulin light chains are produced in excess of the corresponding heavy chains. The excess free light chains can be quantified in serum and are also excreted in urine. Serum free kappa and lambda light chains are normally present in a ratio of about 0.26 to 1.65. In patients with lambda chain producing monoclonal gammopathies, the ratio is depressed and in patients with kappa chain lesions the ratio is elevated.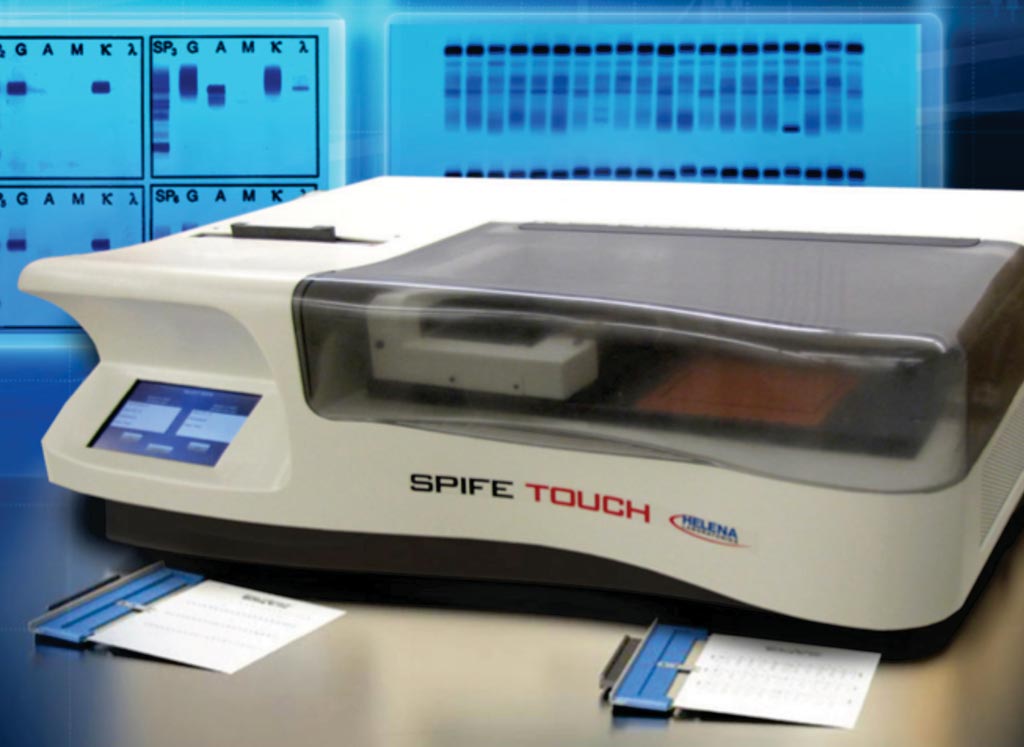 Medical laboratory Scientists at the Medical College of Georgia at Augusta University (Augusta, GA, USA) retrospectively examined data from 482 patients comprising 2,448 observations from January 2010 through September 2017. In 193 patients with a monoclonal immunoglobulin, with a total of 279 observations, and results of SPEP/SIFE, UPEP/UIFE and serum free light chain assay (SFLCA) were available. Of these 193 patients, 175 patients with 249 observations had a diagnosis of monoclonal gammopathy of undetermined significance (MGUS), smoldering multiple myeloma (SMM) or multiple/plasma cell myeloma (MM), such as neoplastic monoclonal gammopathies (NMG).
Serum and urine protein electrophoreses were carried out using a Helena SPIFE 3000 instrument (Beaumont, TX, USA), and by using gels procured from Helena. UPEP and UIFE were also carried out with Helena SPIFE 3000. Urine samples were concentrated with Minicon clinical sample concentrators from Millipore (Burlington, MA, USA). The method achieved a concentration of 5 to 50-fold, depending on the protein concentration in the neat sample. Samples with low protein concentration in the neat state achieved higher levels of volume reduction. Serum free light chains were more recently assayed using an Optilite Protein Analysator (AH Diagnostics Oy, Helsinki, Finland).
The investigators report that the findings from samples with detectable free homogenous light chains in the urine favor systematic under-detection of serum free lambda light chains by the Binding Site assay, or an under-detection of lambda dominant κ/λ ratio due to general over production of serum free polyclonal kappa light chains in tertiary care patients, thus affecting the κ/λ ratio. Nearly 40% of patients have an abnormal ratio without having monoclonal gammopathy and these variabilities mean some patients, particularly those with the less-common lambda chain-associated lesions, could go undiagnosed.
The authors concluded that there is systematic under-detection of lambda dominant κ/λ ratio. In about 25% of the patients, with false negative κ/λ ratio, under-detection of the serum free lambda light chains may account for the false negative SFLCA result, as documented by the presence of monoclonal lambda light chains in urine. The study was published in the July 2018 issue of the Journal of Clinical Medicine Research.