Key Mechanism of Autoimmune and Inflammatory Diseases Revealed
By Labmedica International staff writers
Posted on 01 Feb 2018
The prevalence of psoriasis, rheumatoid arthritis, inflammatory bowel diseases, and multiple sclerosis, has been rapidly expanding over the last few decades. A crucial aspect of the molecular basis of these autoimmune and inflammatory has been unraveled.
For instance, an estimated 125 million people worldwide are affected by psoriasis and another 100 million by rheumatoid arthritis, while the presence of inflammatory bowel diseases (Crohn's disease and ulcerative colitis) in ethnic populations and previously unaffected geographical regions is growing at alarming rates.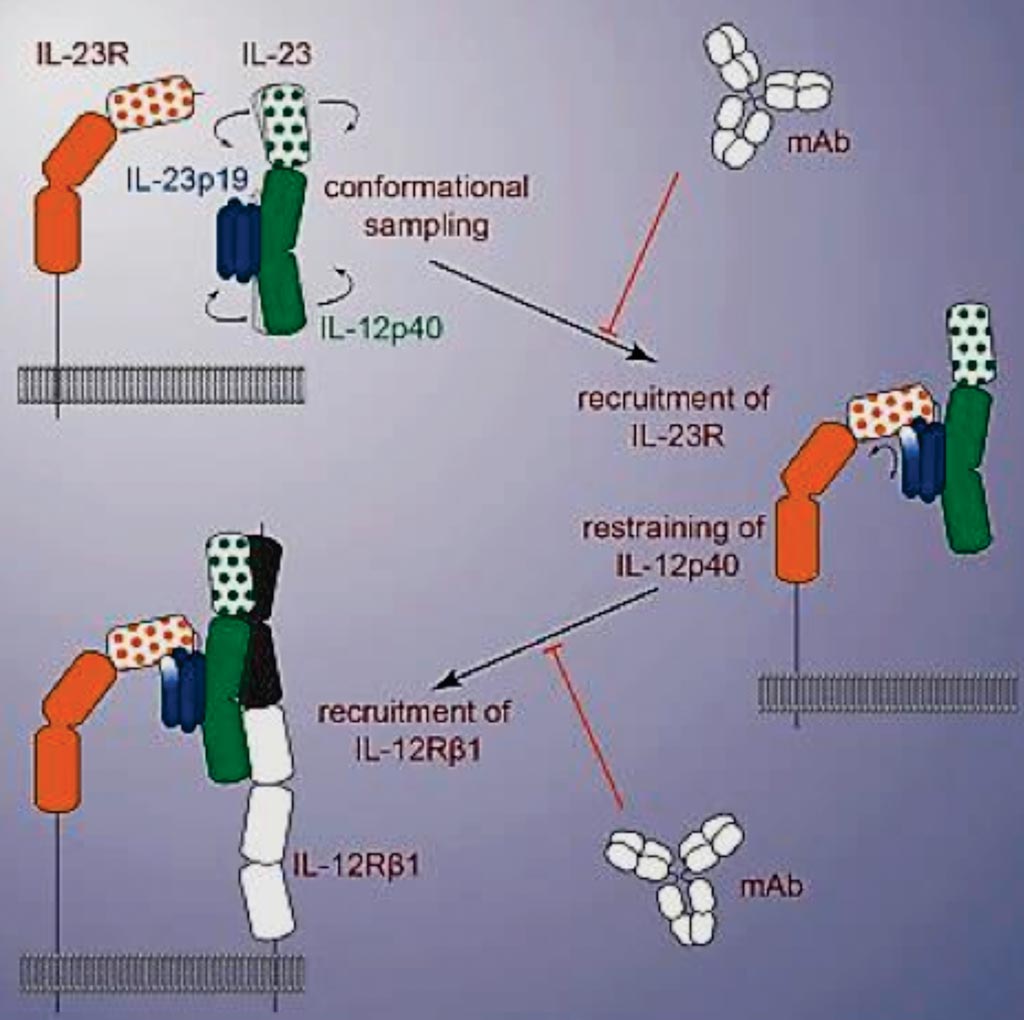 Interleukin-23 (IL-23), an IL-12 family cytokine, plays pivotal roles in pro-inflammatory T helper 17 cell responses linked to autoimmune and inflammatory diseases. Despite intense therapeutic targeting, structural and mechanistic insights into receptor complexes mediated by IL-23, and by IL-12 family members in general, have remained elusive. Scientists at the Flanders Institute for Biotechnology (VIB, Ghent, Belgium) and their colleagues discovered that the immunomodulatory cytokine IL-23 pro-inflammatory activity, which underlies a wide range of inflammatory diseases, critically depends on structural activation of the cytokine by its receptor, IL-23R.
The team determined a crystal structure of human IL-23 in complex with its cognate receptor, IL-23R, and revealed that IL-23R bound to IL-23 exclusively via its N-terminal immunoglobulin domain. The structural and functional hotspot of this interaction partially restructured the helical IL-23p19 subunit of IL-23 and restrained its IL-12p40 subunit to cooperatively bind the shared receptor IL-12Rβ1 with high affinity. Together with structural insights from the interaction of IL-23 with the inhibitory antibody briakinumab and by leveraging additional IL-23 antibody complexes, they proposed a mechanistic paradigm for IL-23 and IL-12 whereby cognate receptor binding to the helical cytokine subunits primes recruitment of the shared receptors via the IL-12p40 subunit.
Savvas Savvides, PhD, a professor and senior author of the study, said, "We were surprised to find that both IL-23 and its receptor change drastically to create an intimate cytokine-receptor interface. In this interface, the receptor uses a functional hotspot on IL-23, enabling it to recruit an essential co-receptor for pro-inflammatory signaling. The binding site of the co-receptor on IL-23 also emerged as an unexpected finding. What we have now discovered about the pro-inflammatory complex mediated by IL-23 appears to be a new paradigm in the field." The study was published in the January 2018 issue of the journal Immunity.
Related Links:
Flanders Institute for Biotechnology

Latest Immunology News