Immune Response Tests Enable Rapid Antibiotic Decisions
By Labmedica International staff writers
Posted on 31 Jan 2018
A novel test uses quantitative multiplex gene expression to analyze a patient's immune system, or the host response, rather than looking for the presence of a pathogen that indicates whether there is an infection in the blood.
The assays run on a molecular, multiplex platform, read patterns of gene expression from white blood cells as an indicator of the immune system's response to infection. The multigene sepsis diagnostic panel would be able to tell from a blood sample whether a hospitalized patient has a bacterial, viral, or no infection so that physicians would be able to administer more appropriate treatments earlier.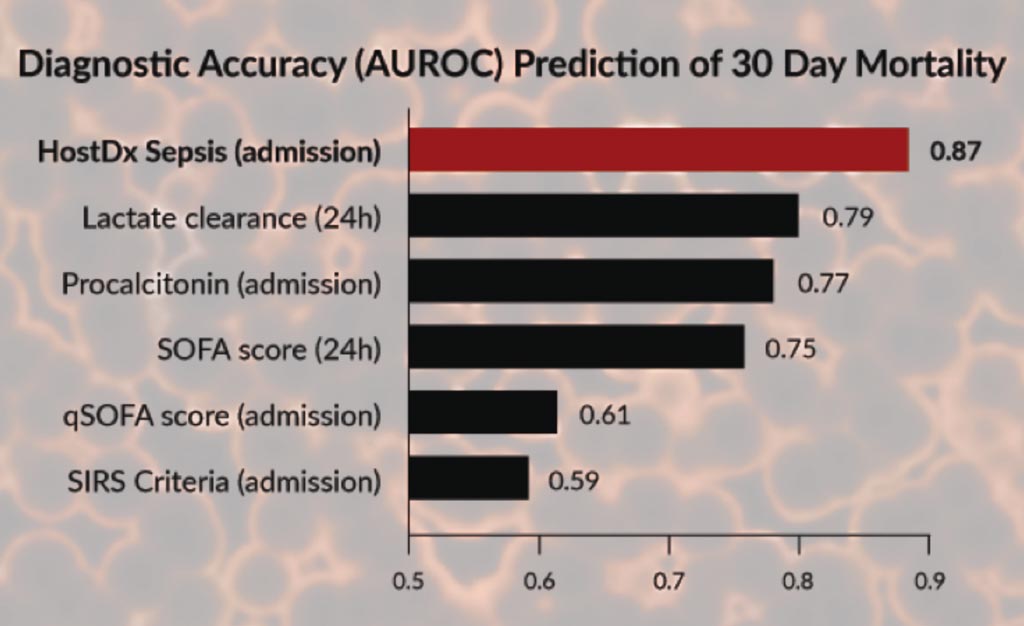 The HostDx Sepsis test (Inflammatix, Burlingame, CA, USA) has been validated in 20 cohorts of 1,057 patients. It has also demonstrated its performance in five cohorts of 189 patients diagnosed with sepsis at the time of hospital admission and four cohorts of 282 patients with hospital-acquired sepsis. In developing its tests, Inflammatix analyzes microarray and RNA-sequencing data that reside in public and private databases and that are derived from several patient cohorts around the world. Its data science team observes patterns or fingerprints of gene expression across different cohorts.
For its fever assay, the firm has reported 94% sensitivity and 76% specificity for bacterial infection. For its sepsis assay, it has reported 94% sensitivity for bacterial infection, 91% specificity for viral infection, and 95% sensitivity for 30-day mortality related to sepsis. While diagnosing infections, clinicians frequently use blood culture testing to find pathogens, which can take up to 72 hours to get a positive test result, compared to one hour with HostDx.
Timothy E. Sweeney, MD, CEO and founder of Inflammatix, said, "Inflammatix has developed a method that is broadly applicable and gives us the ability to not only discover the best gene sets for specific applications, but also the best algorithms that sit on top of those gene sets to make sure that the diagnostic tools are accurate. The firm has prospectively validated eight sets of genes for different clinical applications. By reading the immune response, you can tell whether a bacterial or viral infection is causing a patient's symptoms, and fundamentally that's what a physician needs to know up front."
Related Links:
Inflammatix

Latest Immunology News