Low-Volume Aldosterone Immunoassay Validated for Small Samples
By Labmedica International staff writers
Posted on 26 Sep 2017
Heart failure is a severe cardiovascular disease in adults and children and is characterized by structural or functional abnormalities of the heart. Heart failure leads to an inappropriate blood circulation and subsequently to an undersupply of metabolizing tissues with oxygen and nutrients.
The humoral parameter aldosterone is part of the renin-angiotensin-aldosterone system (RAAS), which plays a major role in the body's salt and water balance. In clinical settings, serum aldosterone is recommended as a screening and diagnosis parameter for primary aldosteronism in high-risk patients.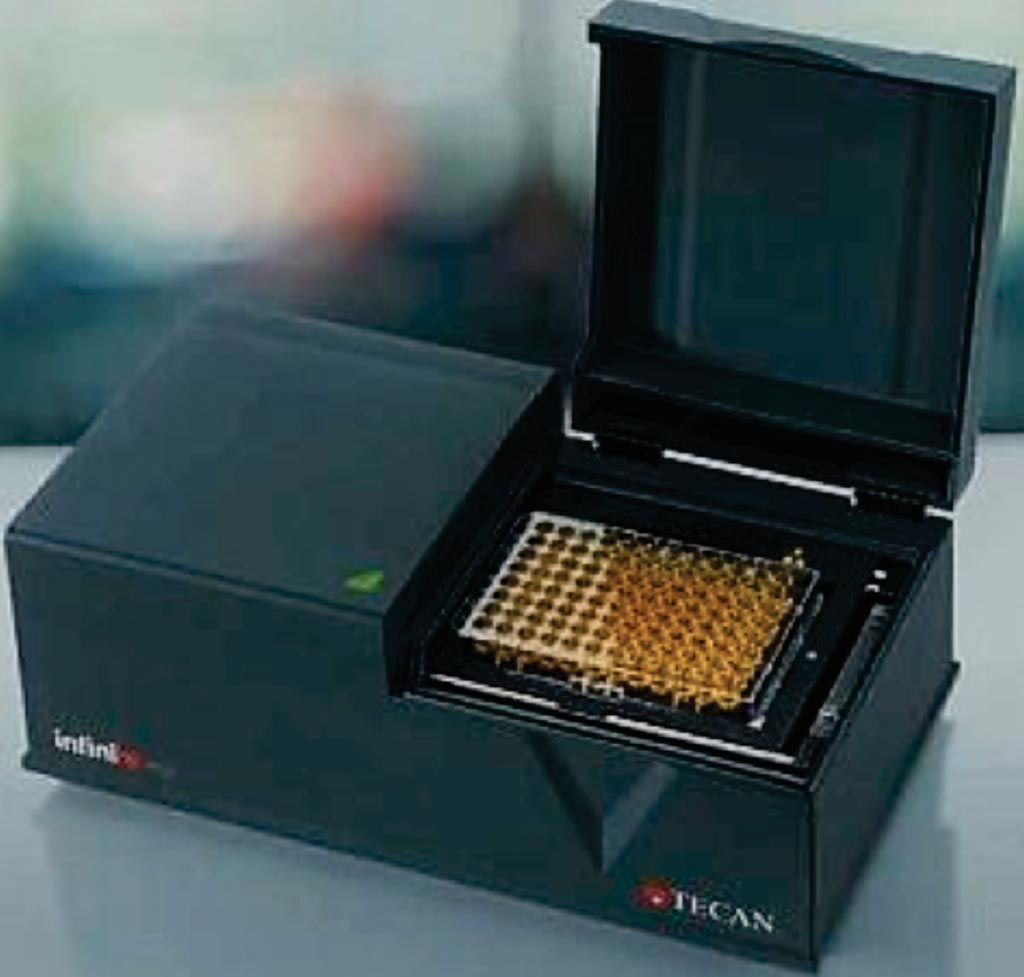 Scientists at the Heinrich-Heine-University Düsseldorf (Germany) developed and validated a bioanalytical assay for the determination of aldosterone concentrations in small sample volumes. An immunoassay was developed based on a commercially available aldosterone enzyme-linked immunosorbent assay (ELISA) kit. Serum samples were donated by healthy volunteers. The optical density was measured using the absorbance reader infinite F50.
The investigators reported that the assay with a range 31.3 pg/mL to 1,000 pg/mL (86.9 pmol/L to 2,775 pmol/L) was characterized by a between-run accuracy from − 3.8% to − 0.8% and a between-run imprecision ranging from 4.9% to 8.9% (coefficient of variation). For within-run accuracy, the relative error was between − 11.1% and + 9.0%, while within-run imprecision ranged from 1.2% to 11.8% (CV). For parallelism and dilutional linearity, the relative error of back-calculated concentrations varied from − 14.1% to + 8.4% and from − 7.4% to + 10.5%, respectively. No impact of hemolysis on accurate sample determinations was observed.
The authors concluded that their present immunoassay is compliant with current bioanalytical guidelines of the European Medicines Agency (EMA) and allows accurate and precise aldosterone determinations in 40 µL serum. As the assay runs with low-volume samples, it is especially valuable for pediatric investigations, but is not limited to this population. The study was published originally published online on July 27, 2017, in the journal Practical Laboratory Medicine.
Related Links:
Heinrich-Heine-University Düsseldorf