True POC Hematology Analyzer with Direct Capillary Sampling Enhances Ease-of-Use and Testing Throughput
By LabMedica International staff writers
Posted on 02 Oct 2023
An innovative 5-part differential Complete Blood Count (CBC) analyzer with direct capillary sampling capability significantly simplifies blood sampling and minimizes the pre-analytical process.
PixCell Medical's (Yokneam Ilit, Israel) HemoScreen has been FDA-approved for point-of-care (POC) use with both venous and capillary blood since 2018. It has stood out as the only 5-part differential complete blood count (CBC) analyzer with POC clearance. Now, the FDA has further approved the HemoScreen for direct capillary sampling, meaning blood samples can be taken directly from a fingertip without needing an intermediate tube. This direct sampling feature sets the HemoScreen apart from other blood count devices, as it simplifies the process of capillary blood collection. There is no need for a specialized medical professional like a phlebotomist or doctor, and the procedure is also faster, less painful, and has a lower chance of pre-analytical errors.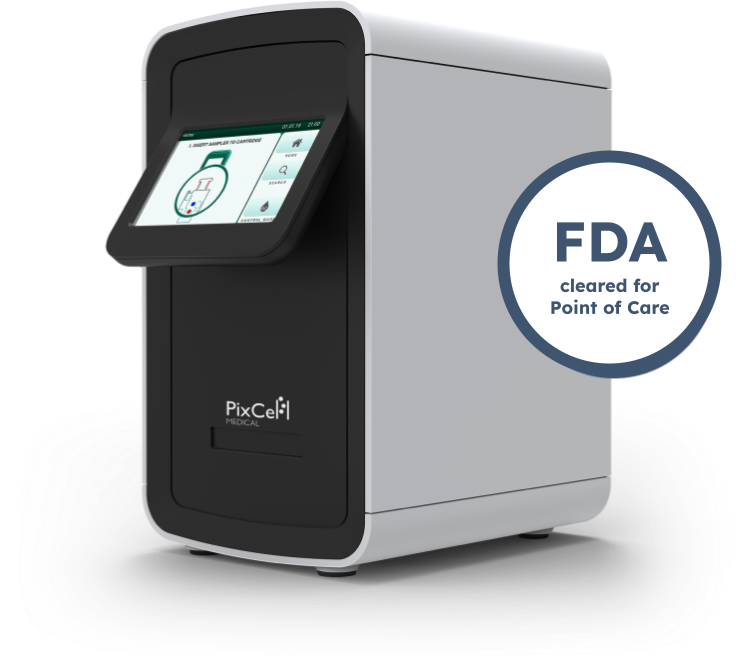 This portable and user-friendly platform can deliver clinically verified results for 20 standard blood count parameters in just five minutes, using a single drop of blood from a finger prick. This quick turnaround enables swift diagnosis and helps in making informed decisions for managing diseases. By using its patented single-use cartridge pre-loaded with all the required reagents, along with unique Viscoelastic Focusing technology and artificial intelligence-driven machine vision, PixCell aims to improve patient outcomes and reduce expenses for healthcare providers. With this latest FDA clearance, HemoScreen has now fully realized its full potential as a true POC hematology analyzer with its proprietary single-use reagent cartridge, automatic sample preparation, and exceptionally simple blood collection procedure.
"This latest clearance is a major milestone and a profound vote of confidence, allowing HemoScreen users to utilize an exceptionally simple sampling procedure" said Dr. Avishay Bransky, PixCell Medical co-founder and CEO. "With the clearance to use direct capillary sampling, HemoScreen has become a true game changer in POC hematology, making it even easier to operate, negating pre-analytical challenges common with other CBC analyzers in the market, and increasing diagnostic throughput."
Related Links:
PixCell Medical