Next-Gen Hematology Analyzers Eliminate Workflow Roadblocks and Achieve Fast Throughput
By LabMedica International staff writers
Posted on 17 May 2023
Hematology testing is a critical aspect of patient care, utilized to establish a patient's health baseline, track treatment progress, or guide timely modifications to care. However, increasing constraints in laboratory workflows and staffing can lead to delays in providing test results to physicians and patients. A new pair of hematology analyzers now addresses these issues by offering user-friendly interfaces and the ability to connect multiple analyzers, effectively eliminating workflow bottlenecks and delivering the fast processing times needed in high-volume labs. These analyzers also offer integrated rules-based testing, which allows lab technicians of varying experience levels to interpret complex patient results and respond promptly.
Siemens Healthineers (Erlangen, Germany) has introduced two novel solutions for high-volume hematology testing, the Atellica HEMA 570 Analyzer and the Atellica HEMA 580 Analyzer. The complete blood count (CBC), a vital component of patient care, is one of the most frequently conducted diagnostic tests in the lab and often provides the first sign of a patient's illness. Physicians rely heavily on labs to deliver crucial hematology data reliably. Traditionally, hematology testing is a complex, time-sensitive process that necessitates skilled laboratory personnel to evaluate results before they can be relayed to physicians. The widespread use of CBC testing and escalating staff shortages can impact a lab's capacity to quickly review and release patients' test results. The Atellica HEMA 570 and Atellica HEMA 580 Analyzers offer integrated automation and intelligence designed to overcome these challenges, thereby enhancing workflow efficiency and speeding up patient results delivery.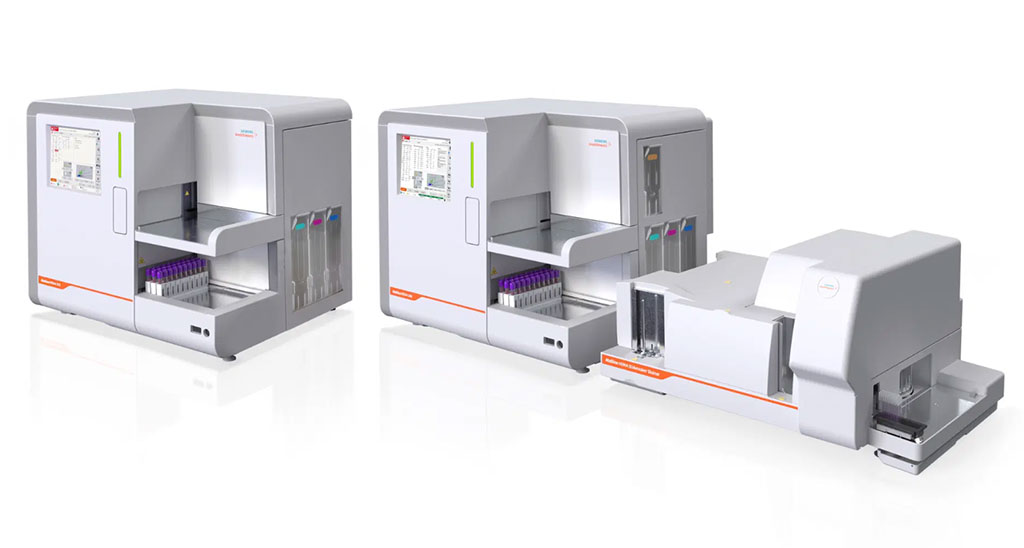 In hospital or critical care settings, the expected turnaround time for routine CBCs is typically less than an hour, while for STATs, it is ideally less than 10 minutes. The Atellica HEMA 570 and Atellica HEMA 580 Analyzers can generate a throughput of up to 120 tests per hour. Their intuitive designs significantly decrease time-intensive daily maintenance while enabling quick reagent changes. Patients in critical condition, such as those with cancer, renal conditions, or neonates, require hematology testing to monitor their progress and guide adjustments to their care. Small changes in patient results can have significant implications if they are not flagged or if they are misinterpreted. The Atellica HEMA 570 and Atellica HEMA 580 Analyzers incorporate advanced data management capabilities to address the expertise gap in labs, thus enabling staff of all skill levels to interpret results accurately.
The analyzers' rules-based auto-validation feature can release normal results—those that do not violate predefined criteria—directly into a laboratory information system, thereby saving time and enabling physicians to receive information more quickly. Any abnormalities are flagged and categorized by severity to clearly signify which patient samples need more detailed examination by a technician. When results necessitate further steps such as dilutions or slide reviews, standardized instructions can be displayed to ensure staff follows lab protocols. The Atellica HEMA 570 Analyzer measures 43 cell parameters, while the Atellica HEMA 580 Analyzer offers an additional 12 parameters, including indicators of immature red blood cells relevant to certain patient populations and an optical-based platelet count that reduces analytical interferences common in other detection technologies. Up to six Atellica HEMA 570 and Atellica HEMA 580 Analyzers can be integrated together to maximize throughput with intelligent, automated workload balancing and reflexive testing that minimizes operator involvement.
"We hear from labs that they need agility, reliability, and speed," said Sharon Bracken, Head of Diagnostics, Siemens Healthineers. "The Atellica HEMA analyzers combine workflow improvements with demonstrated technology to bring hematology testing into the future. We're delivering the breakthroughs labs need to produce quality patient results faster."
Related Links:
Siemens Healthineers