Haptoglobin 1 Allele Predicts Higher Serum Haptoglobin Concentration in SCD
By LabMedica International staff writers
Posted on 30 Dec 2022
Approximately 30% of the hemolysis in sickle cell disease (SCD) is intravascular, resulting in increasing plasma cell–free hemoglobin which contributes to organ damage through direct oxidative injury, consumption of nitric oxide, and upregulation of inflammatory pathways.
The acute-phase protein haptoglobin (HP) is the main scavenger of cell-free hemoglobin in circulation. HP binds cell-free hemoglobin with high affinity, attenuating the toxic effects of cell-free hemoglobin and facilitating its rapid removal from the blood by binding of the HP-hemoglobin complex to CD163 on monocytes and macrophages.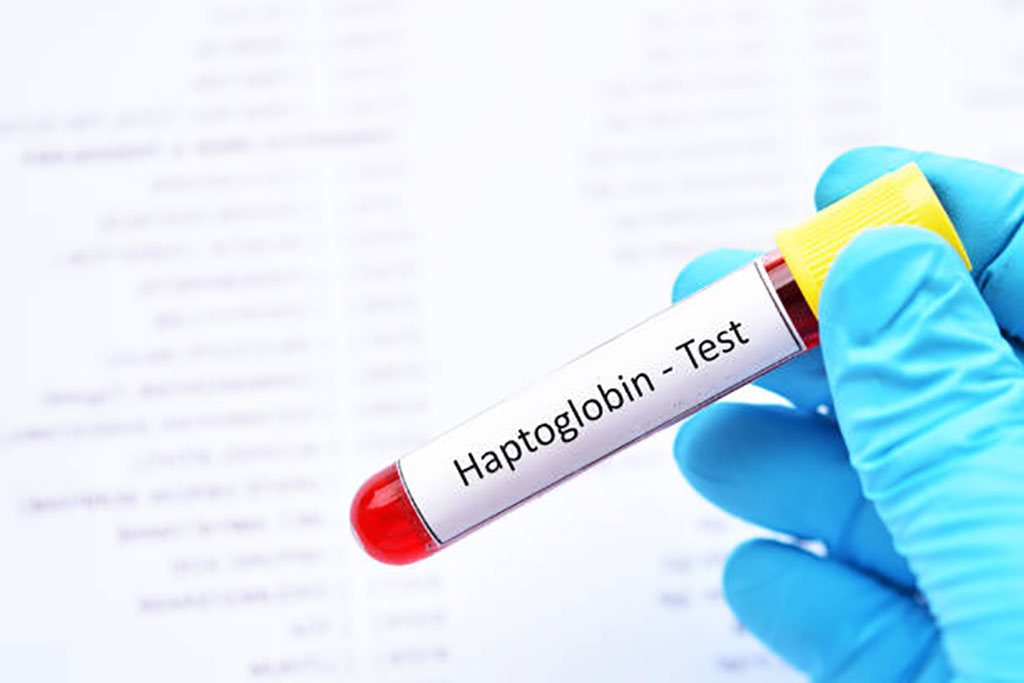 Hematologists at the University of Illinois at Chicago (Chicago, IL, USA) recruited into a longitudinal registry 431 patients with SCD, between October 2009 and June 2018. The median age of the cohort was 32 years (IQR, 24-43 years), 57% were female, 76% were SS/Sβ0-thalassemia genotype, and 46% were on hydroxyurea at enrollment.
Serum concentrations of HP (R&D Systems, Minneapolis, MN, USA) and cell-free hemoglobin (Bethyl Laboratories Inc; Montgomery, TX, USA) were measured by enzyme-linked immunosorbent assay in all available samples (steady state, n = 243; vaso-occlusive pain episode (VOE, n = 42; acute chest syndrome, n = 9). The team examined the association of the HP genotype with laboratory and clinical variables using an additive allelic model.
The investigators reported that in a longitudinal cohort of patients with SCD, the HP 1 allele was associated with higher HP and lower cell-free hemoglobin concentrations at a routine clinic visit as well as during hospitalization for a VOE episode or acute chest syndrome. With a median follow-up of 6.8 years, acute chest syndrome occurred in 42% (n = 163) and multiorgan failure in 14% (n = 53) of 391 patients with SCD with a minimum follow-up of six months. The HP 1 allele was independently associated with lower risk of developing multiorgan failure during acute chest syndrome (additive model hazard ratio, 0.5).
The authors concluded that future studies assessing the regulation of HP concentrations and ability to bind cell-free hemoglobin according to the HP genotype may help to identify patients with SCD at high risk for multiorgan failure and to guide interventions, such as rapid initiation of exchange transfusion or HP replacement therapy. The study was published on December 27, 2022 in the journal Blood Advances.

Related Links:
University of Illinois at Chicago
R&D Systems
Bethyl Laboratories Inc