Mutation Analysis Links Angioimmunoblastic T-Cell Lymphoma to Clonal Hematopoiesis
By LabMedica International staff writers
Posted on 13 Oct 2021
Peripheral T-cell lymphoma (PTCL) is a heterogeneous group of lymphoid tumors and encompass peripheral T-cell lymphoma, not otherwise specified (PTCL-NOS), angioimmunoblastic T-cell lymphoma (AITL), and several other entities of T-cell lymphoma.
A genetic analysis suggests that a rare blood cancer that affects immune T cells may be caused by exposure to smoking and aging-related mutations acquired during the early stage of production of new blood cells Mutations in blood cells likely caused by smoking and aging-related changes may lead to a rare type of blood cancer that affects immune cells.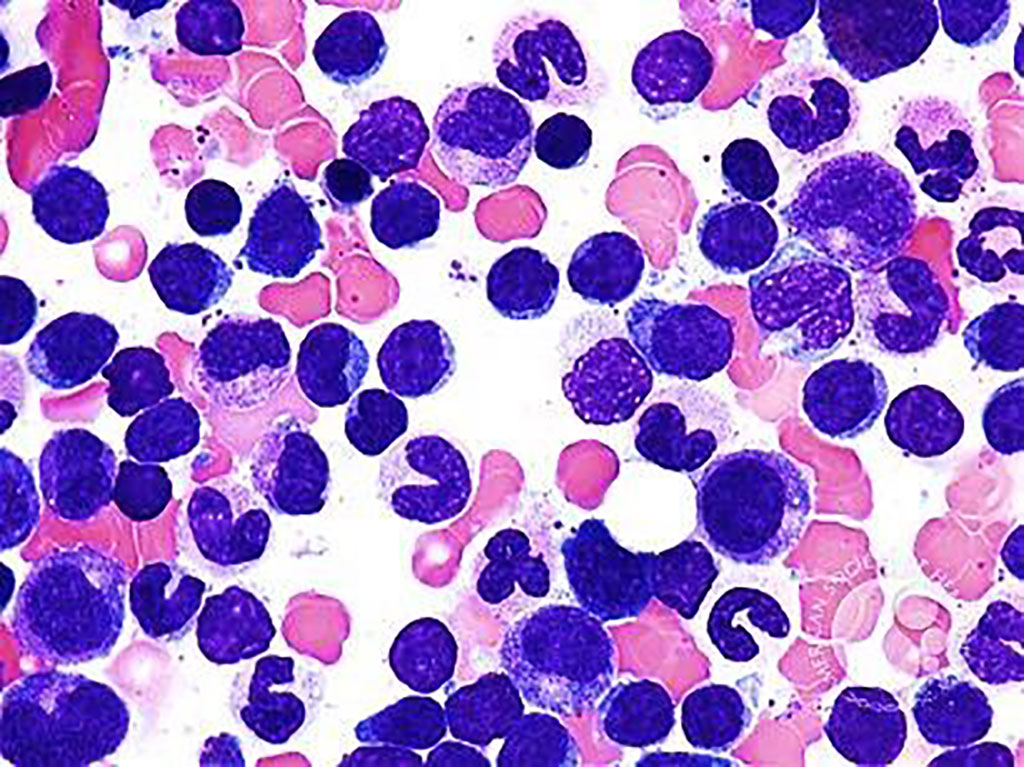 Clinical Medical Laboratorians at Weill Cornell Medicine (New York, NY, USA) used next-generation genome sequencing to analyze 537 genes in 27 patients with AITL or PTCL for genetic changes that might lead to these T-cell tumors and to secondary cancers in some patients. All tissue samples (27 lymph node [LN] tissue specimens, 27 bone marrow [BM] aspirate/peripheral blood [PB] samples) were collected from 25 AITL or two PTCL NOS patients who were diagnosed or confirmed from June 2010 to December 2019.
The tumor burden estimate was also based on more objective and sensitive immunophenotypic findings by flow cytometry). A 537-gene targeted sequencing panel, based on hybridization capture method for sequencing library construction and selection, was designed to investigate the genomic profile of the primary tumors and the BM/PB tissues. The NGS libraries were constructed using the KAPA Hyperplus Kit (Roche, Basel, Switzerland), and hybrid selection was performed with the probes from the customized Twist Library Prep Kit (Twist Biosciences, San Francisco, CA, USA). Multiplexed libraries were sequenced using 150 bp paired end HiSeq 4000 sequencers (Illumina, San Diego, CA, USA). Targeted enrichment of 45 genes recurrently mutated in myeloid malignancies was performed using the Thunderstorm system with a customized primer panel.
The scientists reported that in about 70% of the patients, there were mutations in precursor cells, most likely stem cells, in the bone marrow that can lead to the production of growing numbers of blood cells with these mutations, as well as early development of the T-cell tumors. These mutations in the precursor cells have been thought to be related to aging. In addition, the team found that the mutations associated with the progression of these tumors might be linked to smoking or exposure to second-hand smoke. They also found that patients with a higher mutation burden of one of the genes associated with the early development of these tumors were at higher risk of developing additional types of tumors.
Wayne Tam, MD, PhD, a Professor of Pathology and Laboratory Medicine and senior author of the study, said, "Our results provide new information on how exposure to smoking may cooperate with early mutations in blood precursor cells to lead to the development of certain T-cell cancers. The findings suggest a potential new way to identify patients with AITL or PTCL who are most at risk of developing secondary tumors, and may also help scientists and clinicians improve how these cancers are prevented, diagnosed and treated."
The authors concluded that they provided genetic evidence that AITL/PTCL-NOS, clonal hematopoiesis (CH), and concomitant hematologic neoplasms (CHN) can frequently arise from common mutated hematopoietic precursor clones. The study also suggests smoking exposure as a potential risk factor for AITL/PTCL-NOS progression. The study was published on September 28, 2021 in the journal
eLife
.
Related Links:

Weill Cornell Medicine
Roche
Twist Biosciences
Illumina