Exhaled Nitric Oxide and Eosinophil Count Diagnose Eosinophilic Asthma
By LabMedica International staff writers
Posted on 01 Sep 2021
Eosinophilic asthma is now recognized as an important subphenotype of asthma based on the pattern of inflammatory cellular infiltrate in the airway. Eosinophilic asthma can be associated with increased asthma severity, atopy, late-onset disease, and steroid refractoriness.
Asthma is characterized by recurrent respiratory symptoms and a variable expiratory-airflow limitation, affecting approximately 334 million people worldwide. Tests to identify reversible airflow limitation are important in asthma diagnosis, but they are time-consuming and it may be difficult for patients to cooperate.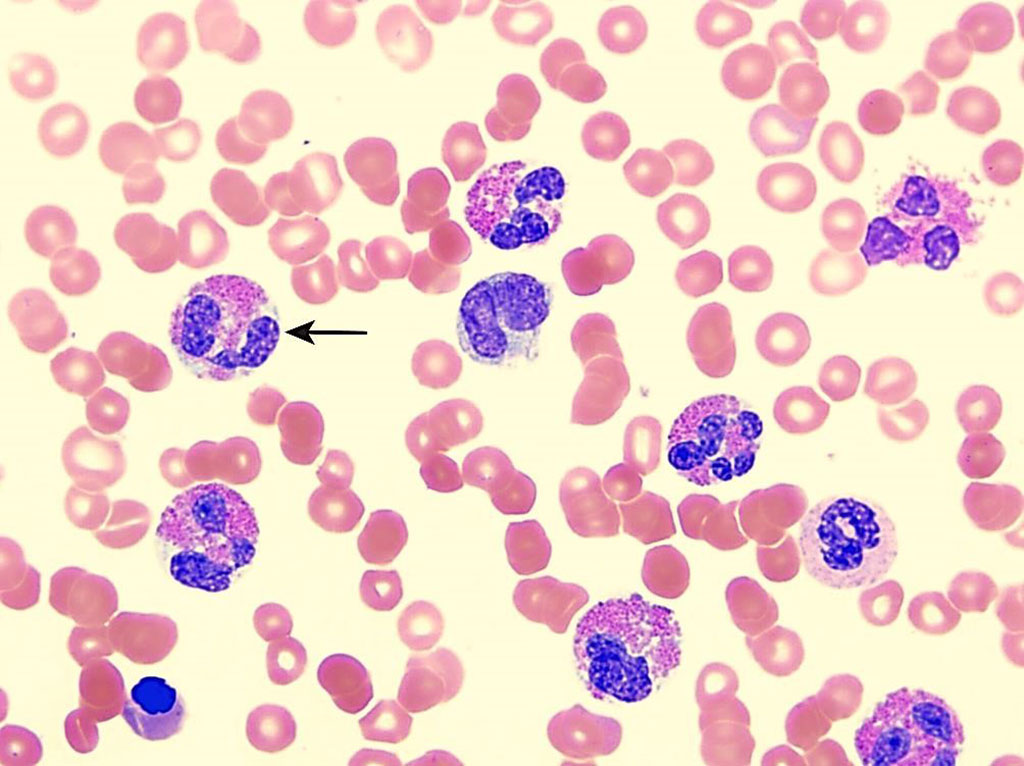 Respiratory Medicine specialists at the Daping Hospital, Army Medical University (Chongqing, China) conducted a retrospective cohort study on 2,349 suspected asthma cases between January 2014 and December 2019. Fractional exhaled nitric oxide (FeNO) was evaluated with an online measurement technique using a Nano Coulomb nitric oxide analyzer. FeNO results were reported as parts per billion (ppb), and FeNO measurements were performed prior to spirometry, the methacholine challenge test, and the reversibility test.
The investigators took peripheral venous blood samples, and blood eosinophils (B-Eos) and leukocytes were counted using a Sysmex XN‐9000 Hematology Analyzer (Sysmex, Kobe, Japan), a multifunctional automatic hematology analyzer and leukocyte classifier. B-Eos counts were reported along with other leukocyte subpopulations, and the percentage of each subpopulation was calculated. Baseline spirometry, the bronchial-provocation and bronchodilation test (BPT, BDT) were performed using a Jaeger spirometer (Erich Jaeger GmbH, Würzburg, Germany).
The scientists reported that the main study population included 897 males and 1,452 females, of whom 824 patients were diagnosed with asthma. Asthmatic patients had significantly higher white blood cell counts (7.24 versus 7.05 × 10
9
/L), B-Eos counts (306 versus 105 cells/μL), B-Eos percentages (4.5% versus 1.8%), and FeNO levels (52 versus 5 ppb). The percentage of blood neutrophils, forced vital capacity (FVC), forced expiratory volume in the first second (FEV1), and FEV1/FVC ratio of asthmatic patients were significantly lower (59.3% versus 61.9%, 94.4% versus 96.2%, 79.7% versus 92.4%, and 68.5% versus 80.2%), respectively. The odds ratio for having asthma increased progressively with a gradual increase in FeNO or B-Eos count.
The authors concluded that there was no difference in diagnostic accuracy for asthma between FeNO and B-Eos count, and the combination of these two biomarkers could slightly improve diagnostic efficacy. Patients with moderately elevated biomarkers (FeNO > 40 ppb and B-Eos > 300 cells/μL) could be diagnosed with asthma and avoid objective tests when such tests are not feasible. The study was published on August 9, 2021 in the journal
BMC Pulmonary Medicine.
Related Links:

Daping Hospital, Army Medical University
Sysmex
Erich Jaeger GmbH