Fluorescent Lymphocytes and Smudge Cells Explored in Infectious Mononucleosis
By LabMedica International staff writers
Posted on 30 Aug 2021
Infectious mononucleosis (also known as Glandular fever) is an infection most commonly caused by the Epstein-Barr virus (EBV), which is a human herpes virus. Glandular fever is not particularly contagious. It is spread mainly through contact with saliva, such as through kissing, or sharing food and drink utensils.
The mono test is 71% to 90% accurate and may be used as an initial test for diagnosing infectious mononucleosis (IM). However, the test does have a 25% false-negative rate due to the fact that some people infected with EBV do not produce the heterophile antibodies that the mono test is designed to detect. Atypical lymphocytes appear, but the heterophilic agglutination test is negative.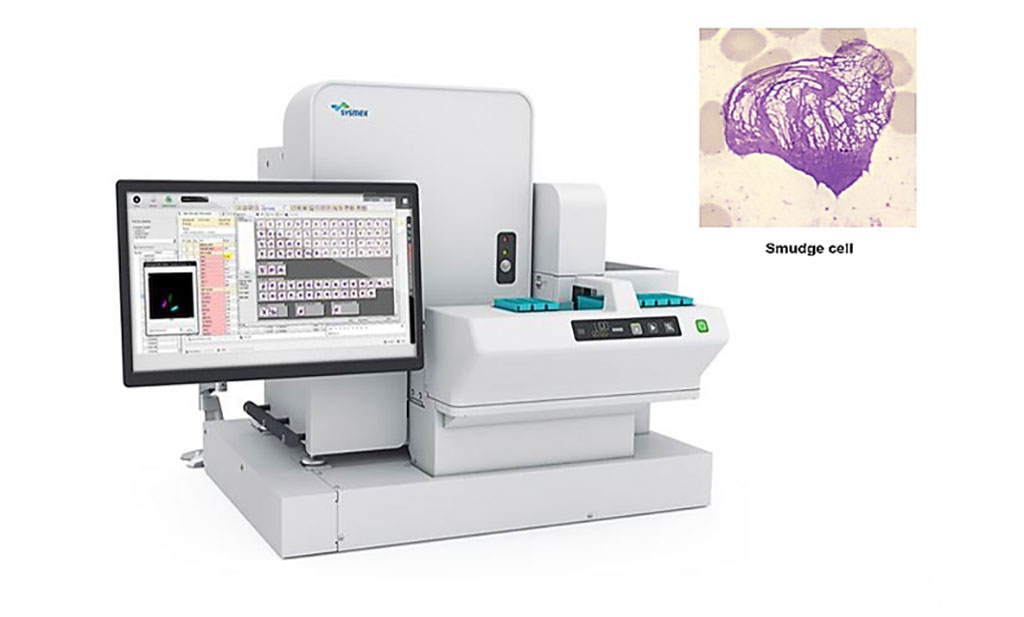 Clinical Laboratorians at the Peking University Third Hospital (Beijing, China) enrolled in a study 62 IM patients, 67 healthy controls, 84 patients with upper respiratory tract virus infection, and 35 patients with malignant lymphoid diseases, to explore the diagnostic value of high fluorescent lymphocytes (HFLC) and smudge cells for infectious mononucleosis (IM). The complete blood counts and leukocyte differential counts were tested, and the smudge cells were manually counted.
Complete blood counts including red blood cells (RBC), hemoglobin (HGB), white blood cells (WBC), and leukocyte differential count, platelet (PLT), and HFLC percentage (HFLC%) were investigated with the Sysmex XN 9000 (Sysmex Corporation, Kobe, Japan). Manual leukocyte classification and smudge cells were counted by Sysmex DI-60. A total of 200 nucleated cells were read on each slide. The number of smudge cells seen per 100 nucleated cells was counted, and the blood smears were observed by two experienced technicians under an optical microscope.
The investigators reported that the value of HFLC% and smudge cells of the IM group were significantly higher than those of healthy controls and disease controls, and the HFLC% value of IM patients was positively correlated with the number of reactive lymphocytes. When the cutoff value of HFLC% was 0.4%, and of IM was high (AUC = 0.995). When the smudge cells >2/100 nucleated cells, the diagnostic value was further enhanced (AUC = 1.000). When the cutoff value of the HFLC% was 1.2%, it effectively distinguished IM patients from upper respiratory tract virus infection patients (AUC = 0.934). When smudge cells >16/100 nucleated cells, it also has high differential diagnosis value (AUC = 0.913). The combination HFLC% and smudge cells for the differential diagnosis can be increased to 0.968.
The authors concluded that HFLC% and smudge cells can be used as effective indicators in the early diagnosis and differential diagnosis of IM. HFLC% assists the diagnosis of IM with the following advantages: first, this indicator has high specificity and sensitivity for the diagnosis of IM, which can effectively avoid missed diagnosed; second, HFLC%, as one of the blood routine indicators, can be obtained directly from the automatic blood analyzer. The study was published on August 17, 2021 in the
Journal of Clinical Laboratory Analysis.
Related Links:

Peking University Third Hospital
Sysmex Corporation